Story highlights
War hero's book is a memoir, and warning
Author: Soldiers trained to kill, but not trained to deal with aftermath
Karl Marlantes took 40 years to sort through secrets he left in Vietnam
Marlantes: The war is "just starting" for families of Iraq and Afghan veterans
Karl Marlantes stared at the young man through the sights of an M-16 rifle and slid his muddy finger over the curve of the trigger.
Turning toward him, the man locked eyes with Marlantes and froze.
"Don't throw it. Don't throw it," Marlantes whispered, hoping the man would surrender.
Moments earlier, the North Vietnamese soldier had been hurling grenades at a group of U.S. Marines. He was cornered near the top of a hill. Blood streamed down his face from a head wound; the crumpled body of a friend lay at his feet.
Marlantes had slithered undetected to a spot just below the soldier's foxhole. When the soldier popped up, arm cocked to throw another grenade, he spotted Marlantes.
The soldier's dark eyes widened in fear; he looked around for a way out, but there was none; and then he snarled, showing his teeth.
Marlantes watched as the grenade left the soldier's hand and tumbled straight toward him.
'How can you return home?'
He had a family, a big income, and stayed in first-class hotels while jetting off to Europe and the Far East. When companies faced a crisis, they called Marlantes. He was the Ivy-League educated business consultant, the ex-Marine with the medals.
Yet few knew that Marlantes was facing his own crisis. Something was happening to him that neither he, nor his wife or five kids, could understand: There was hardly a day when he wasn't thinking about the secrets he left in Vietnam.
"How can you return home if you've never left?" he once wrote.
iReport: Share your tribute to our fallen servicemembers
Marlantes is 67 now, with thick salt-and-pepper hair, a scruffy goatee and a calm, measured way of talking, but the fatigue can be seen in the lines under his eyes. He's been sorting through his war memories for over 40 years.
He first tried to purge them. He took 33 years to write "Matterhorn," his 2010 debut novel about a Marine unit in Vietnam. He released his combat memoir, "What It is Like to Go to War," last year.
Both books have been hailed as war classics. "Matterhorn" became a New York Times bestseller. Critics described his memoir as "spellbinding" and "staggeringly beautiful." Marlantes was invited to speak at the U.S. Military Academy at West Point, the Air Force Academy and the Naval Academy.
Marlantes accepted so many speaking requests that a three-week stretch is the longest he's spent at home during the last two years. But Marlantes' books aren't just memoirs. They're warnings.
What Marlantes faced may soon afflict the families and friends of thousands of American soldiers returning from Iraq and Afghanistan. The nation is facing a post-traumatic stress disorder "epidemic," a recent U.S. Army study concluded.
The study says that about 472,000 Afghan and Iraq veterans are suffering from PTSD, which includes symptoms such as inexplicable bursts of anger, depression, and memory loss. The U.S. Army sergeant recently arrested for allegedly gunning down 16 Afghan villagers, including women and babies, had been diagnosed with traumatic brain injury and PTSD. He was on his fourth deployment. Veterans carry invisible wounds, Marlantes says, but so do their loved ones.
"For every veteran who goes through a divorce, a wife goes through one, too," he writes near the beginning of his memoir. "For every veteran alone in the basement, there is a wife upstairs, bewildered, isolated and in despair from the dark clouds of war that hangs over family life."
Those clouds of war can take a decade to engulf a veteran. Marlantes didn't have his first flashback until about 15 years after he left Vietnam, when he walked into a business meeting one day and saw a pile of mangled bodies on the conference table.
"When the peace treaty is signed, the war isn't over for the veterans, or the family," he says. "It's just starting."
Families can prepare for that burden, he says, but they must first understand some uncomfortable truths: War isn't just hell. It can also be exhilarating.
'He was the real deal'
The exhilaration springs, in part, from a taste of power. Soldiers as young as 18 are handed the power to dispense life or death, a role normally reserved for God, Marlantes says.
He felt the rush of that kind of power in combat, and it thrilled – and terrified – him.
He writes in his memoir:
"The next time you're with a group of around 40 people, perhaps at a meeting … imagine them all with the lean hard bodies of 18- to 20-year-old men. Arm them all with automatic rifles, rockets and grenades. Add three machine guns and a supply of bullets backed by the industrial might of America. Understand that these armed young men will do, without question, absolutely anything that you ask … and no one will ever ask a single question."
Marlantes didn't have to go to Vietnam.. He was a go-getter: a piano prodigy who appeared on local radio shows (his mother was a waitress who saved her tips to buy him a piano), a high school football star and a National Merit Scholar. He graduated from Yale University in 1967, and won a Rhodes scholarship to Oxford University in England. He says he enlisted because he didn't want to hide behind his privilege while men his age were dying Vietnam.
He'd grown up in Seaside, Oregon, a small, coastal town of loggers and fishermen and members of what Marlantes calls "The Club," the fraternity of men who had gone to war.
His father was a high school teacher who fought in the Battle of the Bulge in World War II. Marlantes' uncle faced the Japanese during the same war. And his Scoutmaster told campfire stories about landing in Normandy during D-Day.
Vietnam, which he now views as a mistake, was already unpopular, but he wanted to do his duty.
"I'm not a fence-sitter," he says. "I had to act."
He went to war in 1968 as a skinny, 23-year-old second lieutenant. He led a platoon of Marines who patrolled so long behind enemy lines that they were routinely infested with ringworm and jungle rot.
"The first thing he did when he got there was to gather all the squad leaders together and say, 'I don't have a clue about how this works. You guys do. You keep me alive, and I'm going to do my best to keep you alive,' " says Tim Rabbitt, a fellow lieutenant in Marlantes' unit.
Marlantes learned how to lead. He would win the Navy Cross, the Marine Corps' second highest decoration for valor, the Bronze Star, two Naval Commendation Medals for valor and two Purple Hearts.
"He really cared about his men and he took care of his men," Rabbitt says. He was the real deal."
Marlantes spent a year in combat. One of his closest calls came when he encountered the North Vietnamese soldier trapped on the hill.
The battle took place on a river near the border of North and South Vietnam. Marlantes' platoon has just broken through a series of bunkers. Soldiers rarely see the enemy in combat; Marlantes, startled to lock eyes with the man, hesitated.
That pause almost cost him his life. When the trapped soldier threw the grenade, it bounced past him, tumbling down a hill before exploding.
Marlantes pulled the trigger. His first shot missed, but he quickly followed up with three shots, striking the man in the chest. His feeling at the time: relief and "savage joy."
"I churned up the slope to take the next position and quickly forgot even that feeling," he wrote in his memoir.
That soldier, though, wouldn't let Marlantes forget.
'He just fell apart'
When Marlantes was discharged from the Marines in 1972, he returned home and hid. Most Vietnam vets did. They treated the war as a shameful secret – not to be talked about. Marlantes stuffed his medals into a jelly jar in his basement.
He tried to forge a normal life: He married, started a family and a career. At first, he excelled in corporate America, just as he had on the battlefield. He became an international consultant and spent 20 years advising oil, coal and electrical companies.
Consulting with corporations wasn't the same as leading a group of soldiers through the jungle, but the job provided some adrenalin-rush. Marlantes was often called in during a crisis – a company was ready to implode, or it had to restructure to survive. While everyone else was exhausted and panicked, Marlantes was having fun.
He could tell when a company was in trouble, but he couldn't see that he needed help.
When his wife became pregnant with their first son, Marlantes didn't want the birth to take place in a hospital. A midwife delivered the baby in a cabin in the woods. Marlantes also kept his son's name off of a birth certificate for six months. He didn't want Peter to be eligible for the draft.
"I was so angry at the government," Marlantes says. "I didn't want my child to be subject to the government like I was. I was a little bit out of my mind."
At times, Marlantes treated his family like his Marine platoon – they were always on the go, moving from one adventure to another.
His daughter, Laurel, says her family lived in a house boat in India; a tent on an army base in the Himalayas; a meadow in England; a sky rise hotel in Singapore, and a vineyard in France. She says it was fun and "chaotic."
"There was this need to keep his adrenalin high," says Laurel, now an actress and interior decorator in Los Angeles. "I'd gone to 15 different schools by high school."
Marlantes trained his children as if they were his troops. He taught his son how to shoot, gave him martial arts lessons, and showed him how to survive in the woods. He taught his daughter "safe words" that she could repeat over the phone to signal that she had been abducted.
Taken individually, each lesson might simply be counted as good parenting. But the cumulative effect of always preparing for the worst filled Laurel with fear. "Even when we went to the supermarket, it seemed like we were gearing up for war."
But it wasn't war, and that was a problem. He missed the intensity and the friendships. Everything else seemed so bland. He felt numb much of the time, and dabbled in drugs. Once he even thought about running drugs to South America with an old Vietnam buddy, just for the hell of it.
In 1977, Marlantes tried to heal himself. He would write a novel about his Vietnam experiences to show Americans what Vietnam vets had endured. It would be a form of self-therapy.
He couldn't keep the war on the pages, though. It kept spilling into his life.
He'd bump into a piece of furniture and then bash it into pieces in a fit of rage. He'd bolt outside at night, naked, convinced he'd heard a noise. Once, he was driving when his son, Peter asked him what he did in Vietnam.
"He just fell apart and cried," says Peter, who now works for a consultant company in Los Angeles. "When he finished, we just drove on in silence."
Sometimes, when his father's anger scared him, Peter says, his dad would tell him: "I love you a lot. You just have a vet for a father."
Laurel says her father sent her the same message in different ways. He wrote her adoring letters adorned with goofy cartoon sketches. He played "Great Balls of Fire" on the piano, or rolled down the car windows with the radio at full blast, singing Billy Idol with his children.
Other times, the clouds of war descended on Marlantes' family. He and his first wife, Gisele, a yoga teacher, divorced after 30 years.
"It's not just veterans who try to repress the war; families do it," Peter says. "In my family, we just pretended things were okay and thought if we all ignored it, it would go away."
One night, Marlantes' old enemy returned.
He was driving home about two in the morning when he saw a pair of angry, dark eyes on his windshield. It was the North Vietnamese soldier he killed. The soldier's eyes faded that night, but Marlantes would see him again, at the oddest times.
He would be talking to someone at work and the soldier's snarl would suddenly appear. Once, he dared to talk about the soldier at an encounter group, then fled the room in tears.
"I'd never been able to tell anyone what was going on inside. So I forced these images back, away, for years."
The surge of emotions blindsided Marlantes. He hadn't thought about that young soldier since their encounter 10 years earlier in Vietnam. Now he couldn't get away from him.
"He started showing up in my dreams," Marlantes says. "That's when I said, 'Oh no. Time to deal with this."
His method for dealing with it, though, would be unorthodox. He would call on the dead.
'Welcome, former enemies'
Marlantes went to war again; this time, the enemy was within. He started attending counseling sessions at the VA hospital and was diagnosed with PTSD. He read books on psychology, mysticism and mythology. He was prescribed medication.
Marlantes says his deepest issue, though, was spiritual. The Marines had taught him how to kill, but not how to deal with killing.
Most people are taught that killing is the worst thing a person can do. A soldier may not feel guilty for killing in war; maybe not when he or she first returns home. But they eventually have to face what they did
"You have to deal with the fact that a human life was destroyed and you're the one who pulled the trigger."
A Catholic priest suggested a way out for Marlantes. He asked him to attend a private church ceremony with him. Marlantes would seek forgiveness by apologizing aloud to the people whose lives he had taken in Vietnam, and the friends who he had lost. The priest called it a "Mass for the Dead."
In one of the most striking passages in his memoir, Marlantes describes what happened.
The Mass took place at two in the morning in an old mission church in California. Candles illuminated the sanctuary. Wine and bread rested on the altar. Marlantes and the priest were the only ones there.
"Welcome, friends of Karl. Welcome, former enemies. We welcome you. Come in," the priest said as he opened the huge, oak doors in the church.
As the Mass unfolded, Marlantes said he actually felt the spirits from Vietnam enter the church – the enemies he killed, the friends who died under his command. Then he saw them file into the pews, across from one another. Even his late grandparents appeared, smiling at him as if to approve.
As he apologized aloud to all those he harmed, something else happened. His friends and enemies crossed the aisle, shaking hands and hugging one another.
The priest ended the Mass with, "Go in peace, and serve the Lord."
Marlantes felt like a stone had been rolled away from the entrance to his heart. It had been 30 years since he fought in Vietnam.
Why was that Mass so pivotal? Marlantes says there was a power inherent in the religious symbols that he still can't explain. But there was another reason the Mass helped him so much.
He had finally told a stranger what was going on inside of him. He didn't feel alone anymore.
"There was somebody with me who cared."
'Brothers for life'
Marlantes discovered others who cared about him as well.
He logged onto match.com and eventually married again (his wife, Anne, is a therapist who specializes in eating disorders and helping business people cope with stress). They went swing dancing on their first official date.
After spending the most terrifying year of his life in a jungle, Marlantes now lives in a forest. His home, on a lake near the Cascade Mountains about an hour outside of Seattle, is ringed by 200-foot cedar and fir trees. The area is so remote that Marlantes lost one of his dogs to a cougar.
He may live in isolation, but Marlantes' daily life is filled with people. He's reconnected with some of his fellow Marines from Vietnam. They are coming out of hiding as well. They meet him at book signings; calling him at home, bellowing "Lt. Marlantes!" when his wife answers the phone. They tell him they're proud of him for telling people what war is really like.
Now they're planning reunions.
"Though all the years have passed, we talk to each other like we just got off patrol," says Joe Flaherty, a squad leader in Marlantes' platoon. "You experience the worst time in your life with them. You experience the best time in your life with them.
"You're brothers for life."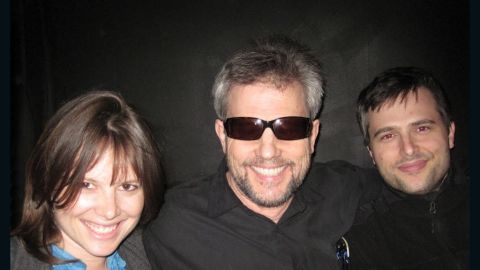 His relationship with his children has been recharged as well.
Laurel says reading her father's book was a revelation. She didn't know how much he suffered. One war injury – shrapnel in his eye – has become more visible since the book's publication, she says. It's somehow floating to the surface of his eye.
"He's showing us his wounds finally – literally," she says. "And he's OK with it."
Anne Marlantes says families say her husband's books have encouraged their veterans to talk about their wounds. Marlantes is an introvert who gets drained by public speaking. But he often talks to veterans groups free of charge.
"I really want him to talk about his experiences and help others," she says, "but it takes a toll on him. He comes back from these trips very raw."
Marlantes removed his medals from the jelly jar and displays them in his home, but he's getting out of the war business. His next book is going to be a romance.
"I'm done. I'm through with it," he says of war.
What about the soldier with the dark eyes? Is he through with him?
"I don't dream that dream anymore," he says. "I laid it to rest."
When Marlantes thinks of that soldier now, he doesn't see an enemy anymore.
He sees him as his son, Peter.
Only today does he realize how young that soldier was. He was probably a teenager, a young man who died alone, "never having made love with a woman," never knowing "the joy and trials of a family of his own."
He no longer feels any "savage joy" about what he did.
"My feelings now?" he writes. "Oh, the sadness… And, oh, the grief of evil in the world to which I contributed."
Forty years after he returned from Vietnam, Lt. Karl Marlantes stuffed his medals and emotions away. Then he told his secrets.
But like all veterans of "The Club," some memories may always linger. Perhaps no soldier really gets over war.
Yet Marlantes can at least say this:
I'm not hiding anymore.