This is the second installment in a six-week series on the perceptions of beauty. Last week's piece looked at the relationship between beauty and the brain.
Story highlights
Films like Miss Representation, America the Beautiful challenge media portrayals of women
Miss Representation is now a call-to-arms campaign with 50,000 Facebook followers
Blogs and viral videos are vehicles for raising awareness of digital image alteration
Here's the fantasy: A half-naked woman lies across a couch, lips pouty and cleavage prominent as her sultry gaze implores you to buy this bottle of perfume.
The reality: Women make up 51% of the United States yet only 17% of seats in the House of Representatives. They're 3% of Fortune 500 CEOs and 7% of directors in the top 250 grossing films.
What's the connection? We live in a sexualized society where the gap between fantasy and reality is vast and harmful.
"Women are aspiring to do great things in leadership, yet the glass ceiling is still there because of the way media depict women," director and activist Jennifer Siebel-Newsom said. "It influences our culture and dictates our gender norms and values."
Power in the boardroom: Women versus men
Siebel-Newsom's documentary, Miss Representation, is the latest cinematic foray in the movement to challenge portrayals of beauty in "the media," a term used to describe all forms of mass communication, from the internet, TV, film, magazines, radio and advertising.
It may sound like a tired feminist rant to anyone who grew up with a smartphone. In fact, women are objectified more than ever, experts say, thanks to a constant barrage of images from all forms of media, many of them connecting products to a pair of breasts and a coy smile.
"The number of images out there means advertisers have a much more difficult time breaking through the clutter, causing the content to be much more violent and sexualized to get consumers' attention," said Occidental University associate professor Caroline Heldman, who specializes in media, gender and race.
"Meanwhile, the research to come out in the last 10 years shows just how damaging this idea of self-objectification is, the idea that your value of self-worth is dependent on the amount of sexual attractiveness you have to the outside world."
Photos: Celebs show off their natural beauty
Amid the noise, modern-day watchdogs are emerging online and behind the camera to create their own brand of fast-tracked social activism. Documentaries like Miss Representation and the America the Beautiful series start discussions on the big screen and drive audiences to social media to keep it going.
"We're part of a larger movement that's been ebbing and flowing over time. But what I think is propelling us is the fact that people are fed up," Siebel-Newsom said. "They know media is everywhere, and it's communicating hyper-sexualized, pornified images at an unprecedented rate, and they're fed up with the status quo."
It's not just a woman's issue, she said. It's a topic that resonates with fathers and brothers of little girls, with boys and young men who don't want to conform to macho standards on the other side of the coin.
Since airing on the Oprah Winfrey Network in November, MIss Representation has evolved into a call-to-arms with more than 50,000 Facebook fans and 2,268 "social action representatives" as far away as Israel and Pakistan. Followers receive weekly action alerts on how to spread the message, from calling out sexist Super Bowl ads on social media under the hashtag #notbuyingit or talking to men in their lives about the social impact of the Sports Illustrated Swimsuit Edition.
The catalyst is the film itself, which has been screened more than 700 times since November in 46 states and 25 countries. In March alone, as the United States celebrates Women's History Month, the film will be shown more than 130 times worldwide, which includes 25 screenings that were held on International Women's Day on March 12.
The screenings are hosted in a diverse array of venues, from schools, homes and bakeries to the World Bank headquarters and Britain's House of Parliament. More than 2,000 schools have purchased curricula based on the film for classroom discussions.
Even corporate America is getting behind the film. Consulting firm Deloitte has committed to screening the film across the country for clients, employees and the public.
"We are collaborating with MissRepresentation.org and rolling out screening events across the U.S. because we share their concern about the underrepresentation of women in positions of power and influence," Jim Moffatt, chairman and chief executive officer of Deloitte Consulting said in a statement.
"Not only is advancing women the "right thing to do" but it's smart from a talent perspective. If we can help challenge stereotypes and limiting labels, and create environments where all leaders thrive, we can have a stronger workforce and be more competitive on the global stage."
The short-term goal is to create media literacy so that even if ideals of beauty don't change, we change how we react to them. The bigger goal is policy reform on several fronts, from stricter regulation of images in mainstream media to labor policies that allow parents to work and care for their families simultaneously.
While Miss Representation connects the media's impact to leadership, another documentary examines its influence on perceptions of health and body image. As with beauty, they're not always accurate, says Darryl Roberts, the director behind the America the Beautiful series.
His second film, The Thin Commandments, follows his progress as he explores various fad diets in an effort to lose weight and lower his body-mass index, or BMI.
Along his journey, Roberts speaks with dietitians, dieters and politicians, including Secretary of Health and Human Services Kathleen Sebelius, to get the skinny on whether it's possible to be overweight and healthy. Under "the fallacy of BMI," LeBron James, Dwayne "The Rock" Johnson, Tom Cruise, Will Smith and Christian Bale are all obese, he claims.
Like Miss Representation, Roberts is spreading his message in nationwide screenings on college campuses, followed by panel discussions.
A recent screening at Atlanta's Emory University drew mostly women, many of whom revealed in the Q&A session that they'd struggled with eating disorders. One women disclosed that she had an eating disorder while a student at Emory.
"It's kind of surreal to be here watching this movie in the same auditorium where I had a lot of my classes while I was sick," the woman said, voice trembling. "I just want to thank you for making this movie. More people need to see it."
Roberts takes pride in the cathartic quality of his film. Attendees often have a personal connection to the topic, which means displays of emotion at screenings are fairly frequent.
"I enjoy connecting with people on an emotional level through a common passion to change the status quo." he said. "We have to stop looking at these quick fix tools and start looking at health crisis."
Other forms of social commentary take a lighter tack. Jesse Rosten, a California-based commercial director and filmmaker, was flipping through channels one sleepless night when he came across a beauty product infomercial. The spot featured before and after photos of models, but to him, they looked like the same image photoshopped. Et voila, he had an idea for a video spoof.
It took about a day to shoot with friends and a few more weeks for him to edit. It didn't take long for his fake commercial Fotoshop by Adobé to go viral after he posted it on vimeo in January. It was shared multiple times on Miss Representation's Facebook wall and now has 3.5 million views.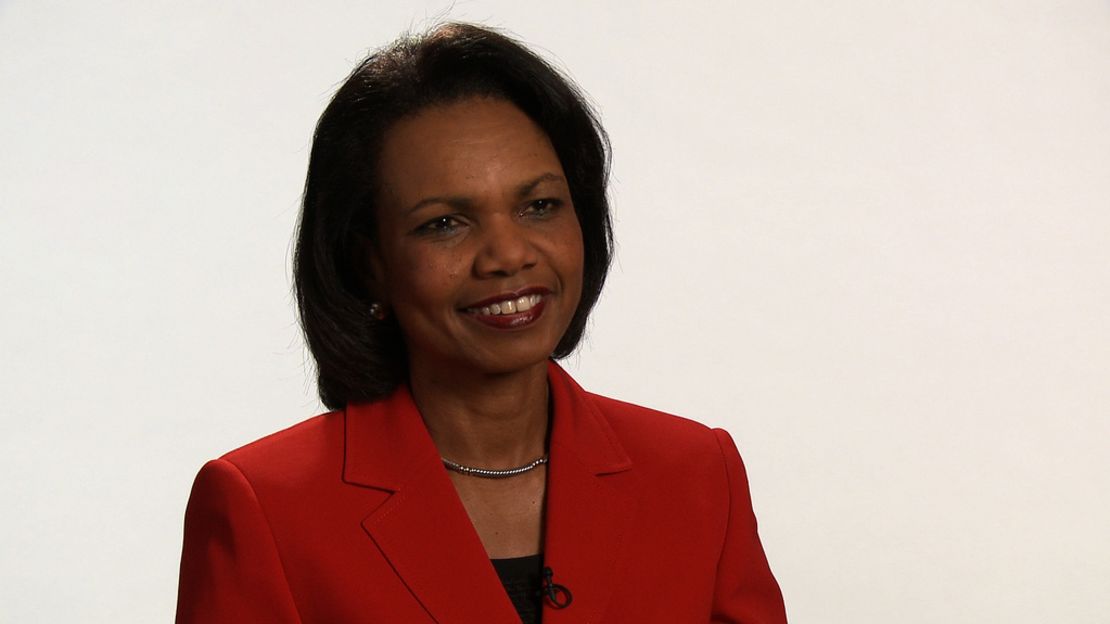 "There's some obvious social commentary in the video, but my No. 1 goal was to make people laugh," Rosten said in an e-mail. "I'm kind of a snarky guy, and I'm happy that I've been able to use that snark to spread an important message: Go easy on yourself. We are all human, and it's OK to look like a human. Nobody will ever measure up to a beauty ideal that is, literally, physically impossible."
Digital alteration is a hot button issue within media activism. The Dove Campaign for Real Beauty highlighted the practice in its groundbreaking viral video, Evolution, which showed the transformation of a woman into a model with rounds of makeup, grooming and a bit of digital cheek shaving. As consumers have grown more aware of the practice, numerous sites and blogs featuring retouched ads and editorial spreads have emerged.
Recently, a bill introduced in Arizona's House of Representatives proposed requiring advertisers to add a disclaimer on digitally altered photos. The proposed legislation is modeled after laws in Britain, where the Advertising Standards Authority monitors companies for egregious acts of Photoshopping. It also has the power to ban ads.
TIME.com: 8 "Misleading" Ads Banned by U.K. Officials
Miss Representation brings all these threads together and connects them to women's participation in leadership roles, in particular, politics. The film highlights the media's treatment of women in the 2008 election coverage, the year in which Michelle Obama was called a "slut," Sarah Palin "masturbation material" and Hillary Clinton a "haggard"-looking 90-year-old.
The connection has added relevance in the current election cycle, especially when female representation in American politics is at its lowest since 1970, said media critic Jean Kilbourne, who first began examining images of women in media in the 1960s.
"We are hurting because we don't have more female politicians. It's very important for people to be aware of the connection between the degrading images around us and the fact that it's so difficult for women to be taken seriously as politicians," said Kilborne, whose renowned film series, Killing Us Softly: Advertising's Image of Women, has been remade four times since the 1970s.
Kilbourne and other leaders in media activism appear in Miss Representation along with Jane Fonda, Rosario Dawson, Condoleeza Rice, Katie Couric, Rachel Maddow, Gloria Steinem and Newark, New Jersey, Mayor Cory Booker to make the argument at the heart of the media activist movement: society measures a woman's value by her physical attractiveness and not in her capacity for leadership.
By weaving together slick montages of babes in bikinis and reality TV catfights with hard-hitting stats and interviews, the film is a crash course in media literacy for the Internet generation.
"It's a good 101 for how sexism in media affects women across the board, whether those women are high school girls dealing with eating disorders or women trying to be effective politicians and facing media coverage that focuses more on their hair and clothes than policy positions," said journalist and media critic Jennifer Pozner, founder of Women In Media & News.
Clips of pundits on mainstream news outlets disparaging Hillary Clinton and Sarah Palin drew audible gasps at a recent screening at Auburn University in Alabama.
Most members of the packed audience were there for class credit and free Chik-fil-A. Others, like freshman Allie Mullen, already had seen the film. She wanted to share it with her Delta Gamma sorority sisters.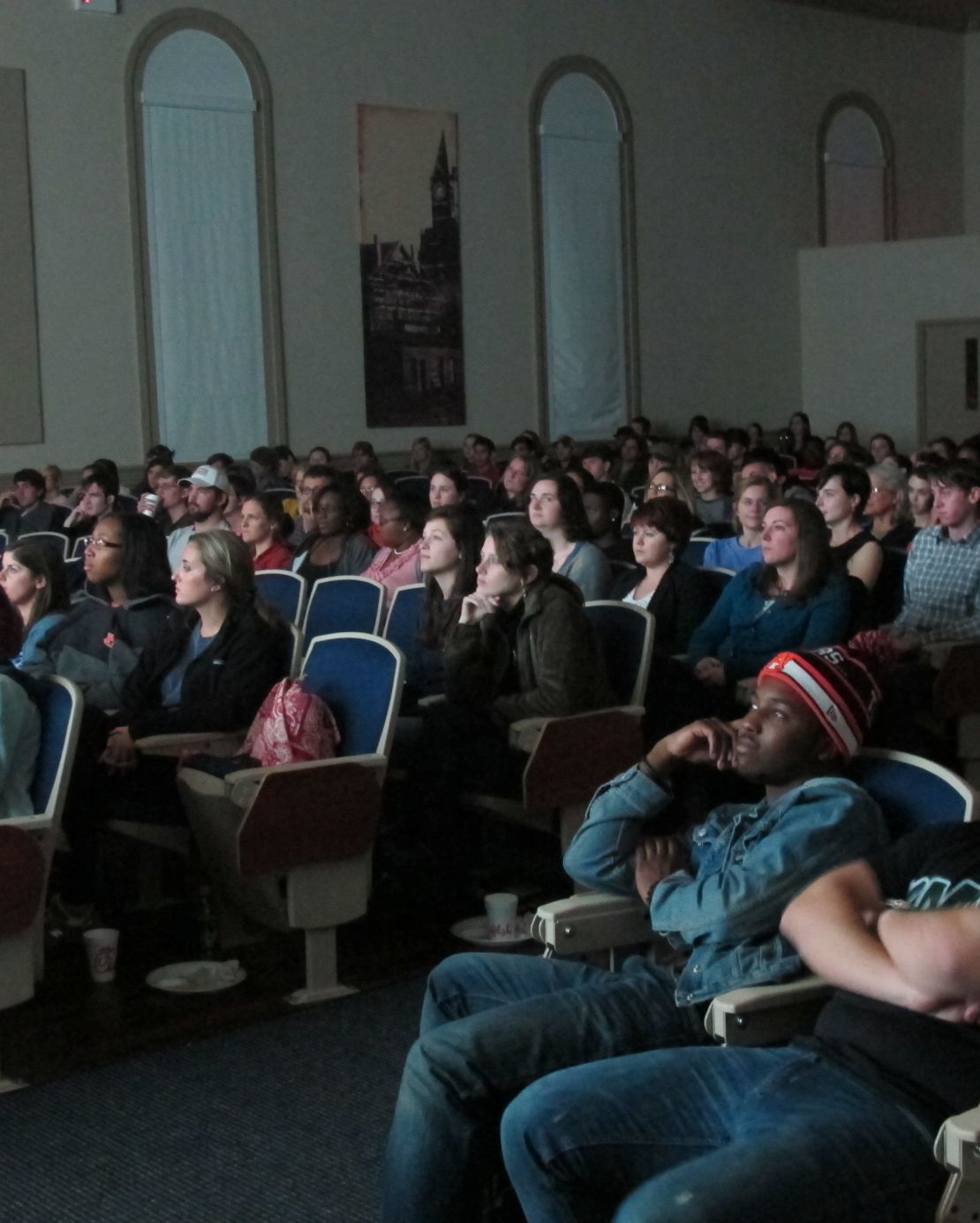 "It's crazy to see how imbalanced it is. We have 87% of the buying power yet we still don't really have a voice," said Mullen, 18.
The foursome admitted to their fair share of obsessing over appearance and putting in extra hours at the gym to prepare for spring break. They were guilty of secretly hating the girl who had the looks, the boyfriend and the high GPA.
One of the girls related to Siebel-Newsom's experience of being told to take her Stanford MBA off her resume while she sought acting gigs. For a while, 18-year-old Leanne Fouts stopped telling guys she was a civil engineering major.
"They'd be like, 'no way, a girl?' It just seemed easier to not say anything," she said. "The movie made me think about how I have to change the way I act and the image I project if I'm going to affect how others see me."
While it may take years for the film to create a real impact at the policy level, for now progress occurs one person at a time.
Hilary Tone has already seen results. After seeing the film on the Oprah Winfrey Network, she felt empowered to send a letter to the editor of "Washingtonian" magazine to criticize its use of a naked woman on the cover. A few weeks later, her boyfriend pointed out that her letter had been published in the magazine.
"People who ignore unrealistic portrayals of women are just as guilty as those who propagate them because you're not doing anything about it," said Tone, who receives Miss Representation's weekly action newsletters. "But there are simple things I can do to make a difference."
From there, she was on a roll. On Super Bowl Sunday, she took up the challenge to call out commercials she found offensive. GoDaddy.com, Teleflora, Kia and Fiat turned out to be the big offenders of the evening.
"I've always been vocal about my views. Ask any of my friends. But online, I was more reserved for fear of offending someone or saying the wrong thing. I guess I've just stopped being apologetic, the 26-year-old Alexandria, Virginia, woman said.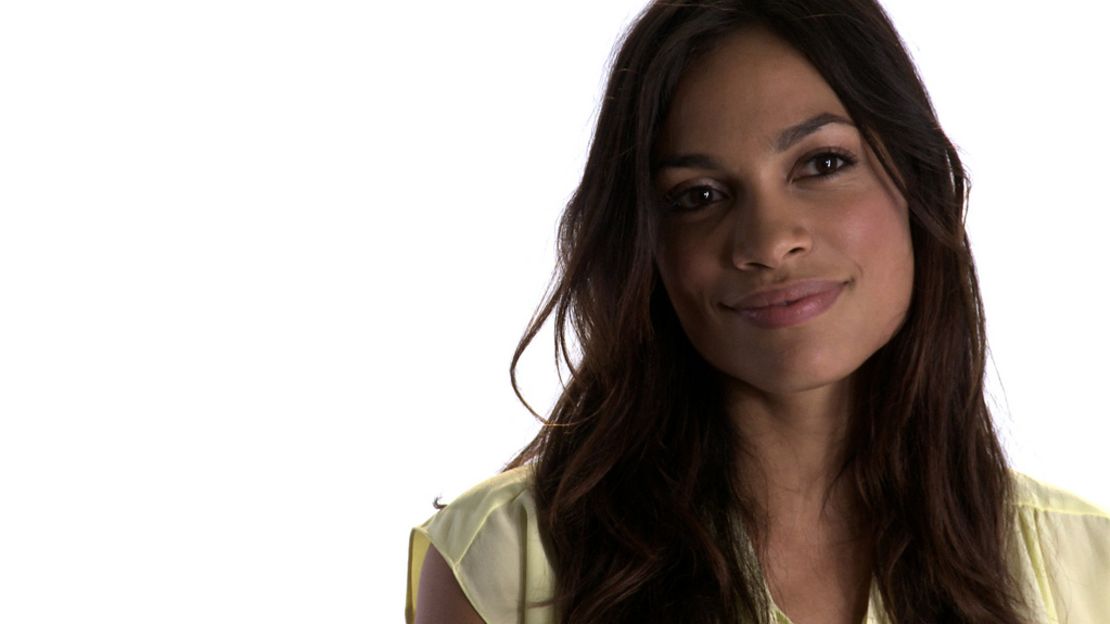 "Since I've stopped worrying, I'm finding that I get a lot more 'likes,' comments and shares. More of my female friends are taking notice, and are sharing what I share, sometimes copying my captions verbatim, liking new pages and organizations, especially Miss Representation, and are generally more in tune with these issues than they were before. Or maybe they were before, and they were just too afraid to speak up, like I was."
None of this implies the film is complete. While MSNBC anchor Rachel Maddow shares an anecdote about receiving vitriolic hate mail for being a lesbian, otherwise, race and sexuality are scarcely discussed.
That didn't stop Isis Yisare, a black lesbian, from hosting a screening in Seattle through Sistah Sinema, a movie night she started a year ago dedicated to showing black women in lesbian roles.
"I definitely feel like if women are negatively portrayed in the media, black queer women have that much more to overcome," said Yisare, who organized a screening in January in a bookstore owned by two black lesbians.
"If your value is based on sexual attractiveness and youth, and now you add in being queer, you're not sexually available to men, you may not fit the stereotypical definition of beauty, you become worthless and don't exist in society and don't bring anything to society."
It would be better if the film addressed those dual handicaps, but their absence doesn't discredit the film, she said.
"Miss Representation articulates steps on how we as women can overcome burdens. That's a message worth sharing regardless of your race or sexual orientation."