Story highlights
Study: Donor and recipient cells can coexist in one person
In some patients, the method tricked immune system into accepting donated kidney
When it works, patients become a sort of medical rarity called a chimera
This is only a preliminary study; more research needs to be done
By the time Lindsay Porter had her kidneys removed two years ago, they were bulging – covered in cysts – and together weighed 16 pounds.
Her abdominal area was so distended, "I looked nine months pregnant, and people regularly asked when I was due," Porter said.
As she prepared for a transplant to address her polycystic kidney disease, Porter, 47, had mixed feelings – relief to have found a donor, tinged with resignation. She was looking forward to both a new kidney, and a lifetime on immune system-suppressing drugs.
"You get this brand new shiny kidney, and then they give you drugs that eventually destroy it," said Porter.
But that scenario may eventually change, if results of a new pilot study are replicated in a larger group of patients. The study, published Wednesday in the journal Science Translational Medicine, describes eight kidney transplant patients, including Porter, who received a stem cell therapy that allowed donor and recipient immune cells to coexist in the same body.
The effect, in a handful of those patients, was to trick the recipient's immune system into recognizing the donated kidney as its own.
When it works, patients become a sort of medical rarity called a chimera.
"Chimerism is a condition wherein two different genetic cell populations are present in the body, and both cell types are tolerated," said Dr. Anthony Atala, director of the Institute for Regenerative Medicine at Wake Forest Baptist Medical Center, who was not involved in the study, via e-mail.
"This has been the holy grail for solid organ transplantation for more than half a century," said Dr. Joseph Leventhal, a transplant surgeon at Northwestern Memorial Hospital and study co-author. "It has been an elusive goal to be able to do this in mismatched donor and recipient combos."
In order to circumvent the problems that come with a mismatched donor and recipient, researchers at Northwestern University and the University of Louisville harvest bone marrow stem cells from the kidney donor. Those stem cells are then subjected to an 18-hour process in the lab to remove problematic cells thought to be responsible for rejection.
"We developed a way to process bone marrow to take up bad cells and leave in good cells," said Dr. Suzanne Ildstad, a study co-author and director of the Institute of Cellular Therapeutics at the University of Louisville.
The stem cell concoction is then frozen and set aside for the kidney transplant recipient.
The next step for Porter and other patients involved in the study was to get a low dose of radiation and a drug cocktail. The combination effectively destroyed some of their own bone marrow to create room for the donor's stem cells to commingle with their own.
After the kidney transplant, patients receive an infusion of the concoction containing the donor's stem cells.
"By having these new cells in the bloodstream, it is like a draw at the OK Corral," said Atala, also chairman of the urology department at Wake Forest Baptist Medical Center. "Neither cell type in the bloodstream will attack the other and tolerance of the cells in the bloodstream, and also of the organ, occurs."
At least, that is what happened for Porter. After her transplant, she spent six months on a full slate of immune-suppressing drugs and then was slowly weaned off them. For the past seven months, she has been free of immune-suppressing drugs.
Another patient involved in the study has been off of immune-suppressants for two years, said Leventhal.
"I really do have to remind myself that I had the transplant," said Porter. "I feel so normal, and the more normal I feel, the more amazing the whole thing seems."
"To free someone from the specter of lifelong immunosuppression is very gratifying," said Ildstad, who has equity interest in a start-up biotech company involved in the study. "I'm getting more and more optimistic that we really will have impact on quality of life for transplant recipients."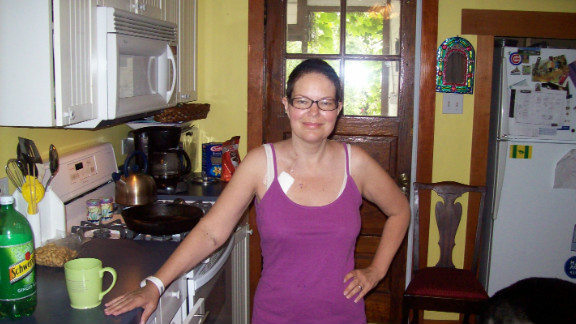 Courtesy Lindsay Porter
Porter is among five patients for whom the stem cell therapy worked. The other patients involved in the study were not able to fully give up their anti-rejection drugs, but remain on a lower dose, according to Leventhal.
"It's another big step towards understanding how to achieve tolerance, so that's good," said Dr. Bryan Becker, spokesperson for the National Kidney Foundation and chief medical officer at the University of Illinois. "With that said, this is a lot to put a patient through. You're talking about the same type of treatment you'd give a patient who has leukemia. … That's not usual for a patient with kidney failure."
It is not known why the therapy works for some patients and not others. But the possiblity of offering a life without immune-suppressing drugs for the more than 100,000 patients awaiting organ transplants is what drives scientists like Ildstad and Leventhal.
"Immunosuppressants increase risk of cancer, certain infections and have other side effects," said Leventhal, an associate professor of surgery at Northwestern University Feinberg School of Medicine. "They can promote diabetes, hypertension and bone disease. They're toxins."
According to an editorial accompanying the study, if this method works for kidneys – and other complex organs like the liver, heart and lung – it could be a game-changer.
"Although only a taste of things to come, few transplant developments in the past half-century have been more enticing than these that put transplantation tolerance within our grasp," wrote James F. Markmann and Tatsuo Kawai, transplant experts at Massachusetts General Hospital.