Story highlights
NEW: Syrian troops shell Homs all day Sunday, an activist says
NEW: "The U.N. gave them the green light yesterday," he says
At least 43 people were killed around Syria, opposition groups say
The Arab League urges al-Assad to "heed the people's demands"
As international leaders wrestled over the weekend how to deal with the crisis in Syria, much of the nation remained engulfed in violence – including attacks by government forces on one embattled city that the opposition Syrian National Council described as a "massacre."
The Syrian government has consistently blamed the bloodshed, which the United Nations estimates has left an 6,000 dead in recent months, on "armed terrorist groups."
Yet opposition forces, as well as an increasingly loud faction of leaders from outside the Middle Eastern nation, have said forces loyal to President Bashar al-Assad have killed civilians as part of its crackdown.
A prime flashpoint for the violence, once again, was in Homs, which is north of Damascus.
The Local Coordination Committees of Syria, a network of opposition activists, reported that at least 29 of Sunday's 43 estimated deaths were in that eastern Syrian city. Opposition groups have said that more than 300 civilians have died and hundreds have been wounded in Homs since Thursday.
An opposition activist in the city, identified only as "Danny," told CNN that government troops bombarded Homs all day with tank fire, mortars and rockets, "which is something new."
"They're not targeting one little place. They're not targeting someone they want. They're targeting everyone," he said.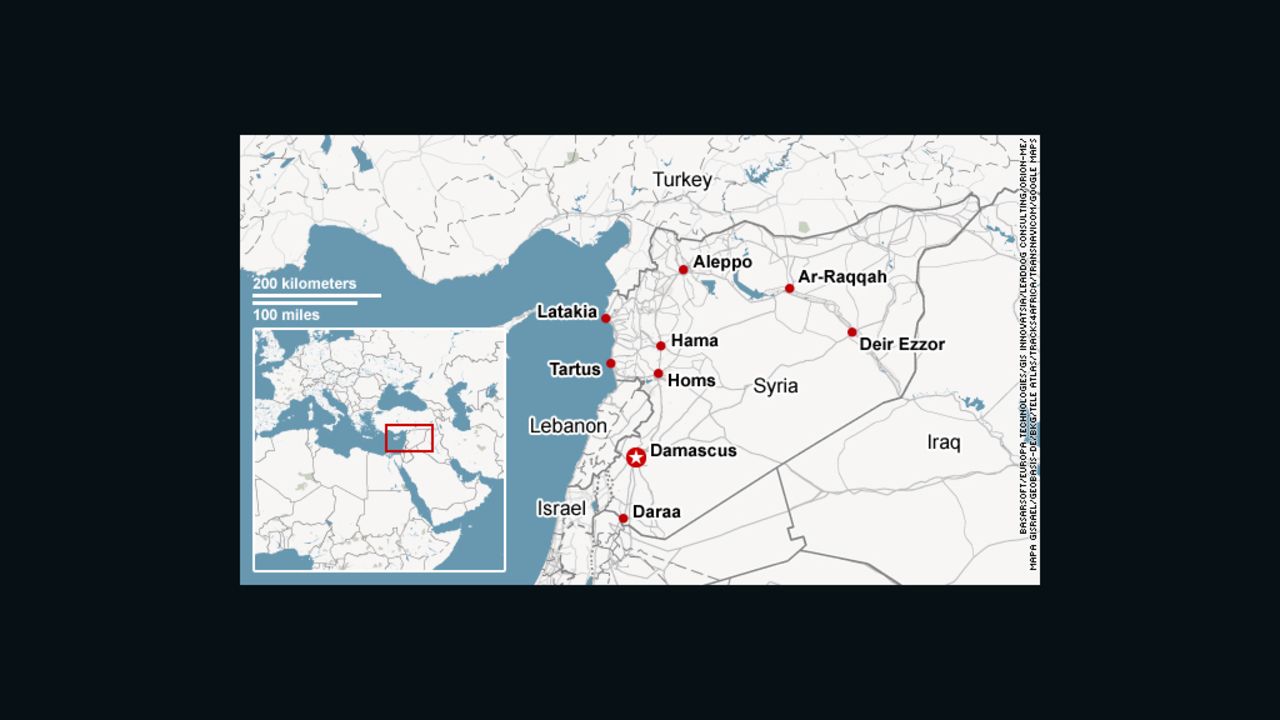 He alluded to the U.N. Security Council's failure on Saturday to pass a resolution aimed at stemming the violence in Syria, claiming "the U.N. gave them the green light" to inflict more violence.
"If it wasn't for the U.N., they wouldn't have did this," he added. "It gave them the OK to kill more. If the U.N. had done something about this, this regime would be a little bit scared."
"Danny" painted a ravaged scene of dead and wounded, numbering among them a girl who lost an eye to gunfire and a boy with his jaw shot away. Many of those hurt were being treated in field hospitals in civilian homes, including some who died from wounds that would not have been fatal with proper care.
"We haven't got enough doctors. We haven't got enough medication," he said.
Besides those killed in Homs, the Local Coordination Committees said at least six more died in Idlib, where gun battles were reported between army defectors and troops still loyal to al-Assad. Five more civilian deaths were reported in the Damascus area, with others killed in Daraa and Aleppo.
At least nine government troops died and 21 others were wounded in Idlib, according to the Syrian Observatory for Human Rights, an opposition activist group.
Meanwhile, the state-run Syrian Arab News Agency reported that 15 people – including two children, an army colonel and eight members of a single family – were killed by "terrorists" around the country on Sunday. SANA also reported a pipeline was bombed outside Homs.
CNN cannot independently confirm opposition or government reports from Syria because the government has restricted journalists' access to the country.
The Local Coordination Committees announced plans for a two-day civil strike starting Sunday, hoping it would mount more pressure on al-Assad's government.
Protesters and rebel fighters have been demanding an end to al-Assad's rule and true democratic elections.
The proposed U.N. Security Council resolution would have demanded al-Assad stop the killing and answer calls aimed at finding a Syrian-led solution to the 11-month crisis.
But Russia and China both vetoed the effort. The other 13 council members voted in favor of the resolution, and U.S. Secretary of State Hillary Clinton called the veto "a travesty" on Sunday.
The veto leaves the world "faced with a neutered Security Council," forcing it to work outside the world body to pressure al-Assad to step down and allow a new government to form, Clinton said.
Ambassadors from the three other permanent members of the council – the United States, France and the United Kingdom – said they were furious at Russia and China. U.S. Ambassador Susan Rice told CNN that Russia and China "will have any future blood spill on their hands," while French Ambassador Gerard Araud said Beijing and Moscow have aligned themselves with a regime that is massacring its people.
The Russian and Chinese ambassadors said they support the cessation of violence, but did not agree with the text of the resolution, which they said would have complicated the issue and sent conflicting signals to both sides.
Russian Foreign Minister Sergey Lavrov is scheduled to visit Damascus on Tuesday to meet with al-Assad, Russian Ambassador Vitaly Churkin said.
Arab League Secretary-General Nabil el-Araby insisted Sunday that, despite the developments at the United Nations, the Arab League and international community will continue to seek a resolution, according to an Arab League official who could not be named because he is not authorized to speak to the media.
"The Arab League aims to avoid military intervention in Syria and continues to probe for an Arab solution to the Syrian crisis," el-Araby said, according to the official.
The regional alliance – which had urged al-Assad to transfer power to his vice president and called for the formation of a unity government – said Sunday that it would continue to work with the Syrian government and opposition to stop the killing. The group also called on Syria's leaders to "heed the people's demands."
Last month, the Arab League suspended its observation mission in Syria because of a recent sharp escalation in violence, with hundreds killed in clashes. The mission would have monitored whether al-Assad was abiding by an agreement to end the violence.
Syria's U.N. ambassador, Bashar Jaafari, said the entire crisis has been manufactured and that there is a media campaign to make the Syrian government look bad.
Referring to the deaths in Homs, Jaafari asked, "Is there a sensible person who would believe a government commits massacres in a given city on a day when the Security Council is scheduled to hold a meeting to examine the situation in that country? Would any entity put itself in such a position?"
CNN's Yousuf Basil, Richard Roth, Mick Krever, Salma Abdelaziz, and journalist Mohamed Fadel Fahmy contributed to this report.