Story highlights
Todd Graham: Rick Santorum had the best night of any of the debaters in any of debates
In last place in polls, with no one attacking him, he laid into opponents, Graham says
Calling Gingrich "loose cannon," Santorum hit him on issues, tenure as speaker, he says
Graham: Question on Gingrich marriage a mistake, gave Gingrich a chance to slam media
Editor's Note: Todd Graham is the director of debate at Southern Illinois University, Carbondale. He has coached his teams to national championships and has been honored with the Ross K. Smith National Debate Coach of the Year award. Graham has evaluated presidential debates for five elections and been analyzing the presidential debates for CNN.com's Opinion section during the 2012 campaign.
(CNN) —
If I were a conservative Republican in South Carolina and Thursday night's debate was the first I'd watched during this primary season, the choice would be easy. Rick Santorum. I know: It surprised me, too.
While he might have fewer overall followers than the other three candidates, Santorum nonetheless (or because of this) debated flawlessly. It was the single most impressive debate performance in this long series from any of the candidates.
Newt Gingrich also had his moments, pulling out whatever "go-to" trick in his arsenal the moment required. But on the issues, and for conservative Republican South Carolina voters, Santorum was the one running on all cylinders.
Here's why he did so well: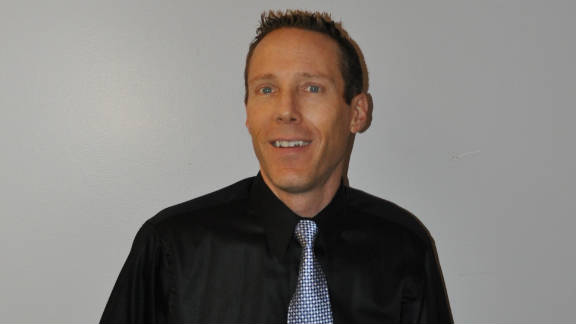 Courtesy Todd Graham
First, nobody was attacking him. He had a free roll. So in this case, it paid for Santorum to be last in the polls. He attacked Mitt Romney and Gingrich and was never put on his heels by his opponents. With no predators in sight, Santorum dominated the environment like an Asian carp.
Second, his criticisms were focused and covered important conservative issues. He hammered away on health care at both Romney. (At one point Romney actually made the error of calling his own plan "Romneycare." Next thing you know he will accidentally call it "Obamneycare.") And then Santorum laid into Gingrich on individual mandates, which the former House speaker supported for 10 years.
More than once, Santorum drove home the notion that Gingrich is a loose cannon and Republicans can't afford that in a nominee. He flatly stated that Gingrich has "no discipline." Gingrich had suggested earlier that Santorum should drop out of the race. "These are not cogent thoughts," Santorum responded in the debate, reminding the audience that he is "2 and 0" against Gingrich in both Iowa and New Hampshire, and with much less money.
And Santorum provided the first debate attack of Gingrich's leadership as speaker of the House. "I served with him. I was there. I knew what the problems were going on in the House of Representatives, and Newt Gingrich was leading this."
He roasted Gingrich by stating that conservatives threw him out of his speakership after four years. These were effective critiques because they were personalized. When Santorum spoke, he was believable.
Finally, Santorum did a good job presenting his own ideas – zero taxes for manufacturing corporations, his anti-abortion stance – and his closing remarks were right on the mark. In them, he talked about his electability over President Barack Obama. He went point by point describing his differences with Obama on health care and bailouts – reminding the audience not so subtly that Romney and Gingrich supported the bailouts. Santorum concluded by saying he was the only Republican on stage ever to beat an incumbent Democrat.
As for Gingrich, the very first thing he did in the debate is what you'll hear people talking about. I was stunned by moderator John King's first question, since I thought the counter move by Gingrich was so obvious. Anyone watching Gingrich in these debates knew exactly what he was about to do, which was attack the media. But King pressed on with a question about Gingrich's ex-wife and whether or not her allegation that Gingrich wanted an "open marriage" was true.
This was a mistake. Gingrich's marriages may be a campaign issue, but there's a difference between a campaign issue and a debate issue. Some concepts simply can't play out well in a debating format.
When this question came roaring out of the gate, I knew two things. First, the other candidates wouldn't take the bait and talk about something so lurid. After all, this isn't a simple question of divorce or marriage or fidelity. This question sought details. Who wants to debate Gingrich on the question of open marriages? Romney with his family history of polygamy? ("Yeah, Newt. Let's debate open marriages for a while!" ) It's no wonder that Romney immediately said, "Lets get to the real issues."
And second, Gingrich was about to play King like a fiddle. What happened? Playing the victim better than that hot girl who trips over a rock and falls down in a horror movie, Gingrich was "appalled" and "astounded" by the "vicious" and "negative" question, calling it "trash" to open a presidential debate with it. Theatrics or not, it stopped King and anyone else from daring to bring it up again.
And in asking it, King unwittingly played right into Gingrich's hand. One tip for debaters also holds true with lawyers (and moderators). Never ask a question for which you don't already know the answer. King should have heeded that advice.
Join CNN Opinion on Facebook and follow updates on Twitter.
The opinions expressed in this commentary are solely those of Todd Graham.