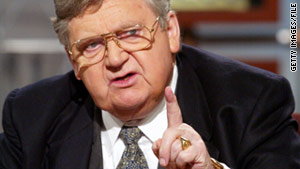 Lawrence Eagleburger's assignments included the first Gulf War and Yugoslavia. He died at age 80.
STORY HIGHLIGHTS
NEW: Obama lauds Eagleburger's breadth of service
Lawrence S. Eagleburger served as secretary of state
Former President George H.W. Bush calls diplomat's work "heroic"
Eagleburger held federal positions dating back to Nixon administration
Washington (CNN) -- Lawrence S. Eagleburger, the only career foreign service officer to rise to the position of secretary of state, was remembered Saturday for strengthening ties with allies and dealing with despots.
The diplomat died at 80, according to a statement from former President George H.W. Bush, who was Eagleburger's boss in late 1992 and January 1993.
Details of Eagleburger's death were not immediately available.
Eagleburger's historic assignments over a long career included the first Gulf War, bloody strife in the Balkans and the collapse of the Soviet empire.
Bush called him a tireless and dedicated patriot.
"Larry Eagleburger was one of the most capable and respected diplomats our foreign service ever produced, and I will be ever grateful for his wise, no-nonsense counsel during those four years of historic change in our world," Bush said in a statement.

1989: Eagleburger on foreign policy
"During one of the tensest moments of the Gulf War, when Saddam Hussein began attacking Israel with scud missiles, trying cynically and cruelly to bait them into the conflict, we sent Larry to Israel to preserve our coalition. It was an inordinately complex and sensitive task, and his performance was nothing short of heroic."
President Barack Obama, in a statement, said the United States "has lost a distinguished diplomat and public servant."
"He helped our nation navigate the pivotal days during the fall of the Berlin Wall and the end of the Cold War," Obama said of Eagleburger.
Secretary of State Hillary Clinton lauded the outspoken Eagleburger's stand against communism during the height of the Cold War.
Eagleburger was an executive assistant to Henry Kissinger during the Nixon administration and helped improve relations with China.
During the Carter administration, he was ambassador to Yugoslavia, and he served as undersecretary of state for political affairs during the Reagan administration.
The diplomat, a native of Wisconsin, was Secretary of State James Baker's deputy during the Bush administration.
Eagleburger, a former Army officer, succeeded his boss after Baker stepped down in 1992 and served as secretary of state for the last months of Bush's term.
In 2001, Eagleburger told CNN that not removing Iraqi strongman Saddam Hussein from power was "probably a mistake."
Eagleburger served on several corporate and policy boards after he left government.
In 1991, President George H.W. Bush awarded Eagleburger the Presidential Citizens Medal. In 1992, he received the Department of State's Distinguished Service Award, the department's highest honor. In 1994, the statesman received an honorary knighthood from Britain's Queen Elizabeth II.
FOLLOW THIS TOPIC