STORY HIGHLIGHTS
Experts say Panetta has generated Obama's trust
Panetta is an old political hand with many connections
He was a congressman and served under Clinton
(CNN) -- CIA Director Leon Panetta is a smart choice to replace Defense Secretary Robert Gates because of his political skill and maturity, his many years of government experience, and his knack of generating trust with others, observers say.
In the most extensive reshaping of the Obama administration's national security team to date, the president will name Panetta as his nominee to succeed Gates, a senior defense official and another U.S. official said Wednesday.
Gates, who has served as defense secretary since 2006, is expected to retire this summer.
David Berteau -- a senior adviser and director of the Defense-Industrial Initiatives Group at the Center for Strategic and International Studies -- said Panetta has experience with defense issues from his years as a California congressman and as a top official in the Clinton administration, where he served as the director of the Office of Management and Budget, as well as chief of staff.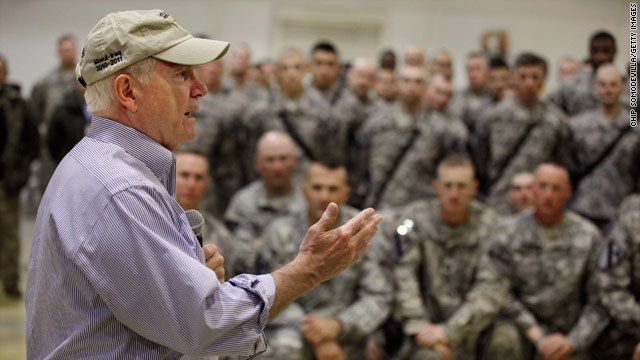 Gallery: Obama Reshuffles National Security Team

Obama moves: Good team, bad strategy
"He's probably as well qualified as anybody" in dealing with reductions in defense and wrestling with budget issues, Berteau said. He notes that during the remainder of the Obama term, Panetta will be dealing with two yearly budgets and a six-year long-term package.
Berteau says Panetta was director of the OMB during the last defense drawdown and "learned a lot of lessons."
"The other thing he brings to the table is that he knows how to deal with the Republican Congress, which he did during the Clinton administration," he added. The U.S. House of Representatives is now also controlled by Republicans.
Berteau said that while Panetta didn't serve on the House Armed Services Committee when he represented a northern California district from 1977 to 1993, his home district had a huge defense presence.
Panetta became the CIA director in February 2009, and while in that role he generated the "trust and confidence" of President Barack Obama, Berteau said.
Also, Panetta is a name Americans recognize, and that's important because "filling Bob Gates' shoes is really going to be a tough job."
In other personnel moves, Obama will also name Gen. David Petraeus, now the top U.S. commander in Afghanistan, as the replacement for Panetta as CIA director, a senior defense official said.
The president will nominate Lt. Gen. John Allen to replace Petraeus, a senior U.S. official said, and will nominate veteran diplomat Ryan Crocker as the next U.S. ambassador to Afghanistan, sources said Wednesday.
U.S. Rep. Peter T. King , the New York Republican who is chairman of the Committee on Homeland Security, praised the planned nominations.
He said Panetta has played an important role in the fight against al Qaeda and "will be instrumental as we continue to combat the terrorist threat."
"Director Panetta has had important success in stabilizing the CIA workforce and played a critical role in identifying and disrupting terrorist plots against the United States," he said.
Thomas Donnelly, director of the Center for Defense Studies at the American Enterprise Institute, said Panetta's experience at the CIA, in Congress, and in his stint at the Clinton White House isn't preparation enough for managing the massive Defense Department and serving as sort of a secretary of war.
"What he did before is applicable, but only so far," Donnelly said.
But, Donnelly said, he brings a lot of "great attributes" to the job. He's an "experienced Washington hand" who's established "some level of trust with the president."
Donnelly said Panetta "has done a pretty good job as the institutional advocate for the CIA."
"That will hold him in good stead."
"He's a sensible, moderate politician" who will be dealing with "serious challenges" -- such as the Iraq mission that's slated to be finished by year's end, the war in Afghanistan, the conflict in Libya, juggling resources to perform tasks, and dealing with budgets, Donnelly added.
Panetta will be charged with trying to convince people from the Tea Party right to the Democratic left that the president's policies are worth supporting.
"It would be a very tough and tall order for anybody," Donnelly said. "It's good all his political connections will be helpful in navigating these challenges."
Darrell West, vice president and director of governance studies at Brookings Institution, calls the move "a great appointment."
"In an era of deficit reduction, it's going to be a big challenge" to make the Department of Defense "more efficient. But it's mandatory we do that."
"He brings great skills of budget management to that job" and is uniquely qualified to address that issue because of his political background, West said.
"(Panetta) really has strong budget credentials. That's really what he knows best and what he cares about. He would be able to push the agenda of improving efficiency in a very effective manner," he added.
Sources have told CNN that Panetta is a logical choice because he's confirmable, he has good relations with Congress, and he knows both the budget issues and the foreign policy issues of the Pentagon.
"It will be interesting to see how this plays out," Donnelly said.
CNN's Barbara Starr contributed to this report
FOLLOW THIS TOPIC