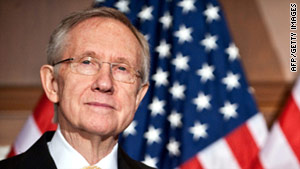 Sen. Harry Reid says legal prostitution is hurting Nevada's reputation.
STORY HIGHLIGHTS
Sen. Harry Reid, D-Nevada, has called for an end to legalized prostitution in his state
Reid says legal brothels are hampering efforts to bring new business to Nevada
The owner of Moonlite Bunny Ranch says his business provides local revenue and jobs
Baptist church's pastor says brothels have done little to help Nevada
(CNN) -- Senate Majority Leader Harry Reid is taking aim at the world's oldest profession, calling for an end to legal prostitution in his home state of Nevada.
Addressing state legislators Tuesday in Carson City, the Democrat said it was time for an "adult conversation" on a topic that often spurs as much awkward laughter as it does serious debate. He warned that the state's Wild West tradition has become an impediment to economic growth, causing companies to think twice before relocating there.
Nevada's reputation is suffering, he said.
"Nevada needs to be known as the first place for innovation and investment, not as the last place where prostitution is still legal," Reid said. Parents "don't want their children to look out a school bus and see a brothel. Or to live in a state with the wrong kind of red lights."
Reid's suggestion was met largely with silence.
Under Nevada law, prostitution is illegal in major cities such as Las Vegas and Reno. More sparsely populated rural counties, however, have the option of allowing brothels. Ten counties currently do so.
Nevada Gov. Brian Sandoval, a first-term Republican, has said he believes that any decision to ban prostitution should continue to be made by county governments.
Dennis Hof, owner of the famous Moonlite Bunny Ranch, slammed Reid on Wednesday, calling the senator's proposal a "red herring" to compensate for his "lack of performance" in office.
"We're not rolling over," Hof said. "Reid will have to pry the keys to the cathouse out of my cold dead hands."
Hof said he owns four brothels in Nevada's Lyon County. The brothels pay about $500,000 in fees to the county annually, he said, while employing 650 people.
He accused Reid of pushing for the ban as "political payback" for rural Nevada's support of Sharron Angle, Reid's GOP opponent, in last year's bitterly contested Senate race.
Brooke Taylor, a prostitute at the Bunny Ranch for five years, said that if Reid really wants to clean up Nevada's image, he would push for greater steps to root out illegal prostitution in Las Vegas.
"The image of Nevada is Las Vegas, Sin City," she said. "To say that a child is going to get off a bus and see a brothel is absurd. We are tucked away" in rural areas.
Pointing to Nevada having the highest unemployment rate in the country, Taylor said it's absurd to take away a "viable, productive, contributing business for a hypothetical one," a reference to Reid's warning that brothels are hampering attempts to draw in new industries.
But Pastor Bill Killion of Elko's First Baptist Church said he backs Reid's proposal on moral grounds.
"For once, I agree with Harry Reid, and it scares the heck out of me," Killion said. "I don't think brothels are or ever have been a really good idea."
Killion acknowledged Nevada's long tradition of legalized prostitution but said that "just because the state decided at some point in time it's OK doesn't make it OK."
"I think the mistake was made a long time ago," he said, adding that imposing a statewide ban is "the right decision. Period. End of sentence."
The brothels haven't "really done anything for our community," he said.
Reid, who grew up in Searchlight, Nevada, wrote in his memoirs that his mother once earned money by doing laundry for local brothels.
FOLLOW THIS TOPIC