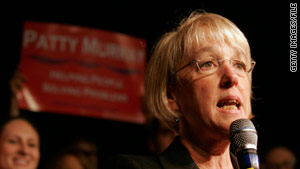 The bill "is about putting insecurity back in the lives of millions of women," Sen. Patty Murray said.
STORY HIGHLIGHTS
NEW: Police remove protesters from House subcommittee hearing
One bill would permanently extend the ban on federal funding for most abortions
Another bill would ensure the health care overhaul cannot be used to fund abortions
The legislation has little chance of gaining approval from the Senate or president
Washington (CNN) -- House Republicans are holding hearings this week on legislation to restrict federal support for abortion, a move that has little support in the Democratic-controlled Senate or White House, but is of enormous importance to the GOP's socially conservative base.
While the measures have little chance of becoming law, the hearings provide a forum for both sides to publicly air views on the abortion debate.
At a House Judiciary subcommittee hearing Tuesday on a bill that would make permanent the current restrictions on federal funding for abortion, Republicans warned that failing to act could lead to tax dollars paying for late-term abortions, while Democrats argued that the legislation amounted to an unnecessary and ill-conceived overreach by abortion foes.
Before the hearing, several protesters objecting to the legislation stood in the public gallery with red bands gagging their mouths. At the request of Rep. Trent Franks of Arizona, the new Republican chairman of the panel, U.S. Capitol Police removed the protesters from the room without any resistance or objection.
Franks equated federal law that legalizes abortion with legal slavery in the American past, and said the bill before the committee was intended to continue the same policy as the Hyde Amendment, which prohibits federal funding for abortion except in cases of rape, incest or to save the life of the mother.

New fight on abortion rights

Boxer: GOP agenda risks women's health
The Hyde Amendment, which took effect in 1977 but must be renewed annually, also bars Medicaid from paying for abortions and abortion coverage in health care plans for federal workers.
Democratic opponents questioned the need for the new bill, saying the Hyde Amendment effectively prevented federal funding for abortion. They also argued that the bill as drafted went much further than claimed by its backers and was an effort to deny women access to legal abortions.
On Wednesday, a House Energy and Commerce subcommittee will consider a bill designed to ensure that President Barack Obama's health care overhaul cannot be used to finance abortions.
This is "consistent with our commitment that we are going to move to take away all government funding for abortion," House Majority Leader Eric Cantor, R-Virginia, said Tuesday. "This is consistent with most Americans. ... This is also consistent with reducing (overall) spending in Washington."
House Republicans have noted the overwhelming support for such legislation in their caucus; the bill before the Judiciary Committee has 172 co-sponsors. Democrats, however, have blasted the move as a misinterpretation of the 2010 election results and a distraction from a sorely needed focus on job growth.
This is "truly bad legislation coming out of the House," said Sen. Patty Murray, D-Washington. "It's about putting insecurity back in the lives of millions of women."
It will not happen "on our watch," Murray said. "We are not going back in history."
"These bills show a heinous disregard for the health and well-being of women in America," said Sen. Kirsten Gillibrand, D-New York.
Democrats have taken aim at provisions in the Judiciary Committee bill that would strip certain federal tax deductions or credits from private-sector employers providing health care plans that include abortion coverage. Sen. Barbara Boxer, D-California, on Tuesday characterized the provisions as a GOP tax increase.
Republicans originally altered the definition of "rape" in the bill, saying that it pertained solely to "forcible rape" as opposed to statutory rape or other forms of assault. They later backtracked, however, after a wave of intense criticism from comedian Jon Stewart and others.
Also generating controversy is a provision in the bill before the Energy and Commerce Committee that would prohibit the federal government from stripping financial support from hospitals that refuse to perform abortion-related services.
Abortion-rights groups said the move could endanger women in potentially life-threatening situations. Anti-abortion activists, however, contend the provision is merely an extension of other "conscience" protections already in place for health care providers.
CNN's Dana Bash, Tom Cohen and Deirdre Walsh contributed to this report
FOLLOW THIS TOPIC