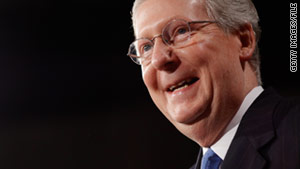 Republican Sen. Mitch McConnell blames "excessive government spending of the last two years" for a sluggish economic recovery.
STORY HIGHLIGHTS
NEW: Cantor says showdown possible over extending debt ceiling
Republican leaders say substantial spending cuts are needed now
Democrats call for a balance that bolsters economic growth while reducing waste
President Obama will outline his plans in Tuesday's State of the Union address
Washington (CNN) -- Republican leaders called Sunday for immediate and significant cuts in government spending, while Democrats warned such a strategy could harm economic recovery.
Senate Minority Leader Mitch McConnell, R-Kentucky, and the chamber's second-ranking Democrat, Dick Durbin of Illinois, summed up their respective parties' stance on what is expected to be the biggest political fight of the new congressional session.
Republicans hold a stronger stake in both chambers after the November elections, taking control of the House and narrowing the Democratic majority in the Senate. The split Congress raises the possibility of political gridlock despite pledges by all leaders including President Barack Obama to put the needs of the nation above partisan ideology.
Appearing on "FOX News Sunday," McConnell blamed "excessive government spending of the last two years" for a sluggish economic recovery and unemployment above 9%, as well as a growing federal deficit.
"I think we ought to try to reduce spending as much as we possibly can," McConnell said, noting that he has warned constituents not to "assume we can tackle this without impacting something you like."
Everything should be under consideration for cuts, he said, including Social Security and other government-run entitlement programs. However, McConnell also noted the political reality of Democrats controlling the Senate and White House, saying: "What we are going to try to do is reduce domestic discretionary spending as much as we possibly can that will get a signature by the president."
On the NBC program "Meet the Press," new House Majority Leader Eric Cantor, R-Virginia, said that reduced spending means "hundreds of programs" will need to be cut.
"Everything is on the table," Cantor said, adding that "you've got to learn to do more with less. You can't sustain this level of borrowing and debt. Everyone knows that."
When asked if spending on cancer research would be cut, Cantor did not specifically rule it out.
Durbin told the FOX program that Democrats seek a balance between cutting unnecessary spending and ensuring sufficient funding for programs key to economic growth and development.
Focusing only on deep spending cuts as recovery from recession continues would harm economic growth instead of bolstering expansion and job creation, he said.
"You can't end the deficit without putting Americans back to work," Durbin said, noting that the deficit commission appointed by Obama reached the same conclusion last month.
Durbin, who was a member of the deficit commission and supported its final report, called for reworking the tax codes to end some of the existing deductions and credits, as well as phasing in over decades a higher retirement age for Social Security eligibility.
On the CBS program "Face the Nation," Democratic Sen. Chuck Schumer of New York said spending cuts are necessary, but "it has to be done in a smart way."
Investing in education, building roads and bridges, and scientific research is necessary for future growth and must be balanced with spending cuts aimed at waste and inefficiency, Schumer said.
In a videotaped message to supporters released Saturday, Obama said his State of the Union address will focus on "making sure that we are competitive, that we are growing, and we are creating jobs not just now but well into the future."
To Republicans, that is code for increased spending on targeted programs.
"Any time they want to spend, they call it investment," McConnell said on FOX. "I think we'll hear the president talk about investing a lot Tuesday night."
He added: "We'll take a look at his recommendations, we always do. But this is not a time to be looking at pumping up government spending in many areas."
Schumer, however, said on CBS that Americans want an "optimistic, future-oriented, pro-growth platform" as espoused by Obama rather than what he called the "dour, sour, 'everything is wrong' " agenda of Republicans.
According to Cantor, a showdown over government spending could come as soon as March, the earliest date when Congress will have to authorize a new federal debt ceiling. Failure to agree on a new ceiling would amount to a U.S. default on some of its debt obligations, resulting in major economic harm, Treasury Secretary Tim Geithner said last week.
"Republicans are not going to vote for this increase in debt limit unless there are serious spending cuts and reforms," Cantor said on NBC. On FOX, McConnell called the need to reauthorize the debt ceiling an opportunity to address funding issues, but he stopped short of issuing an ultimatum.
"Nobody's going to put a gun to anybody's head here," McConnell said, while Durbin also played down the chances of a stalemate causing a crisis.
"We don't want to risk foreclosure on the full faith and credit of the United States of America. It would be disastrous," Durbin said on FOX, adding: "I understand that we need to be serious about the deficit, but we don't need to play any kind of brinksmanship or doomsday scenario when it comes to the debt ceiling."