Oh no! My Internet is down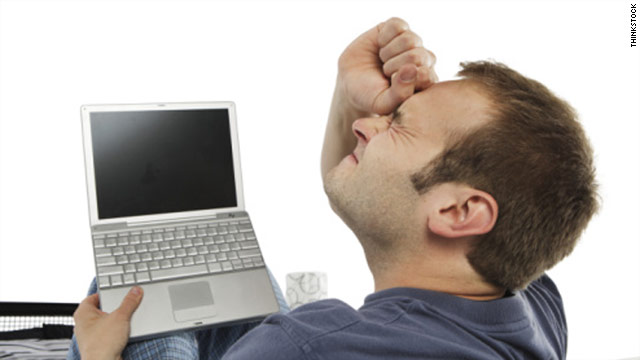 STORY HIGHLIGHTS
James Kindall says Hurricane Irene left him without access to the Internet
He says life is changed -- can't tweet, listen to iTunes; he trolls other towns for a connection
Kindall: Hey, I have a wife, kids, job, who knew? Things not so bad
Kindall: Maybe I'll take up new activities! Wait, never mind; Internet's up again
Editor's note: James Kindall is a writer on Long Island, in New York. His power is still out after Hurricane Irene.
Huntington, New York (CNN) -- For millions of people who have been temporarily wiped off the grid by Hurricane Irene, the world has become a new place. A pre-computer, pre-social network planet.
Suddenly we have the opportunity to contemplate life's larger issues while experiencing complete and utter boredom. For the first time in a long while, we have realized it is possible to light a candle and curse the darkness.
Teenagers, accustomed to communicating with their thumbs, have stumbled outside to discover that reality is in 3-D. People who ordinarily complain online about the state of the world now resort to face-to-face kvetching.
I've got so much time on my hands, in fact, that I wrote a doggerel about life in Irene's wake for those lucky ones among us who, like me, have lost only electricity.
Personally, this has been an epiphany. At last, I see the bigger picture: Life is more than YouTube -- it is an endless session of Skype, only bigger:
We lost it when Irene blew through
Wi-Fi, laptop, iPad, too
On my Kindle, no bars found
Oh lord, the Internet is down
My Facebook friends no longer poke
I cannot tweet a single joke
My iTunes offer not a sound
Now the Internet is down
I finally fix that yellow chair
Clean my office, wash my hair
Then I wander all around
Now the Internet is down
The library's packed. And Starbucks, too
I need my fix. Can I sit here too?
Is Wi-Fi in another town?
Now the Internet is down
You know, this thing could change my life
That woman there? Seems she's my wife
I wondered why she hung around
Now the Internet is down
I have a daughter! Son! It's true!
A family. Job. Good grief, who knew?
I feel better. My mind is sound
Now the Internet is down
I'll search the house and find a nook
To finally read that Hawking book
My thoughts are clear, my soul unbound
Now the Internet is down
I'll study Zen. Take up guitar
I'll search for wisdom near and far
To Internet's death, I raise my cup
Wait. Never mind. It came back up
FOLLOW THIS TOPIC