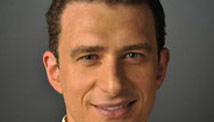 STORY HIGHLIGHTS
The idea that fathers don't spend enough time with their kids is a myth, Josh Levs says
Fewer than half of working dads are their family's sole providers, Levs says
He cites report that average time working dads spend with kids on workdays is three hours
Levs: Stay-at-home parents deserve massive respect, admiration and praise
Editor's note: Josh Levs has covered a wide range of issues for CNN and the CNN Wire, including politics, technology and the changing role of fatherhood. He is father to two young boys.
(CNN) -- You work exhausting hours trying to hold onto your job and provide for your family in a scary economy. When you get home, you help prepare dinner, play with the kids, help with homework, read goodnight books. Then there are chores around the house and, finally, a chance to crash and have a little time with your wife -- unless you had to bring work home. You squeeze in however many hours of sleep you can.
And when you get to work the next morning, what's waiting for you online? A column on CNN.com by a dad who works from home informing you that he has "been sent here today, on behalf of the stay-at-home mothers of the world" to tell his "fellow pops" that it's time to "wake the hell up."
According to him, "most" dads have "have 9-to-5 jobs," "just wanna chill in front of SportsCenter with a bowl of chips" when they get home and "have no remote idea" how hard their stay-at-home wives are working. You see, at your job you can "pretend you're working while scrolling the Internet for Yankees-Blue Jays and, ahem, Lindsay Lohan news."
The idea that anyone thought this was an appropriate message for Father's Day is preposterous.
"I just can't stomach those millions of dads who view their days at home as recovery from work, who'd rather rest than engage, who have no problem with passing the tykes off for more alone time with mom and who, literally, moan to their wives, 'You have no idea how hard I work,' " he writes.
Who are these "millions" he's imagining? They're none of the fathers I know, none of the fathers I've interviewed in my work covering the changes

in American fatherhood.
Many readers took the writer, Jeff Pearlman, to task for the column, calling it "insulting" and based on a "stereotype."
As a dad who, just like all my dad friends, loves fatherhood, and as a reporter who delivers reality checks on just about everything, I set about gathering some facts.
Don't get me wrong -- I agree that any man who fails to prioritize his children should be taken to task, and am glad Pearlman wants to volunteer his voice. But very, very few dads meet the description he offers. On his blog, he cites the "staggering number of fathers who suck at being, well, fathers." But he doesn't give any numbers.
Here are some:
• 44% -- The percentage of working dads who are sole financial providers, up from 2010, according to a careerbuilder.com survey. More than one in five work more than 50 hours a week, and one in five bring home work at least three days a week.
• Three hours -- The average time working dads spend with their children every workday, according to a survey by the Families and Work Institute.
• 80% -- The percentage of dads who report that they change diapers as often as or more often than their wives when they're home, in an Ipsos poll for Pampers. Pearlman complains about dads who refuse or don't even know how. (The women polled say they change diapers more often but don't say their husbands shirk diaper duty altogether.)
• 36% -- The percentage of young children who had 15 or more outings with their father in the previous month, according to the census. Another 24% had eight to 14 outings; 37% had one to seven outings. Only a sliver had none, for any number of reasons. (These can be just with dad or with both mom and dad.) Pearlman describes dads who never take their kids out.
From a Pew Research study: "Almost all fathers who live with their children take an active role in their day-to-day lives through activities such as sharing meals, helping with homework and playing."
Stay-at-home parents deserve massive respect, admiration and praise. One dad I interviewed, who became a stay-at-home parent when he lost his job, explains it's tougher than the paying jobs he's had. Our country is better for all the hard work that stay-at-home moms and dads do every day. But let's all make sure that, in paying homage to them, we don't cast hard-working dads in a bad light.
If you somehow manage to know someone who matches the description Pearlman lays out, henceforth to be referred to as Anomaly Man, tell him he should indeed wake up ... from whatever time warp dream he's having. It's 2011. Dads are active and involved. And for examples, he can look to his left, his right, in front of him, behind him or in just about any direction any weekend at any park, playground, tourist attraction or "jumpy place." (Fellow dads know what I mean.)
To my fellow pops, the actual millions who are providing for and taking care of your children and loving it: Thank you. You're doing great.
Now get some sleep.
The opinions expressed in this commentary are solely those of Joshua Levs. Weigh in on this column at Facebook or Twitter.
FOLLOW THIS TOPIC