STORY HIGHLIGHTS
Large-donor class may be looking at Mitt Romney with satisfaction after debate

Romney seemed comfortable in his skin, steering conversation back to economy and jobs

But Michele Bachmann may have changed dynamics of the GOP race most dramatically

Bachmann presented herself as strong and positive proponent of the conservative message
Editor's note: Dante Scala is an associate professor of political science at the University of New Hampshire in Durham. Follow him on Twitter.
(CNN) -- A lot of New Hampshire voters may have been watching the Boston Bruins win Game 6 of the Stanley Cup, but a lot of money was watching the performance of the seven Republican candidates Monday night. Donors to campaigns, both large and small, have their checkbooks ready. They just need a reason to sign on the bottom line.
For the large donors from the GOP establishment -- wealthy, secular in outlook, primarily concerned with taxes, regulations, business and the economy -- Mitt Romney looked like a candidate in charge. Gone was the flip-flopper of 2008, painfully pandering to social conservatives. On Monday night, Romney finally looked comfortable in his own skin. He continually steered the conversation back to his main issues, the jobs and the economy.
Early on in the debate, he charged that President Barack Obama took the recession and made it even worse, in part, he said, because of his failure to let the private sector take the lead on job creation. And on purported weaknesses such as his evolving position on abortion (he once seemed for abortion rights; now he says he is against abortion) and so-called "Romneycare" (his plan as governor of Massachusetts to expand health care coverage, including with individual mandates), he offered a robust defense of his positions.
Romney received a gift from one of his opponents when early on, former Minnesota Gov. Tim Pawlenty weakly refused to confront him on the subject of health care despite the urging of moderator John King. Romney cruised the rest of the night.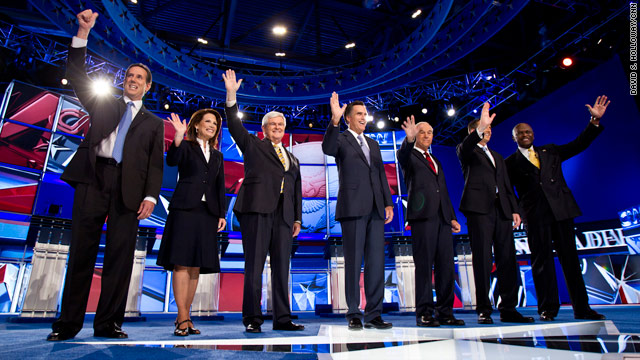 Gallery: New Hampshire GOP debate

Who connected at the GOP debate?

Romney targets Obama

Bachmann on Monday's debate
CNN Political Ticker: Watch entire debate
After weeks of positive polling since Romney officially announced his candidacy in New Hampshire, the large-donor class may be looking at him with satisfaction. Two other moderates eyeing potential runs, Rudy Giuliani and Jon Huntsman, no doubt have taken note.
Romney may have won the night, but it was the performance of Michele Bachmann that may have most dramatically changed the dynamics of the race.
In the weeks before the New Hampshire debate, there was a clutter of candidates -- Bachmann, former Sen. Rick Santorum of Pennsylvania, ex-House Speaker Newt Gingrich and entrepreneur and radio host Herman Cain -- vying for the allegiance of "very conservative" Republican voters, be they evangelical Christians or Tea Party activists.
On Monday night, Bachmann stood head and shoulders above the rest in this area, presenting herself as a strong, authentic, positive proponent of the conservative message. Bachmann already knows how to raise money from the small donors who are willing to give $20, $50 or $100, month after month, to the candidate of their choice. She will use this evening's success to reach out to those donors as well as to conservative activists in Iowa in preparation for the famous Ames Straw Poll this summer.
If Sarah Palin or Texas Gov. Rick Perry felt there was a vacuum on the far right waiting to be filled, they are having second thoughts after Monday night.
Long before Iowa and New Hampshire voters go to their caucuses and polls, donors large and small cast their votes with their checkbooks, and thus help to frame the choices those voters eventually make.
On Monday night, both Romney and Bachmann made strong cases to their potential donors. And in doing so, this famously unsettled Republican field started to take on a more definite shape.
The opinions expressed in this commentary are solely those of Dante Scala.
FOLLOW THIS TOPIC