Story highlights
Die-hard volunteers for candidates won't let polls guide their convictions
In Iowa, true believers value their one-on-one relationships with GOP hopefuls
They're still willing to ask hard questions; Rick Perry supporter presses on gay comment
Ties can run deep; one couple cooks using recipes from Ron Paul family
In an empty parking lot off New York Avenue, the rumpling sound of a plastic Herman Cain 2012 banner can be heard flapping in the wind. The sign on the window at Cain's headquarters here still reads, "Come in, we're open." Inside, a table full of bumper stickers, yard signs and buttons gathers dust.
It's a haunting scene for the presidential candidates pinning their hopes on a respectable finish in the January 3 Iowa caucuses, a reminder that a candidate who has the nation talking can suddenly put a period on the end of the sentence.
The key to survival: ever-spreading circles of support. And nowhere is that support stronger than in the hearts of true believers.
It takes a true believer to bravely pick up the phone or go door-to-door to coax strangers and neighbors into talking about politics, then sell them on a particular candidate. Conviction must run even deeper if that candidate struggles to be seen as a real contender.
We traveled to Iowa in mid-December to talk to the die-hard volunteers for candidates who kept being put in the back of the pack by the polls. We wanted to know: What continues to motivate them?
At the time, the political conversation centered around a two-man race – Mitt Romney and Newt Gingrich – in the nation's first caucus. But in a matter of just days, the political winds shifted, with Gingrich faltering, Ron Paul joining the lead and Rick Santorum making a run.
It's a humbling dose of reality to the perennially successful – and inspiration for the torch bearers who still believe in a good underdog story.
An Iowa-eye view
"I think Iowans are spoiled rotten," Kathy Potts says with a smile.
She moved here from Mississippi more than a dozen years ago, and believes Iowans don't understand what a unique opportunity it is to meet presidential candidates face-to-face every four years.
"There's an old joke about a New Hampshire farmer and an Iowa farmer," she says, referring to the nation's first two contests. "The New Hampshire farmer asks the Iowan, 'Have you decided who you're going to vote for yet? And the Iowan says, 'No, I've only met them each three times.' "
It's caucus week in Iowa, and it's also the week Potts is getting her barn sign. She already has two yard signs, a bumper sticker and countless T-shirts, sweatshirts and hats. The five-by-seven "Rick Perry for President" banner will stretch across her entire front porch like a billboard. (Unlike many Iowans, she doesn't actually have a barn, not on her busy Cedar Rapids street.) Potts says a campaign staffer once told her each bumper sticker is the equivalent of $300 in advertising. What must her barn sign be worth?
Potts is a community activist, a mother to four grown children and a volunteer for the Texas governor's presidential campaign. He's the fourth Republican candidate she has helped support since she moved to the state.
Four years ago, Mitt Romney was her man. Now she's rallying hard behind Perry, who she believes is honest and straightforward. To those who have labeled Perry's campaign in Iowa his "apology tour," an attempt to make up for a series of gaffes that dropped the candidate out of the top of the polls, she has this to say: "I like a man that can say oops."
But even Potts, who dedicates around 20 hours a week to making calls, going to events, posting on her Facebook page and chatting with folks in her neighborhood, had a gut check when a controversial Perry campaign ad hit the airwaves. In it, Perry describes what he calls the hypocrisy of a nation that allows gays to openly serve in the military but forbids children from praying in schools.
Potts, an evangelical who supports gay marriage herself, says continuing to campaign was difficult. "Picking up the phone is the hardest part," Potts says. "I was honestly afraid that there would be backlash after the ad came out."
It turned out the most vocal cry of foul came from inside her own family. "My daughter called me up and said, "I can't believe my parents would vote for someone so ignorant. She was convinced (the Perrys) were just horrible and hated gay people."
Potts didn't quite know what to say. "I knew (the Perrys) were not anti-gay," she says. " I just could not support somebody who hated somebody based on their sexual preference." So Potts took advantage of her status as a spoiled Iowan: She buttonholed Perry's wife.
Anita Perry's answer at a campaign event reassured Potts. "She said they had a lot of gay friends. I didn't tell her what my daughter said."
Before Potts left the event, Anita Perry handed her a gift: an official Texas Christmas ornament from the governor's mansion.
Asked why the ornament was in a box and not on her tree, Potts smiles. "My daughter put (the tree) up this year."
Love and politics
The McIntyres of Indianola trace their current political passion to the Ames Straw Poll of 2007.
Forty-one-year-old Crystal McIntyre says she and her family were walking around the grounds at Iowa State University after the results were announced when they passed by Ron Paul's campaign booth.
The family had gone in support of another candidate , but a "Ron Paul Revolution" T-shirt snagged the eye of the oldest of her six kids. McIntyre approached a volunteer to ask about the shirt and what it cost. The family hadn't brought any money, so when McIntyre politely said thank you and began to walk away, the volunteer tossed her a T-shirt and said he would pay for it.
McIntyre grabbed some literature, just to be polite, and on that long car ride home, she became a true believer.
"I was going through everything and I said, honey, this guy is a true constitutionalist. I don't believe he's for real. I've got to research him and find out. And my husband turned to me and said, 'I'll give you two weeks. You research this guy and if he's really who he says he is, our family is getting behind him.' And that was it."
McIntyre is a Gulf War veteran whose politics were shaped by her military service and some tough times her family has gone through when there was little work for her husband, who is in construction. She says America is in need of a rebirth, and she believes Ron Paul, a former OBGYN, is just the man to deliver it.
She dedicates at least five hours a week to calling fellow Iowans on behalf of the Texas congressman. The campaign has rented the space next door to its headquarters to use as a day care, allowing home-schooling moms such as McIntyre the opportunity to take a break and even get a free lunch for her kids while she works for the candidate.
For her door-to-door canvassing, she wears a Ron Paul baseball cap, a T-shirt and a button her young son made with a cracked Liberty Bell sticker and the candidate's name scrawled in marker. Once a week since this year's Straw Poll, she and her husband, Tom, have gotten gussied up and driven nearly 40 minutes to the candidate's headquarters in Ankeny to call strangers.
For the McIntyres, it's become "a date night thing."
The couple has had a regularly scheduled date night for as long as they can remember. Now, instead of spending money going out to dinner or seeing a movie, they put that cash toward gas.
In the past few years, Crystal's passion for Ron Paul has become a family affair.
"They've met him several times," she says of her children. "They look at him as a grandpa. Anytime they see a sign or something they're like, 'Hey Mom, Ron Paul!' So it's just kind of a catchphrase around our house. Are we doing Ron Paul tonight? It's a way of life."
The candidate even makes it to their dinner table. Every year, the Paul family puts out a small cookbook featuring their favorite recipes, and McIntyre says she's cooked a number of them for family meals.
"He has an influence on a lot more than politics around here."
Wooing friends and neighbors
Just up the road from Cedar Rapids in the small suburb of Robins, Denise Mitchell fans out American flag napkins in front of a crock-pot full of cocktail meatballs. The mood in the kitchen is a bit frantic as ladies from around the subdivision whisk star-shaped platters of vegetables and crackers from counter to counter, neatly arrange red, white and blue cupcakes and stir vats of red punch that will serve as the evening's only libation.
Homemade and artfully designed "Rick Santorum for President" signs rest on every serving surface. Chairs borrowed from neighbors fill the living room.
Mitchell spends about 20 hours a week volunteering for Santorum's campaign, making phone calls, sending out e-mails and coordinating events with the campaign's Iowa director. But the biggest contribution she will make is tonight. Dozens of supporters and undecided friends are coming to her home to meet the former U.S. senator from Pennsylvania.
"I have friends that don't get into politics," Mitchell says. "But I tell them this election is different. We're trying to save our country."
The doorbell rings, and Aaron Rupp of Cedar Rapids is the first guest through the door. He heads for the back row of chairs and starts setting up camera equipment. Tonight will be the ninth time he's met the candidate. He's snapped countless photos with him, but this will be his first chance to immortalize the visit on film.
"I hope to get video, because this is a very unusual thing to get a presidential candidate to come to a house and sit down in a living room with us."
Rupp, like many who support Santorum and other candidates who have at various times trailed behind in the polls, says it's important for each voter to vote for the candidate who speaks to them, and in Rupp's case, that's become literal.
"This is the right guy to be the nominee," Rupp says as he affixes his camera to a tripod." It doesn't matter if he's been an underdog. "They say Americans vote for the candidate that they want to have a beer with. This is the guy."
More folks trickle in, spilling into every corner of the heart of the home. Everyone fills out a name tag, but it's obvious many don't need one, greeting each other with a hug.
Santorum appears in the foyer with little fanfare. There's no big campaign bus outside and no entourage, save for his Iowa campaign manager. After some handshakes and small talk, he makes his way to the front, beckoning guests to sit in the first few rows of chairs. Instead, most attendees hang back in the kitchen, milling about, as if the personality of a nationally known politician is a bit too big for a living room in Robins.
Jeanne Heil, however, sits front row center, beaming up at the senator as he speaks. She says she's driven 20 minutes to meet him for a fifth time. Heil is wearing a new Rick Santorum for President sweatshirt and says her cubicle at the insurance company where she works is filled with Santorum 2012 stickers. She also has a yard sign, and says she and a neighboring Ron Paul supporter are in a silent battle.
"Ron Paul supporters, they're nuts," Heil says. "She put hers up right after I put up my Rick Santorum sign. I'd like to take hers out in the middle of the night, but I know that's just not right." Heil chuckles. "We put Christmas lights around mine to really light it up."
The party winds down, the punch stops flowing and soon the living room is nearly empty. As Denise Mitchell and her husband, Mark, begin to clean up, they make an assessment of the evening.
Did anyone jump the fence to Team Santorum?
They're not sure.
But this much is clear: They had a full house – all potential voters.
A call to arms
Michele Bachmann's Iowa campaign headquarters sits tucked inside a nondescript strip mall in Urbandale, a sprawling suburb of Des Moines. Next door is Groucho's Sports Bar and, just across the way, Herman Cain's now-desolate office.
Inside Bachmann's digs, an impressionist painting of the Minnesota congresswoman seemingly guides visitors down a hallway toward the heart of the operation – the phone bank. Since the official announcement of her candidacy in June, Bachmann's staff has occupied this space. It's the same place John McCain rented in 2008, so it was already perfectly set up to mount an offensive to entice the good people of the Hawkeye State.
Denise Bubeck, 49, is heading up that charge. She and a pair of high school seniors are busy making phone call after phone call. But it's less about how many people they reach than how many more those people can reach. The goal: Get 1,000 Iowans to make 50 calls each.
Bubeck says she gets some hang-ups, but almost no one argues or openly complains about the calls. That's one of the perks of working in Iowa, where folks are friendly enough to listen and say no thank you if they're not interested.
"People have said she doesn't stand a chance," Bubeck says. "But I always come back with, if we all believe in her, if we all gather our support together, what a difference that could make for Michele Bachmann.
"It's frustrating."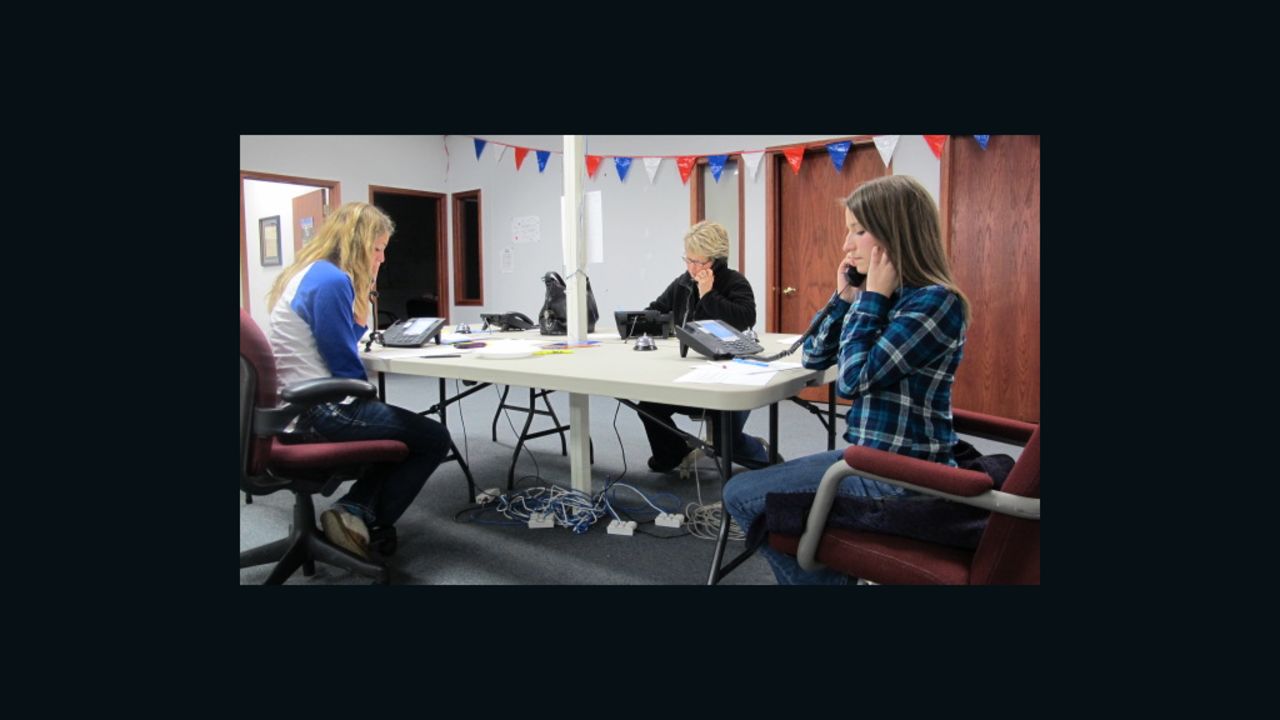 What inspired Bubeck to work for Bachmann was the congresswoman's call for people to come to Washington to march against Obamacare. "I thought, she's a true leader."
Often Bubeck is the only volunteer at the office, staying late into the night to make calls for up to eight hours at a time. She says her family supports her dedication and understands that the weeks leading up to the caucuses are crunch time.
Bubeck has met Bachmann several times and feels a special connection.
"On Sunday, we went to church with her, and she just turns around and looks at us and says, 'I was on 'Face the Nation,' " Bubeck says. "And it was almost like a friendship thing to say that. And she was so excited. I was able to introduce her to my husband for the first time, and she was so personable that both my husband and my son said, 'OK, Mom, we know why you support Michele Bachmann.' "
Bubeck laughs.
"They still might wonder where their dinner is some nights."
Such is the sacrifice for families of the true believers.