Story highlights
2011 brought plenty of great video games; our gaming writer reveals his 10 favorites
"Portal 2," "Batman: Arkham City" and "The Elder Scrolls V: Skyrim" top the list
Also ranked: "Little Big Planet 2," "LA Noire" and "Uncharted 3: Drake's Deception"
Enough already about "Angry Birds" – there were plenty of great console video games in 2011.
Many longtime franchises put bows on storylines that had been going on for years. It was also the year of the shooter (and the number 3) as "Battlefield 3," "Gears of War 3" and "Call of Duty: Modern Warfare 3" brought players into combat zones with new and creative gameplay.
Those titles got lots of hype and sold millions of units, but none made my list of the top games of the year.
As with any top 10 list, many good games did not make the cut. I tried to include games that I never really wanted to put down until the very last scene. Of course, your list will vary.
Here's my list, counted down in order, of my 10 favorite games of 2011 (feel free to disagree in the comments):
10. "Uncharted 3: Drake's Deception"
A fitting finale for Nathan Drake and his adventures, "Uncharted 3: Drake's Deception" wraps up the historical adventure franchise with possibly his greatest treasure yet. Not only does the story take a look back and reveal how Drake got started on his quests, but it also tied up many loose plot lines very well.
The game feels like an Indiana Jones adventure, and Drake keeps a wry sense of humor throughout the most trying times. The designers did their research to showcase several incredible environments, historical references and lost treasures. Players will come away feeling like they've been on a grand adventure, which they have. (PlayStation 3)
9. "LA Noire"
"LA Noire" puts the story to the forefront in a daring attempt to be different. Action is dictated by the narrative and the characters and not by a ploy to get the plot moving. It looks and feels like a 1940s-style detective thriller with some great voice acting and motion capture animation. It emphasizes storytelling without forcing dialogue or plot. Expect to see more games like this in the future. (PlayStation 3, Xbox 360, Windows PC)
8. "Little Big Planet 2"
Sackboy returned and actually got better. "Little Big Planet 2" has a single-player story that has a good plot and supporting characters. There is actual dialogue instead of grunting or mumbles. The puzzle solving remains fun, but the creation of levels to share with the community raises the enjoyment level.
And the inclusion of social-media connections increases the player's audience. (PlayStation 3)
7. "Deus Ex: Human Revolution"
"Deus Ex: Human Revolution" allows players to experiment with different augmentations to enhance their human character. Creatively building and upgrading, gamers will discover new ways to complete missions even during replays. The atmosphere of the not-so-far-away future is one of hope and despair. The story is well-crafted and keeps players involved with little downtime or boredom. (PlayStation 3, Xbox 360, Windows PC)
6. "NBA 2K12"
"NBA 2K12" gave hoops fans a great outlet while the real NBA resolved its labor dispute. Improved animations make the action look more realistic than ever. The inclusion of more of the NBA's greatest players from the past lets you pit superstars from different eras against each other. And the "My Player" mode lets you get drafted, work your way up the depth chart and learn to face the harsh glow of the media during press conferences. (PlayStation 3, Xbox 360, PlayStation 2, PlayStation PSP, Windows PC, Nintendo DS, Nintendo Wii)
5. "Saints Row the Third"
So many games use sex and violence as a hook to draw in players. "Saints Row the Third" uses them as the canvas of a hilariously funny and sexually charged romp that also offers excellent game mechanics. Missions are ultra-violent, outlandish and filled with tons of OMG moments.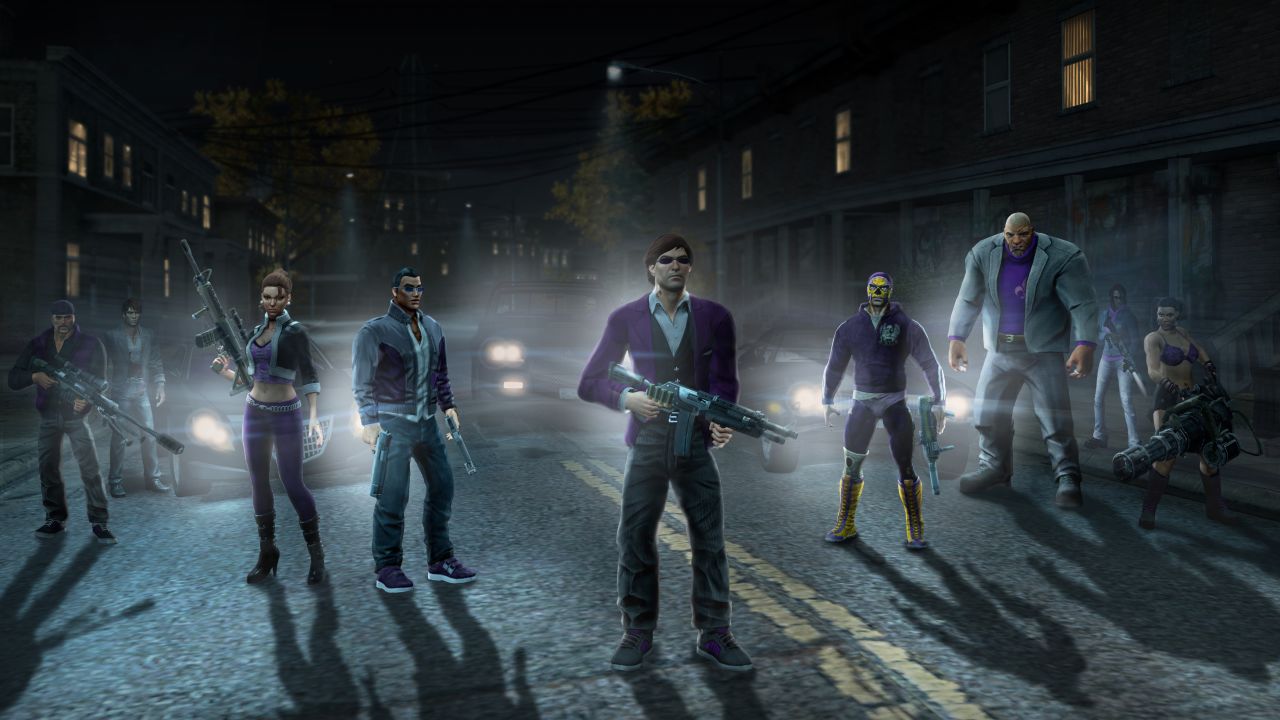 Drive around with a tiger in your car. Rescue hookers from a violent gang. Converse with Burt Reynolds and Hulk Hogan. It's all tongue-in-cheek, fast-paced fun that players will enjoy. (PlayStation 3, Xbox 360, Windows PC)
4. "Bastion"
An independent title that shows what the "little guy" could do, "Bastion" is a surprisingly stunning game with original weaponry, an environment that players put together as the game progresses and narration that literally tells the story of what you are doing at that time. Dialogue isn't tied to a predetermined set of events.
The narrator, known as the Stranger, reacts to what your character does and makes the game seem personalized. It's a game that's fun to play but never takes itself too seriously. (Xbox Live Arcade, Windows PC)
3. "The Elder Scrolls V: Skyrim"
Let me say first that my top three could be shuffled in any order and it would still be right. But this is how I'm shuffling them (for now). "The Elder Scrolls V: Skyrim" is an open-world, role-playing game that literally has more than 100 quests to complete. Your character can be trained in any skill at any time, thus assuring that the game is personal to each player.
Sure, there are some minor bugs in it, but they are more amusing than frustrating. And any game that lets me stand at the top of a mountain while more than a dozen dragons fill the sky is a big winner in my book. It is enthralling, addictive and satisfying. (PlayStation 3, Xbox 360, Windows PC)
2. "Batman: Arkham City"
The Dark Knight returns to his beloved Gotham and discovers it to be just as violent and twisted as the dark halls of Arkham Asylum. His new adventures, "Batman: Arkham City," expand the playing field dramatically and take the insanity into the open world.
This allows for more freedom during combat and takes the missions away from a linear progression. The voice acting remains flawless, while the look of the game and its sense of foreboding throughout make it a pleasure to play. Love all the classic villains, too. This "Batman" game was difficult to put down, even after the main story line (which was highly dramatic) was finished. (PlayStation 3, Xbox 360, Windows PC)
1. "Portal 2"
Outstanding characters? Check. Cryptic puzzle solving? Check. Great dialogue? Check. Everything you'd expect from a "Portal" title returns in "Portal 2," with some great additions. While the first title was all about the puzzles, this one keeps the puzzle-solving portion alive but mixes in a wonderful story that is fast-paced, informative and extremely humorous.
Origins are discovered, new alliances are formed and there is not a crumb of cake to be had. (That's a reference to the original "Portal," in case you're confused.) If that isn't enough, a new co-op mode allows players to play as test robots that act like Abbott and Costello. It's a fantastic game from start to finish. (Windows PC, Mac OS X, PlayStation 3, Xbox 360)