Story highlights
Being Santa means being part of a special fraternity and magical, storied tradition
It also can mean wet infants, screaming toddlers and drunken women demanding sex
Whether its a full-on career or a seasonal gig, professional Santas all have stories
Men from around the country share what inspired them and tales from behind their red suits
For at least one, it became a star-studded lifestyle, replete with million-dollar jewels, agents and a beard insured for six figures. For some it was a calling, heard as early as age 4 or inherited from elders. For others it began for kicks, a one-time silly gig they got roped into and then loved.
The men who professionally put on the red suit are part of a special fraternity. They usher in a season, spreading cheer and appearing in family photos. They inspire magical thinking, offer hope and keep innocence alive. They stand, bellies out, as proud representatives of a storied tradition.
And while their work is usually jolly and sometimes moving, it comes with its challenges – wet infants, tantrum-throwing toddlers and drunken women demanding sex, to name a few.
But there are also unexpected questions and impossible-to-meet wish lists. A little boy, for example, asked one Santa if he had a penis. Many children ask Santa to bring back dead grandparents or pets. Others offer lists the length of Santa's arm that include pricey items like iPads, and Santa's job is to manage expectations. Santa also must protect his reputation and the concerns of parents, which is one reason many veterans teach that a Santa must show his hands at all times.
Atop parade floats, in malls or at children's hospitals, they represent one idolized, universally adored character – so they keep their personal stories to themselves. But these Santas have plenty to say when they're not working. CNN interviewed Santas from north, south, east and west to bring you tales from behind the red suit.
The informer
Not many people answer the phone while washing yak-hair beards, mustaches and wigs. But Phillip Wenz, who rotates through eight of these $1,500 combos, does. For this year-round Santa, who's never had another career, hair-accessory hygiene is just part of the job.
Wenz, 49, was only 4 when he first put on a makeshift red suit, snuck out of the house, strolled into an unsuspecting neighbor's home and, reaching into a pillow case, began passing out candy canes. The shtick stuck. That year, and in the 24 years that followed, he made rounds at the small rural Illinois hospitals where his father worked as CEO. By fifth grade, he was bringing cheer to preschools and nursing homes. At 14, he was in his first parade, and two years later he wrote a term paper about his Santa-life ambitions. He got a D.
Now, 200 days a year, he's living the dream. Heck, he's the only living member so far in the Santa Claus Hall of Fame. Take that, you D-giving teacher.
Beyond the parades, parties, media appearances, ad gigs and more, he's been THE Santa at Santa's Village theme park in East Dundee, Illinois. He's also worked as a consultant for St. Nicholas Development in the creation of Santa's Candy Castle in, where else, Santa Claus, Indiana – "the Vatican" of Santadom, Wenz says. He penned the Santa Claus Oath and created a foundation to preserve Santa sanctity. He's the Santa others point to for history lessons.
He rattles off the names of giants and mentors who came before him – legends like Jim Yellig, who was "the face of Santa Claus, Indiana, for 54 years" and helped Wenz on the term paper that earned him a D. And one can't forget Charles W. Howard, the longtime Macy's Thanksgiving Day Parade fixture and founder of the first Santa school. Or, Don Goers, who inspired Wenz when he sat upon the man's knee in 1966.
He gives quick tutorials on Santa's jolly journey, which dates back centuries to the giving spirit of St. Nicholas of Myra (in modern-day Turkey). St. Nicholas entered popular culture in the 1800s, appearing, for example, in the still-popular poem "The Night before Christmas." Santa as a live character began making appearances some 170 years ago.
Wenz says it was in 1841 in Philadelphia that Santa reportedly made his first visit to a dry goods store. In 1887, the first Santa Claus Parade wound through Peoria, Illinois. In 1890, Santa plopped down for visitors in a Brockton, Massachusetts, department store.
Next to Wenz's home in Crescent City, Illinois, a 2,200-square-foot building houses Santa-related research materials, props and memorabilia.
The dedication to his career has come with sacrifice. He's only shared Christmas Eve and Christmas Day with his daughter Holly (yes, Holly – who's married to– brace yourself – a Nicholas) five times in 23 years.
Wenz says there have probably been only four men with full-time careers in his field "in the history of Santa Clauses." CNN's calls to the North Pole to confirm this were not returned.
The copyrighted one
What do Elizabeth Taylor, John Travolta and Kim Kardashian have in common? They've all taken a seat in Brady White's lap.
But so, he says, have Eva Gabor, Courteney Cox, Barbra Streisand and countless others. Once, White had Charles Bronson on one knee and Pee Wee Herman on the other.
Such is life for the Santa to the Stars © – please don't forget the copyright.
But his glamorous life (he was once featured on "Lifestyles of the Rich and Famous") isn't simply about appearing at chichi private parties and greeting stars and their children at the Beverly Hills Hotel. He counts among his longtime clients high-end retailers such as Neiman Marcus, Saks Fifth Avenue and Cartier.
It's for this reason that one of his agents might call, when he's at his second home in southern Italy, to tell him he's needed for a mountaintop catalog shoot in Colorado.
White, whose other home is in Pawtucket, Rhode Island, won't reveal his age or how much earns, but he does say, "People can work six months and not make what I make in four hours."
It wasn't always like this for him, and he doesn't forget where he came from. Mixed in with the money-making work, he dons the red suit for charities and children's hospitals.
White first entered the Santa game about three decades ago out of desperation. He was an unemployed actor in Los Angeles and nine months behind in his rent when he took a job as a mall Santa in Beverly Hills. That season the Los Angeles Times and the Los Angeles Herald Examiner polled children to find the best Santa around. Guess who won?
The day after his win, two agents sought him out at the mall. Grow a real beard, they said, and he could make $5,000 an appearance. He stopped shaving almost immediately.
"The following July, I was standing in the Swiss Alps with a beautiful young lady wearing white chinchilla for an ad for Neiman Marcus," he says. "That photo made the inside cover of Vanity Fair. Literally, overnight, my life changed."
That beard is now insured for six figures. He has close to 60 Santa outfits – including a dyed-red mink suit (which he admits has fallen out of favor), a gold sequin suit for Vegas and a black velvet version adorned with Swarovski crystals.
At Cartier parties over the past 23 years, he's been flanked at times by bodyguards as his Santa hands held tiaras worn by queens, a flawless 20-carat yellow canary diamond ring and necklaces valued at millions. Cartier clients would leave the lavish food table with "caviar on their fingernails" and line up to sit with Santa as he adorned them with such "gifts" – if only just for the photos.
Not all women, however, have expressed interest in those sorts of gifts. He says there are women who've confessed to having sexual Santa fantasies. A woman at Cartier in Atlanta one year took a seat on Santa's lap and opened up her fur coat to reveal her bare breasts.
"Even for Cartier, which is a major client, this is not the thing for me," he says with a ho-ho-ho.
The spirit
It's the children's eyes that have hooked Louis Knezevich – the way they light up, no matter how sick or hurt a child might be. And that joy exudes not just from the young who celebrate Christmas but from parents, grandparents and people of all faiths and backgrounds.
He sees this while working house parties or in his official role as the Santa at Atlanta's St. Regis Hotel.
"You'll feel something when you put on that red suit," the seasonal Santa says he tells students at the Santa Claus Academy in Atlanta, where he teaches. "There's a spirit of Christmas that overtakes you."
Perhaps that's why even off the Santa Lou job he might wear red to complement his big white beard, or sport a pinstripe candy-cane shirt at his mortgage company job. Knezevich, who promises coal in the stocking if his age is revealed, loves the magic, which shows up in ways the nine-year Santa veteran doesn't always anticipate.
About three years ago, Knezevich was walking into a restaurant in his native Cleveland when the spirit connected him to a little girl. She gawked at him with wonder, and even though her eyes drew him in, he couldn't miss the scars on her face.
The adults sitting with the 6-year-old girl eventually passed him a note: "Her name is Teeba. She's from Iraq." With or without the costume, he was Santa and visited her. She bombarded him with questions – wanting to know about Mrs. Claus, what the reindeers ate and how they all flew.
At 19 months of age, Teeba had been traveling in a taxi with her family when the car drove over a roadside bomb. She and her parents survived, but her brother didn't. Teeba began a journey toward recovery at Cleveland's Rainbow Babies & Children's Hospital and is going on her 16th surgery, Knezevich says.
In the three years since they first met and he gave her the number to his "sleigh phone," the two have stayed in close touch. He sees her when he travels to Cleveland and at events he attends to raise money for her care. In 2009, he surprised her by bringing her Christmas in July.
At 9, she no longer believes in Santa, per se, but she still holds on to the magic.
"She believes in the spirit of Christmas and the joy of giving to others," Knezevich says.
A typical phone conversation might begin with her saying, "Santa, I have something to tell you."
And Knezevich remembers her telling him, "I know you're not Santa like I thought you were, but you're still special to me."
The heir
With Santa royalty in his lineage, you might say Michael Rielly of Bristol, Rhode Island, was destined to put on the red suit.
His late grandfather, James D. Rielly, was Santa for 62 years, an endeavor he began in 1928 at age 19. The senior Rielly was inducted in the Santa Hall of Fame and, according to his grandson, accrued a collection of grateful letters from people like Eleanor Roosevelt, Pope John Paul II and Richard Nixon.
The younger Rielly, a 48-year-old software marketer, didn't recognize the face behind Bristol's legendary Santa for years, though. When he was 8 and stepped up to play Santa in a school play, he had no clue that the Santa who helped him get dressed for the performance – under the watchful eye of a newspaper photographer – was his grandfather.
"I only learned years later," he says. "The year he passed away, in 1991, I took over as Santa Rielly."
Like his grandfather, he doesn't take payments. If people insist on giving money, he directs it to charities. He visits the sort of people his grandfather visited: the orphans, the bed-ridden, the military families. And he loves dropping in on nursing homes, which some Santas find as appealing as the narrowest of chimneys.
"You can ask any Santa, it's probably the most uncomfortable gig because they're usually 90 degrees," says Rielly. But when he walks in and sees the residents – those who've lost all their friends or may not have family who visit – the joy he witnesses makes the heat more than bearable.
"They literally turn into children," he says. "It's amazing."
Santa may be in Rielly's blood, but even so, he's attended the Charles W. Howard Santa Claus School in Midland, Michigan. He likes the camaraderie and learning things he never thought to ask his grandfather. To foster ongoing relationships among Santas, he created ClausNet in 2007, an online community with more than 1,200 registered users across the globe.
Through discussion forums and live chats, Santas can share makeup tips, plan get-togethers and swap advice on answering those tough questions or impossible Christmas wishes. He says more than 800 people are expected to descend on Santa Claus, Indiana, in April for a convention that's been dubbed the Jim Yellig Santa Claus Workshop. Yellig, like Rielly's grandfather, is a hall of famer.
It remains to be seen whether Rielly's 18-year-old son Sean – who like his sister was 12 when he learned that the local Santa was his very own dad – will pick up the candy cane torch and carry on the tradition. Rielly's father didn't have the Santa gene, so maybe it skips a generation.
But Sean, who came home from the hospital in a red stocking on Christmas Day, four days after he was born, has shown signs of recognizing his birthright. He, too, opted for the Santa role in a school play and is currently playing Santa at a local McDonald's. And as a way to give back to an organization that helped him, the young man, who was diagnosed with Type 1 juvenile diabetes, has played Santa at the annual Christmas party for a Juvenile Diabetes Association office in Fall River, Massachusetts, for two years.
"I went and watched him that first time," the current Santa Rielly says. "He did all the right things. … I can't tell you how proud I was."
The dean
For Tom Valent, a 61-year-old construction company president, being Santa is simply, he laughs, "a hobby gone bad." He says he first felt the calling 35 years ago when he asked his wife Holly – that was and still is her name – to make him a suit.
The next year he found out about the Charles W. Howard Santa Claus School, then in Bay City, Michigan. The school was named for the Santa legend and hall of famer who founded the original school, the first of its kind, in 1937.
All these years later, Valent is the school's third dean. The school holds one session a year in the Santa House he built, which is also where he welcomes visitors this time of year, working two to three shifts a day in full-on Santa hobby mode.
The school's 40-hour curriculum includes lessons on Santa history, hygiene and international legends. There are tutorials for simple sign language, suggestions for song leading and warnings about what the jolly one can expect should he find himself working with live reindeer. There also are sessions about healthy living – exercises and stretches he can do from a chair, tips for moving about and even a dance class – "so Santa's not a stiff guy," Valent explains.
Interspersed, of course, are plenty of conversations and suggestions about how Santa can listen, engage and make the season memorable. There is talk, for example, about what he can and cannot promise children.
As a case study, Valent remembers a little girl who sat on his knee and said, "All I want is my mom to come home." In times like these, Santa, who's not in a position to play therapist, must be fast on his black-booted feet.
"I can't promise you anything," Santa told her, "but I will say a prayer." Valent wrote her name in a little "prayer book" he keeps in his pocket for such moments. Then he turned the conversation in another direction, saying, "I'm good at toys," and asked the girl what he could help her with there.
He and Holly have taken the school on the road, bringing what it offers to places as far-flung as Australia, South Africa and Norway. In 1995, they led the first World Santa School, with 17 Santas from 17 countries, in the northern part of Greenland, as close as they could get to the North Pole.
The agent
In his Real Santas database, there are 2,000 men. He unleashed 496 of them in November to fill 1,355 photo studio slots in stores such as Walmart, Sears and Kiddie Kandids. More than 125 in his stable are hitting 200 parties this month, working in select baby stores, roaming through 20 airports for corporations and taking seats in high-end malls.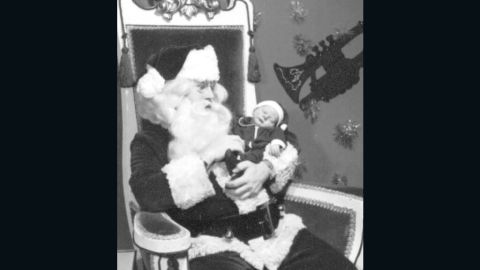 Amid all this talent-booking madness, Santa Tim Connaghan, of Riverside, California, managed to meet his own Santa obligations, too. Among them, he zipped up to a Ronald McDonald House in Pasadena, taped the Christmas show for the Disney Channel's "So Random!" and made his annual Hollywood Christmas Parade appearance.
"Santa cannot be everywhere at once," he says – which is why he established a multitude of ventures under his Kringle Group to spread holiday merriment as far as he can spread it.
Beyond playing agent for Santas scattered throughout the country, Connaghan is wheeling and dealing in other businesses. His International University of Santa Claus runs two-day summer workshops in up to 12 cities, which is how he built his Santa army. Casual Claus is a clothing business offering Santa wardrobe options for the off-season – like red cargo shorts and North Pole team jerseys. As Santa Hollywood, he makes himself available to media, serves as an industry consultant and both plans and participates in major events. He's written a book about being Santa.
It all began for Connaghan, 63, when he was in Vietnam. The year was 1969. A friend received a paper Santa hat in the mail, and not long after Connaghan was wearing a shaving cream beard with that friend in his lap for a photo. The next year, while back in the States and attending college, he was working at a Bullock's department store during the holidays when management suddenly found itself Santa-less. He filled in – for three seasons.
His didn't pursue a Santa career initially.
Connaghan was a longtime development director, raising funds and running events like telethons and walkathons for nonprofits including the March of Dimes, City of Hope and the American Cancer Society. And off and on, over the years, he'd get his Santa fix by slipping into the red suit for community events and parties for friends and family.
Then one day, 15 years ago, the seed for his future was planted with a jab to the ribs. He and his wife were watching an episode of "Lifestyles of the Rich and Famous," and riding in a limo was none other than Brady White, Santa to the Stars ©. Connaghan's wife elbowed him.
A year later, he had a formidable beard, but he hadn't made the Santa leap.
But then, in the night, what should appear? An association of like-minded men to bring Connaghan cheer.
He discovered and began to network with members of the Amalgamated Order of Real Bearded Santas, now known as the Fraternal Order of Real Bearded Santas. These real-bearded men were retired seniors who weren't advertising or marketing themselves or their jolly might. Connaghan realized they weren't reaching their full Santa potential.
With a twinkle in his eye, he started to see the path he would travel in the coming years. He's been loading up his entrepreneurial sleigh ever since.
The better person
Being Santa means many things to Michael Cawthra.
A former elementary school teacher of 31 years, he sees it as a way to keep working with children. The Lakewood, Colorado, resident gets to embrace full-on a holiday he's always loved, and do it with naturally white hair he can be proud of. The extra money, maybe $6,000 a season he earns doing parties or welcoming kids in shopping centers, helps him pay off that 2009 Mustang he had to have.
Oh, sure, his wife might laugh or roll her eyes at his antics. He's got a summer Santa outfit, a red baseball hat emblazoned with "Santa," and even a cowboy Santa outfit for rodeos that includes a custom belt buckle that reads, you guessed it, "Santa."
When he occasionally works as a substitute teacher, he'll write on the board a "nice or naughty" list. If a student starts acting up, he walks toward the board. He doesn't pretend with the kids that he's the "real" Santa, but he does say that Santa has helpers all over the world who assist in watching children. He claims to have a direct hotline to the big guy.
This Santa business, which he pursued after attending the nearby Professional Santa Claus School in Denver, moves him.
He gushes about a little boy with Down syndrome who kept coming back to him, running at full speed for extra hugs. He theorizes about the little ones who have meltdowns, knowing that being told not to go to strangers and then being tossed in his lap must be confusing. He gets emotional remembering a 12-year-old girl who came to him with her four younger siblings and the single father struggling to raise them all. Her siblings quickly chimed in about all the toys they wanted, but when he turned to her, she shared her only wish: "I just want my family to be happy."
"Those moments," Cawthra says, choking back tears, "those are the ones you live for."
What he doesn't live for, but is learning to appreciate, are the more difficult interactions. There was the mother who once turned to leave him with a screaming and squirming "slippery as a seal" infant.
"Ma'am, can you take your baby?" he called after her.
"Why?" she said.
"Uh, because it's yours."
See, a tough part about being Santa is you have to be nice and not argue with people, Cawthra says. If a sales clerk ticks you off, even if you're not dressed like Santa but look like him, as Cawthra does, you can't get upset. And forget about driving aggressively when your Mustang license plate reads "SLEIGH2."
Being Santa, he laughs, has "made me a better person."
And that gracious, even forgiving attitude comes in handy. He recalls what happened during a recent morning walk to get coffee. In his Santa baseball cap and red jacket, he made – like he often does – mental notes of the reactions.
"This morning, 22 waved and honked," he says. "Probably 10% will drive by and not react at all." But then, there was this: A woman drove by and flipped him the bird.
"To go out of your way to give Santa the finger? That's just … wow," he says, with a jolly laugh. "You must really be having a bad day."