Story highlights
Al Jaffee is a longtime veteran of Mad magazine
Jaffee created the Mad Fold-in and "Snappy Answers to Stupid Questions"
His early life was bumpy; he was caught between parents, continents
At almost 91, Jaffee is still active in Mad, other pursuits
(CNN) —
"Draw something," Abraham Jaffee was told.
A school monitor had pulled young Abe out of math class and told him to report to the art room. Sitting with about 50 students, Jaffee drew the first thing that came to mind, a scene of a village square in Lithuania, where he had spent several years of his childhood.
Jaffee, by then in his early teens, had already established a talent for art. His teachers admired it; fellow students encouraged it. After a bumpy several years in which he bounced like a pinball between his parents – moving from Savannah, Georgia, to Lithuania, to one borough and then another of New York City, back to Lithuania and back again to New York – art was something to hold on to, a way to establish an identity. He had no idea it would lead anywhere.
"Some folks' lives roll easy," Paul Simon once sang, "some folks' lives never roll at all." Jaffee – you can call him Al now – has had a life that's rolled downhill and uphill and occasionally clicked into place. It's like one of the Rube Goldberg machines he enjoys so much, those fantastical contraptions for simple tasks – wiping your mouth, say, or closing a screen door – that require falling bowling balls, agitated parrots, dropping hammers, kicking boots and snapping strings, turning minor chores into a symphony of wacky machinery.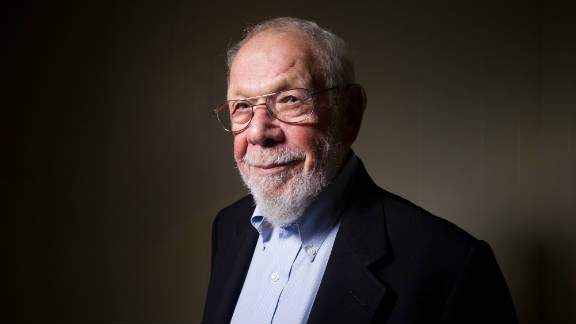 Today Jaffee, who will be 91 in March, is known for his own contraptions, many designed during his long relationship with Mad magazine. There's the Mad Fold-in, the magazine's inside back page, which cleverly turns one Jaffee work into another by folding one portion over another. There's "Snappy Answers to Stupid Questions," in which a humdrum question leads to several unexpected sarcasms.
And then there are his sketches of "Mad inventions," including an airbag suit and an improved beverage can. Some of them, like a smokeless ashtray or a multiroll toilet paper dispenser, have come to pass – much to Jaffee's amusement. He's been a primary contributor to Mad for more than 50 years, one of the chief purveyors of the humor that has shaped everything from "Airplane!" to The Onion to "The Daily Show with Jon Stewart." (Mad is a unit of DC Comics, which – like CNN – is a part of Time Warner.)
His colleagues have praised him as a "genius."
See some of Jaffee's work for Mad through the years
"He picks up everything," says cartoonist Chris Schweizer, author of the graphic novel series "Crogan Adventures." Sergio Aragones, whose mini-cartoons have filled Mad's margins for almost 50 years, sounds pleasantly exasperated when he insists that many things he has done, Jaffee has done before.
"I've apologized a million times, and I still do, because I'll do a cartoon and he's already done it," he tells an audience at the Savannah College of Art and Design, where he's part of a recent panel celebrating Mad's artistry.
Jaffee downplays the praise.
"People who want to do creative things are generally going to seize the opportunity to do so whenever they can," he tells the SCAD crowd. "I particularly enjoy doing something that hasn't been done before."
Draw something.
It was 1935 in New York. In the art classroom, the students worked. Jaffee was particularly impressed by the student in front of him, who composed an elaborate rendering of a Dutch peasant.
At the end of the exercise, the teacher announced that everybody could leave except Jaffee and the peasant's creator, Wolf Eisenberg. The two boys were to go to the principal's office.
Jaffee thought he was in big trouble, but Eisenberg, later to be known as Will Elder, knew differently. More than 75 years later, Jaffee still chuckles as he repeats Elder's words in his former classmate's thick Bronx accent.
"I tink," Elder said, "dere gonna send us to art school."
Across the Atlantic
You have to watch out for cartoonists. They'll catch you by surprise.
Jaffee sits on stage at the Trustees Theater in Savannah. To either side are other members of Mad's "Usual Gang of Idiots," as contributors are known on the magazine's masthead: Aragones, Jack Davis, Paul Coker Jr. and Tom Richmond, along with Mad art director Sam Viviano.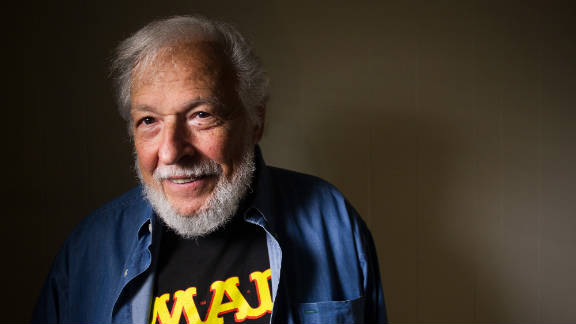 They're all in this coastal Georgia city for a weekend celebrating their work, patiently listening to moderator and former Mad editor Nick Meglin offer questions for them to bat around. Meglin usually speaks a mile a minute, incessantly cracking jokes, but right now he's reeling off a long, thoughtful query to Jaffee about original Mad editor Harvey Kurtzman.
However, Meglin has neglected to speak into his microphone, and his words have trailed off. The almost-capacity audience – about a thousand strong – murmurs, and finally Meglin, realizing his mistake, raises the microphone and finishes his address.
Jaffee impishly takes a beat.
"What was the question?" he asks.
Founded: 1952 by editor Harvey Kurtzman and publisher William M. Gaines.
Mascot: Gap-toothed moron Alfred E. Neuman, who's been pictured as a face on Mount Rushmore, a member of "The Godfather's" Corleone family, Uncle Sam and a perennial presidential candidate. His motto is "What, me worry?"
Contributors: "The Usual Gang of Idiots," a roster of freelancers that has included artists Mort Drucker and Angelo Torres, famed for their movie and TV parodies; Don Martin, known for his sound-effects-laden art; Antonio Prohias, creator of "Spy vs. Spy;" and dozens of others. Writers have included Emmy winners Larry Siegel and Stan Hart; Frank Jacobs, master of the poem and musical parody; and "Mad's Maddest Writer" Dick DeBartolo.
Impact: Mad has been featured in much of the pop culture it parodies. Charles Schulz used Alfred E. Neuman in a 1973 strip; "The Simpsons" frequently drops Mad references. It's long been considered a rite of passage to be parodied in the magazine: "I knew I'd made it in show business when I got drawn by Mort Drucker in Mad magazine," Michael J. Fox once said.
Minutia: At one point, staffers gave themselves silly titles. Nick Meglin, who had been "war correspondent" during a stint in the service, became "tennis editor;" Al Jaffee was "religion editor."
Sources: "Mad Art," by Mark Evanier; "Completely Mad," by Maria Reidelbach; Doug Gilford's Mad Cover Site (madcoversite.com); interviews.
The audience erupts.
You have to watch out for cartoonists. They may seem quiet, but they're watching like hawks.
"He absorbs it all," says Jaffee's wife, Joyce.
For Al Jaffee, such observation comes naturally – and not without some pain. He was actually born in Savannah but has little memory of it. When he was 6, his mother took him and his three brothers from Georgia to Zarasai, Lithuania, her hometown, leaving his father Morris behind in America. The marriage was not a happy one; Mildred Jaffee was a religious eccentric who refused to acclimate to the ways of the United States.
She told her husband she was going to visit her parents for a month. She stayed for a year, children in tow, and probably never planned to return.
As Mary-Lou Weisman writes in her recent biography, "Al Jaffee's Mad Life," the trip from urban America to small-town Lithuania was like traveling from the 20th century back to the 19th. There was no indoor plumbing, no electricity. Everybody spoke Yiddish. People were fleeing Lithuania to come to America; Jaffee's mother was going the other direction.
Jaffee adjusted. One thing that helped was the newspaper comics his father regularly sent from America, featuring such cartoonists as Goldberg, Roy Crane and Harold Gray. Another was Al's ability to re-create those comics' characters in his own hand.
"The Lithuanian children had never seen cartooning," he told Weisman. "They drove me crazy, begging me to draw the same characters over and over again."
Jaffee's father eventually lured his wife back to America, but life had turned hard. The onetime Savannah department store manager eventually moved to New York, where he took a part-time job as a mail carrier. Then Mildred Jaffee decided to move her sons back to Lithuania. Once again Jaffee and his brothers made the long trip across the Atlantic and back to the 19th century. This time they stayed for four years.
But Europe was growing darker. Morris Jaffee scraped some money together and came to Lithuania to get his family back in early 1933. Three of his four sons came with him; the youngest, David, came over seven years later. Jaffee said his father "took Hitler seriously … (and) saved the family's life."
But not Mildred's. She stayed behind. Jaffee never saw her again. According to Weisman's book, she most likely died in a mass shooting sometime in 1941.
Jaffee addresses his departure with some sadness but clear eyes. "When the selection was made in the concentration camps, some people chose to go to the left, to stay and die with the people they loved," he told Weisman. "When the selection was made in Lithuania, I didn't stay with my mother; I went to the right."
Picture of success
There's a photograph of Jaffee sitting in the cafeteria at New York's old High School of Music & Art, the school that changed his life. His arm is around Will Elder's shoulders. They're probably 16 or 17. The two of them are making faces like little kids.
Being a cartoonist means never having to grow up. Over lunch during the SCAD weekend, Al's wife, Joyce, and Paul Coker's wife, Rosemary Smithson, are asked if living with a cartoonist is like living with a perpetual 12-year-old.
Smithson doesn't even blink. "Fourteen," she says.
Though Jaffee looks more like an elfin college professor today, he's held on to that subversive side. And why not? He's a cartoonist. Pictures have weight. According to legend, Boss Tweed, the corrupt 19th-century New York power broker, complained to his flunkies about sharp-penned satirist Thomas Nast: "Stop them damn pictures. I don't care what the papers write about me. My constituents can't read. But, damn it, they can see the pictures."
During World War II, Jaffee worked at the Pentagon, where he created and illustrated pamphlets for soldiers in rehabilitation. He also learned a lot about military protocol. Once, needing a small bottle of ink, he put in a requisition. The army sent him a case of the stuff in large jugs.
After the war he joined an old friend, Stan Lee, at Timely Comics, where he worked 18-hour days coming up with plots and sketches for such comic books as the teen romance "Patsy Walker." (Timely would eventually become Marvel, where Lee would go on to create Spider-Man and the Fantastic Four.)
It was a great if exhausting business that paid enough for Jaffee, who now had a wife and children, to buy a house on Long Island and a brand new car.
And then Harvey Kurtzman called.
Kurtzman had been three years behind Jaffee and Elder at the High School of Music & Art. Years earlier, he had sworn he would run a magazine and employ his old schoolmates. Now he was helming a new humor magazine, Mad. Elder was a regular. Would Jaffee contribute?
You bet.
Except, this being Al Jaffee's life, there were some twists and turns. First, he was still devoting long days to "Patsy Walker." Then, by the time he quit "Patsy Walker" to join Mad, Kurtzman had left to start another magazine.
Over the next few years, Jaffee hitched his star to the unpredictable Kurtzman as first one, then another, of his humor magazines went bust. Jaffee, who had found dependability under Lee, was pinballing around again. This time, he loved it: "Going broke working for Harvey was the best experience of my life," he told Weisman.
But he had to try Mad again. In 1958, he called then-editor Al Feldstein.
The magazine was ready for another Idiot.
Life at Mad
Mad publisher William M. Gaines, says former editor Nick Meglin, was a "living contradiction. He was singularly the cheapest man in the world, and the most generous."
Gaines, a self-described "maniac" who looked like Santa Claus' wiseacre younger brother, was a millionaire but dressed like a bum. He shelled out thousands for exotic annual trips for Mad's staff and freelancers but forced the group to pay for their phone calls. Meglin once asked for a raise of $3 a week and was turned down, only to have Gaines continue the conversation over an expensive dinner at one of New York's finest restaurants.
"The check came, and I said, 'That's the whole raise!'" Meglin recalls. "And Bill said, 'I like good conversation and good food. I don't enjoy giving raises.'"
Gaines, living contradiction that he was, also wasn't a funny guy. Despite that, he "appreciated humor," Jaffee said, and helped build one of the most influential magazines in American history. For generations of readers, the names of the Mad Men now "exist as gods on Olympus," says art director Viviano.
Gaines also brooked no interference from his corporate bosses. He wanted the magazine to tackle the world on its own terms.
And it did. Nothing was sacred to Mad.
"It was magical, objective proof to kids that they weren't alone, that in New York City on Lafayette Street, if nowhere else, there were people who knew that there was something wrong, phony and funny about a world of bomb shelters, brinkmanship and toothpaste smiles," The New York Times wrote in 1977.
Al Jaffee meshed beautifully with this world. His "Mad inventions" were pokes at Madison Avenue hyperbole and late-night TV commercials, as well as a tip of the hat to his old comics hero Goldberg.
"Snappy Answers to Stupid Questions" originated when Jaffee, on his roof fixing an aerial, had to listen to his son ask "Where's Mom?" one too many times.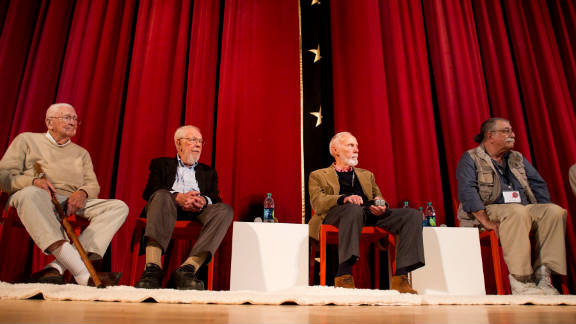 "I've killed her and stuffed her down the chimney," replied Jaffee, and a series was born.
And then there were the Fold-ins, which began in 1964 because Jaffee wanted to parody all the glossy fold-outs of magazines such as National Geographic and Playboy. The first one was so successful he was asked to do another, and to date he's done more than 400.
The feature is a layered joke in which Jaffee's elaborate art, accompanied by a cleverly spaced caption, turns into the answer to a headlined question when the right side is folded to meet the left: A colorful insect becomes Elvis Presley ("What colorful creature is being exploited even after it has wiggled and died?") or a farm scene becomes a death's-headed war hawk ("What offensive animal would many Americans like to see become extinct?"). They've taken shots at modern art, fast food, elections and celebrities – whatever's in the news or tickles Jaffee's fancy.
Mad readers might have had the impression that Jaffee and the rest of the Gang hung around the office causing mayhem, but despite the family atmosphere cultivated by Gaines, the contributors didn't see each other much in New York. The tone was really set on a series of annual Mad junkets.
The trips began when Gaines decided to visit the magazine's only Haitian reader after he canceled his subscription. (With the entire Gang begging at his doorstep, the man changed his mind; the trip was worth it, Gaines believed, because the man's neighbor signed up, thus doubling the number of Haitian subscribers.) Later trips included an African safari and jaunts to Italy, the former Soviet Union, Thailand, Greece and Tahiti.
"On the trips we became a band of brothers," Jaffee recalls. "Even if an entire year went by without seeing each other, it was like being back with family again."
A Mad, Mad, Mad, Mad world
At SCAD, Jaffee is once again among family. The Mad trips ended just after Gaines' death in 1992, and some of the legends – Dave Berg, Antonio Prohias, Don Martin, George Woodbridge – have passed on. Age and distance have made it harder to connect. But Jaffee relaxes with Jack Davis and Sergio Aragones as if he'd seen them yesterday, sharing stories, signing books and observing the passing crowd, as cartoonists will.
At this gathering in Savannah, Mad is the center of the world. But outside SCAD's Poetter Hall, times have changed. The magazine's circulation, which topped 2 million in the 1970s, was down to just below 200,000 as of 2010. The magazine, once printed on pulp, now uses better-quality paper, prints words it once shunned, and even takes advertising. It's the kind of stuff that gives complainers material for potshots at the magazine even though – given Mad's influence – you might say we're living in a Mad, Mad, Mad, Mad world.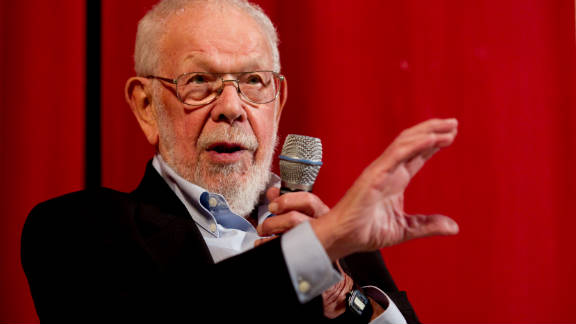 But the magazine remains a rite of passage, points out Viviano, a way for preteens and preteens at heart to negotiate the adult world.
"It's still a magazine for skeptics," he says. "That hasn't changed."
As for the idle chatter saying it's not as good as it once was? It comes with the territory, Viviano says – after all, nothing is as good to anyone as when they first discovered it. And times have changed. Previous generations may have cared about skewering Richard Nixon and Vietnam; these days, the skewer is more likely to pierce Lady Gaga … along with the politicians and product-hawkers.
If anything, Mad is raising its profile. The magazine now has its own website – The Idiotical – and a tablet app is in the works. Moreover, Cartoon Network (another division of Time Warner) has recently started animating some of the magazine's material, bringing the name to a more video-centric generation.
For the students at SCAD, the magazine and the Mad Men still have their magic. Junior Meg Casey remembers having to sneak the magazine past her parents. And interactive design student Erin Christensen, who claims he "started stealing it from my dad," relishes Jaffee's Fold-ins for their wit and color.
Jaffee still impresses his colleagues, too. He won the National Cartoonists Society's top honor, the Reuben Award – named for Rube Goldberg – as 2007 Cartoonist of the Year.
He's quick to acknowledge others' contributions, even if all a Mad staffer did was suggest an idea. "He feels almost obligated to let everyone know you did this," Viviano says.
And Jaffee remains a regular Mad contributor despite having "essential tremor," an affliction he's coped with for decades. He controls it by using one hand to anchor the other.
"My only worry is I'll need a third hand," he says.
But after all these years, he still seems surprised by the attention.
A few years ago, he contributed a Fold-in to "The Daily Show's" "America: The Book." A producer asked if he could deliver it by hand. So Jaffee took a Manhattan crosstown bus, walked into the office and was told by a receptionist to wait.
"Every one on the staff came down to meet me," he recalls in wonder. "And they told me how they came from various places like The Onion and other humor jobs, and what a terrific influence we had on them."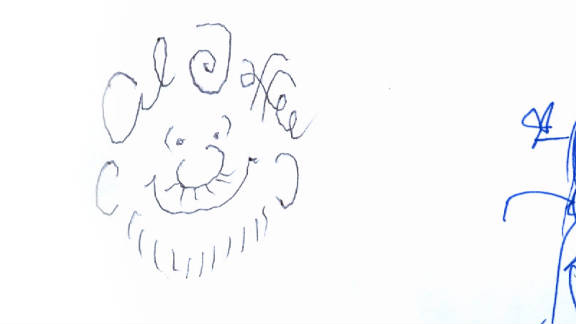 He pauses, the bowling balls, parrots and hammers hitting home. The ball finds its slot. Perhaps there's something to be said for a Rube Goldberg life.
"I was very happy about it, but a little bit embarrassed." It's not like he and the Gang set out to create a new world, he observes.
"We were just being very silly."