Editor's Note: This story contains language that some readers may consider offensive.
Story highlights
Deryl Dedmon, 19, faces capital murder and hate crimes charges
He's accused of running over and killing a black man
Those who knew Dedmon and his friends say they exhibited violent, racist attitudes
A police official says the killing was just an isolated incident by 'a couple of bad seeds'
Brandon, Mississippi
CNN
—
To get to Brandon, you have to drive across the Pearl River, a boundary that seems to separate black Mississippi from white.
In the town's center, a monument stands honoring the confederate soldiers who fought in the Civil War.
This mostly white town in mostly white Rankin County is about a 30-minute drive from Jackson, Mississippi. It's here in Brandon that some residents say a gang of teenagers expressed their strong racial prejudice – sometimes through violence.
These residents say the teens were friends with and often led by Deryl Dedmon, now 19 and facing capital murder and hate crime charges for the killing of James Anderson, a black man, who died after he was beaten and run over by a truck in Jackson, according to police. Dedmon has pleaded not guilty and his attorney has refused to answer CNN's repeated requests for comment.
Another teen, John Aaron Rice, was charged with simple assault. He has not entered a plea. The other five teens who were there have not been arrested or charged, though officials say they may still be indicted .
Parents and students who knew Dedmon tell CNN it was widely known that he expressed a hatred for blacks, white people who had black friends, and anyone he thought was gay. And they say he had a history of harassing teens at his high school.
CNN has learned that Department of Justice investigators have uncovered two other possible incidents where groups of white Rankin County teens, including Dedmon, have sought out and attacked a black person.
Jordan Richardson, 17, says he was bullied, beaten and harassed by Dedmon and his friends two years ago, partly because he had black friends.
"He had a look of no conscience," Jordan said about Dedmon. "When we would get into our altercations … there was never any show of emotion or anything – anything. Deryl always, I think, just carried around this backpack of hatred."
After numerous run-ins at school, Jordan's father called police after a particularly violent confrontation, and the police separated the boys.
"It was very tough on my son," said Brian Richardson, a pastor in Brandon. "Because he knew - and I had told Jordan for a year and a half, that Deryl Dedmon will kill you."
But police and school officials told CNN that there were no warning signs, no concerns about Dedmon or his friends before James Anderson's death this summer. Brandon's Assistant Police Chief Chris Butts described Anderson's killing as "an isolated incident" that has been blown out of proportion by the media.
'They were looking for black people'
On a sweltering Mississippi night in June, two carloads of white teens drove west on I-20 with a mission. It was a mission of hate, according to officials.
They had been partying and drinking in Rankin County when Dedmon announced, "Let's go fuck with some niggers," according to law enforcement officials.
So, as most of Mississippi slept, the teens headed to Jackson because, in their segregated world, Jackson is where the black people live.
"They were looking for black people. They were looking for a black person to assault," said Mississippi's Hinds County District Attorney Robert Shuler Smith.
The teens found what they were looking for when they saw James Anderson, an unsuspecting 49-year old auto worker who they had never met.
As he stood alone in a deserted parking lot, the teens beat Anderson repeatedly and used racial slurs, officials said. Then, one group of the teens walked to their SUV. One of them raised a fist, and yelled "White Power!," according to witnesses. Then they drove away.
The second group of teens climbed into a large Ford F-250 pickup truck. As Anderson staggered towards the truck's headlights, the white teenage driver of the truck slammed on the gas, aimed his truck at Anderson, and ran him down, leaving him to die there, according to law enforcement officials.
The gang of teens did not know that a surveillance camera focused on the parking lot that night recorded much of the incident, including the actual drive-over killing of Anderson. Anderson's death drew national attention after CNN first reported it and aired exclusive surveillance video of the killing.
Shortly after he allegedly drove the truck over Anderson, Dedmon boasted and laughed about the killing, according to testimony given by some of the teens to detectives.
"I ran that nigger over," Dedmon allegedly said in a phone conversation to the teens in the other car. He repeated the racial language in subsequent conversations, according to the law enforcement officials.
"He was not remorseful, he was laughing, laughing about the killing," said Smith.
Anderson's killing prompted marches and candlelight vigils in Jackson, and a call for healing. In Brandon, where most of the teens live, the reaction has been mostly silence. There, police officials and some residents say it was an isolated incident, and that racial hatred is not a problem there.
But some of those who knew Dedmon and his friends had a different story.
A 'dangerous group'
Dedmon was no stranger to the law prior to being charged with Anderson's murder. He was on probation at the time of the killing, after being convicted of phone harassment, a misdemeanor.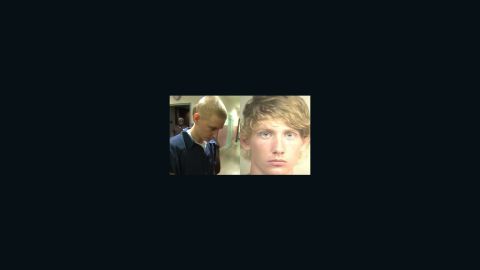 Jordan Richardson, whose father called police to break up a fight with Dedmon and his friends, said the teens often used racial slurs and derogatory phrases to describe African-Americans.
"He hung out with the people that flippantly just used the n-word," Jordan said.
When President Obama was elected in 2008, Dedmon and many of his friends openly protested, Jordan said. In addition to the protest at school, Dedmon had posted messages on the internet against Obama, including the words on a Facebook page, "no niggers for president."
Jordan's father said it was no secret that Dedmon and his gang of friends were violent. And he said Dedmon needed help.
"I say this as a pastor – there are a lot of spiritual aspects that I believe we're dealing with. And I believe we're dealing with a young man that seemed to have a hole in his soul," the pastor said. "And it was to me painfully clear."
Jordan Richardson's best friend, Hayden Covin, said he had numerous run-ins with Derrick Butler, a friend of Dedmon and one of the teens in Jackson the night Anderson was killed.
"It was a bunch of (high school) seniors, a bunch of undisciplined seniors (who) all thought just because they had seniority they could do whatever they wanted to," said Covin.
CNN was unable to find Butler or his family for a response.
Jordan and Hayden told CNN that Dedmon and his friends called people "nigger lovers" if they befriended blacks. They and other students said school administrators mostly looked the other way as bullying and racial hatred festered.
A Rankin County school spokesperson told CNN that they "take bullying seriously," and that they had "no record" of any trouble from Deryl Dedmon.
And it wasn't just students who said the teens were filled with racial hatred. Gas station manager Ken Johnston said Dedmon and his friends used to hang out at his store and "they always used the n-word."
"It seemed like every word that came out of their mouth was the n-word, and that they had taken over and so on," Johnston said. "One time there was even a reference to Jackson, and how Jackson was taken over. And 'maybe we ought to go back and take it back,' so to speak,' as if it were some kind of war."
Derrick Johnson, head of Mississippi's NAACP says Rankin County, and Brandon, are well known as having pockets of racial hatred and even violence towards blacks.
"We often get complaints at the NAACP as it relates to harassment by police officers of African-Americans who venture over to that county to do business or to patronize a business in that area," Johnson said. "We have a lot of complaints out of the school systems around racial intolerance – not only from the students but also from teachers and a few administrators."
Johnson described the county as an area "where you have working class whites who are festering with fear and hate towards African-Americans in this neighboring community."
That couldn't be further from the truth, according to Brandon's assistant police chief who says the media have blown the story of Anderson's killing way out of proportion.
"I've watched CNN and I've watched the news and you see something like this horrific act that happened that's, you know, terrible, but we don't have the issues that the media is portraying," the assistant police chief, Chris Butts said "You know it just goes back to, you know, you're going to have a couple of bad seeds. One guy, ran over the individual, not all six."
Asked if Brandon police had ever been concerned about Dedmon and his friends, Butts simply said, "Nope."
A former friend speaks out
A teenager, who was once part of Dedmon's group, says he now fears his former friends. He agreed to speak to CNN as long as he was not identified.
"I believe that every one of these kids that are (involved) in the incident (is) dangerous and … capable of many things," he said. "They were just really bad individuals, in general. If a kid didn't hang out with them or didn't want to hang out with them or wasn't in their league, as you might call it, they wanted to fight you or hurt you …
"We knew that if Deryl didn't get some help or some understanding that he was on a path of destruction."
He said Deryl and the 20 or 30 other teens that hung out with him were known in the community as "the Brandon boys" or the "country boys."
"That's what you'd call them… and they've always been racist," he said. "They do not like black people. And that is true."
He also accused the Brandon police of looking the other way when it came to much of the group's activities.
"If your family knows the cop or you know the cop, nine out of ten times, you're gonna get out of it there," he said.
When asked about the allegations, Brandon Assistant Police Chief Chris Butts denied police officers have ignored violence on the part of Dedmon and his friends, or anyone else.
The unidentified teen also told CNN that what happened to Anderson was no accident.
"They went out there that night looking for a black individual to beat up … they've done it before," he said. "They've done it several times before."
He said he had personally witnessed some of the beatings, but never took part. He says racism is behind Brandon, Mississippi's silence about Anderson's killing.
And he says police aren't really concerned about Dedmon, even now as he sits in jail facing a capital murder charge.
"I've even heard it out of some of the police officers' mouths," he said. "This is their statement: 'Well, Deryl was a good kid. He just made one bad mistake."
CNN's Tiffany McNeil contributed to this report.