Story highlights
Vaccine appeared to reduce malaria cases by 50% in a year
Children are easiest prey for malaria because immune systems are still developing
Rather than attacking the virus, vaccine is designed to boost the immune system
Medical specialists say vaccine side effects will be monitored over the next three years
A malaria vaccine has eluded scientists for decades, but preliminary results from a phase 3 clinical trial in Africa are providing hope.
The data suggest that the vaccine, known as RTS,S, cuts the number of malaria cases in half.
Overall 15,000 children in seven African countries are participating in the trial, which represents the furthest that any malaria vaccine candidate has ever progressed.
The preliminary results, which were announced at a malaria forum hosted by the Bill and Melinda Gates Foundation in Seattle, covered 6,000 of the participating children, all aged between 5 and 17 months.
The developers, GlaxoSmithKline and the PATH Malaria Vaccine Initiative, which receives funding from the Bill and Melinda Gates Foundation, said it showed roughly a 50% reduction in malaria cases in a 12 month period following vaccination.
Results from a group of infants between 6 and 12 weeks old will be announced late next year.
"Scientists have been working to develop a malaria vaccine for 40 years, and these findings show that we are on track in the development of a vaccine for African children, those who need it most," said Dr. Mary Hamel of the U.S. Centers for Disease Control and Prevention, who is one of the principal investigators on the study.
The vaccine is designed specifically for children because their immune systems are still developing, making them the easiest prey for the parasitic disease. Youngsters under the age of 5 account for the vast majority of the 800,000 people who die of the condition each year.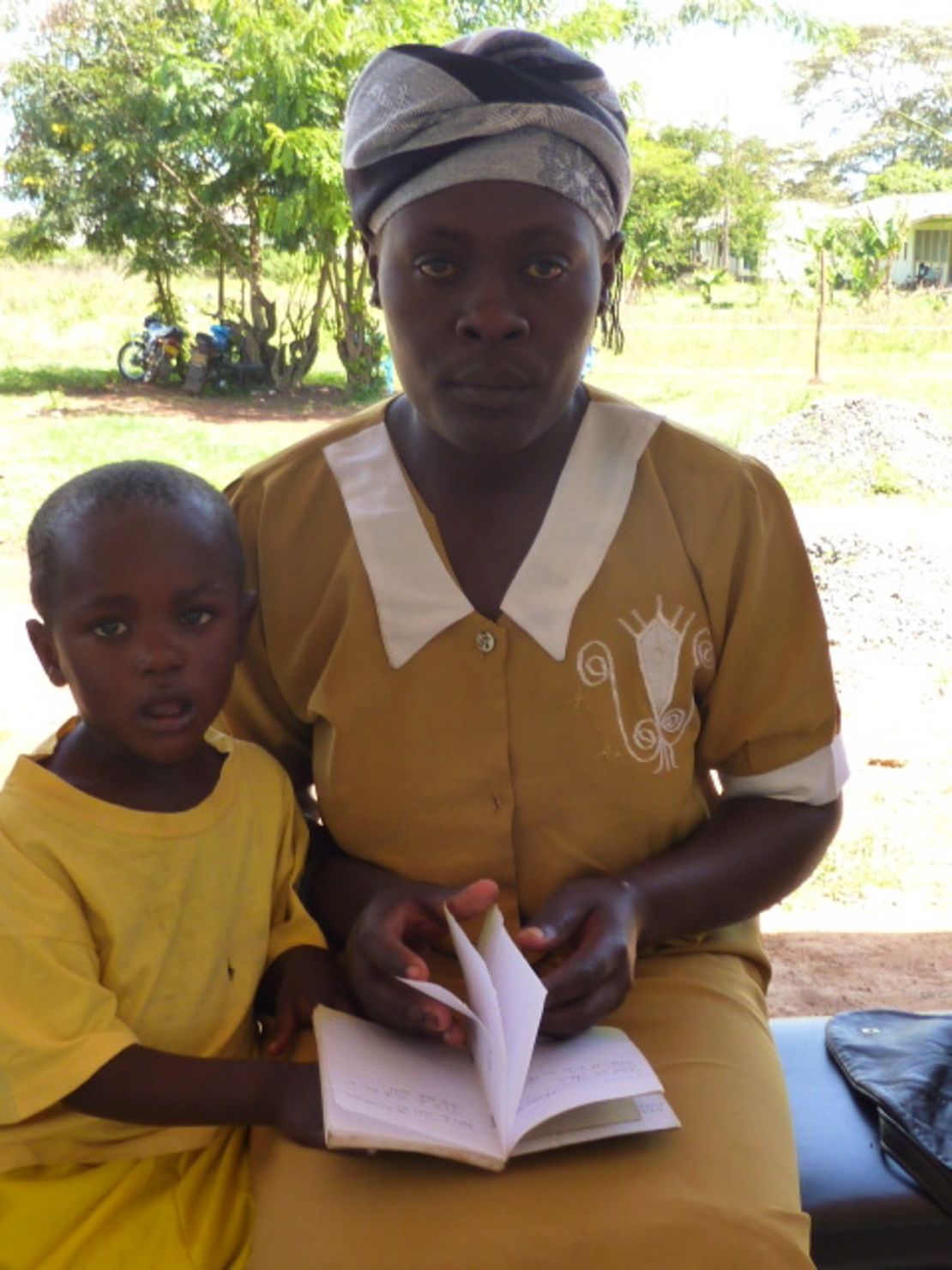 This year, Global Health Frontline News visited trial sites in Kenya, where 2-year old Philip Ouma was getting a booster shot. He buried his head in his mother's chest as a plunger with an inch-long needle glided into his arm and deposited its contents.
Unlike many of the babies and toddlers in this vaccine trial, Philip didn't burst into tears or even make a sound.
His mother, Rosemary, enrolled him in the trial because her three other children had repeatedly been sickened by malaria, putting an enormous strain on the family.
Indeed, the entire community felt the strain in their part of western Kenya, where malaria accounts for one-third of all deaths among children.
To administer the trials, the Kenyan government joined with the CDC and the Walter Reed Army Institute of Research.
Dr. Louis Macareo, who directs Walter Reed's clinical trial center in Kombewa, says this vaccine is different because instead of attacking the parasite, it seeks to boost the immune system. "When you get malaria, it spawns off a cascade of events in your body where your body produces antibodies that fight against the malaria," he said. "What we try to duplicate with the vaccine is to stimulate the body's immune system to produce similar antibodies."
The developers of RTS,S say preliminary results suggest that the incidence of adverse effects of the vaccine are comparable to those found in children receiving other vaccines in this blind trial.
The CDC's Mary Hamel says there was some increased incidence of fever and associated seizures in the older age group during the seven days following the RTS,S vaccination, but they were rare and all the children recovered.
GlaxoSmithKline and the PATH Malaria Vaccine Initiative say side effects will be monitored over the next three years to develop a safety profile.
If approved for widespread use, RTS,S would be given in tandem with other childhood vaccines, enabling overstretched health systems to introduce it with little difficulty.
And it's hoped that implementation could be just around the corner. The vaccine's developers say a 30-month analysis of the vaccine's effectiveness will be complete by the end of 2014.
If the results remain positive, the World Health Organization says it could recommend the vaccine as early as 2015.
Kayla Laserson, the director of a CDC partnership with Kenya's main research institute, known as KEMRI, says implementation talks are already under way. "Certainly, the preparations for it are there to go straight from discovery that this is in fact efficacious, to policy, to implementation; all those conversations are happening, so everyone is ready."
While a 50% cut in prevalence would not be a silver bullet against malaria, it would be a significant milestone with the potential to save hundreds of thousands, if not millions, of young lives.
But malaria control experts stress that if this vaccine ever does go to market, it would need to work in tandem with other interventions.
"Such a vaccine would not replace proven malaria control interventions such as insecticide-treated bed nets," the CDC's Hamel said, "but could be an important addition to those interventions."
Andrew Witty, the CEO of GlaxoSmithKline says that if approved, his company does not intend to make a profit from this venture. GlaxoSmithKline, which says that it has spent $300 million dollars on the development of RTS'S, will provide the vaccine at 5% above the cost of production, and that the excess amount will be reinvested for research into the next malaria vaccine.
David Lindsay is the managing editor of Global Health Frontline News.