1 boy killed, 1 hurt in West Bank violence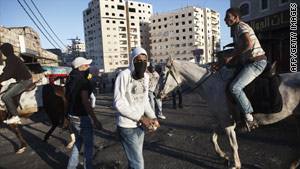 Palestinian youths gather Saturday in East Jerusalem, where clashes with the Israeli military have plagued the streets.
STORY HIGHLIGHTS
Israel Defense Forces spokesman: There was "a violent and illegal riot"
Palestinian activist group says teen was among demonstrators
The Popular Struggle panel says Israelis fired tear gas, rubber bullets
Jerusalem (CNN) -- A 16-year-old Palestinian boy was shot dead and another Palestinian was in critical condition after being shot in the head during clashes with the Israeli military in the West Bank, a local medical official said Saturday.
Dr. Ghassan Hamdan, chief of the Palestinian medical relief services in the Nablus district, said the violence happened in Iraq-Burin, southwest of Nablus.
A spokesman for the Israel Defense Forces told CNN that there was "a violent and illegal riot south of Nablus in which dozens of Palestinians approached a convoy," but contrary to Palestinian reports, there was "no live fire."
A Palestinian activist group said in a statement that the teen, Mohammed Ibrahim Qaddous, was shot in the afternoon after a crowd of Palestinian demonstrators protested "restrictions on access to their lands beneath the Jewish-only settlement of Har Brakha."
The Popular Struggle Coordination Committee, which said it had activists at the scene, described Israelis firing tear gas and rubber bullets at the demonstrators as they returned to their village, sparking clashes.
At one point, shots were fired at a small group of young men, some of whom were throwing stones, resulting in Qaddous' death, the group said. The activists identified the wounded Palestinian as 16-year-old Ussayed Jamal Abd elNasser.