2 U.S. Army pilots killed in Iraq helicopter accident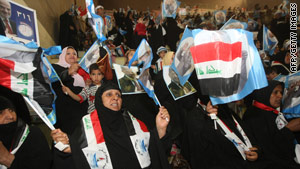 Iraqis wave flags at a campaign rally Sunday in Baghdad. The general election is set for March 7.
STORY HIGHLIGHTS
"No hostile fire" involved in helicopter crash that killed two, military says
10 Sunni worshippers hurt when suicide bomber detonates outside mosque
Imam of the mosque in Tikrit had urged cooperation with Iraqi police and army
Baghdad, Iraq (CNN) -- Two U.S. Army pilots died Sunday in a helicopter accident in Iraq, the military said.
The pilots' aircraft "made a hard landing" near an airfield on a U.S. base in northern Iraq, a military statement said. "There were no enemy forces present, and no hostile fire was reported."
The soldiers were assigned to Task Force Marne, which is responsible for U.S. operations in northern Iraq. The location of the base and the soldiers' identities were withheld pending family notification.
Meanwhile, at least 10 Sunni worshippers were wounded Sunday when a suicide bomber detonated his explosives outside a Sunni mosque outside Tikrit, police said.
The attack occurred about 6:15 p.m. at the Abi Manar al-Alami mosque in the town of al-Alam, east of Tikrit, police officials said.
Its imam, who has the same name as the mosque, has urged people to respect the Iraqi security forces and the law, and had issued a fatwa to forbid attacking Iraqi police and army, police officials said.
Iraq security forces believe al Qaeda in Iraq was behind the attack, officials said.
Tikrit, the hometown of former Iraqi leader Saddam Hussein, is located in Salaheddin province, about 100 miles (160 kilometers) north of Baghdad.
CNN's Mohammed Tawfeeq contributed to this report.