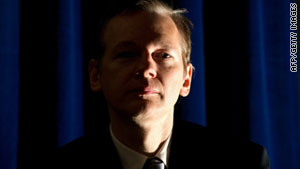 Julian Assange is being held near London and faces extradition to Sweden over allegations of sexual assault.
STORY HIGHLIGHTS
NEW: Julian Assange has no access to the internet, his attorney says
NEW: President Obama denounces leaked cables in calls to Mexican, Turkish leaders
Rallies in support of WikiLeaks held in several international cities Saturday
Assange was jailed Tuesday on suspicion of sex crime unrelated to WikiLeaks
(CNN) -- Pro-free-speech rallies were scheduled in several international cities Saturday to protest the arrest of WikiLeaks founder Julian Assange, who is being held in a prison on the outskirts of London on suspicion of sex crimes unrelated to his controversial website.
A Spanish website that supports WikiLeaks' cause urged protesters Saturday to gather in the capitals of Spain, Peru, Mexico, Argentina, the Netherlands and Colombia to demand Assange's release.
"We seek the liberation of Julian Assange in United Kingdom territory," the website said.
The website called on protesters to gather in Madrid, Barcelona, Valencia and Seville, and other Spanish cities.
Similar rallies were held in Assange's native Australia on Friday.
Protests were also scheduled in London's Hyde Park on Saturday, according to Justice for Assange, a website that collects and lists rally information. Demonstrators are scheduled to continue their protest at London's Westminster Court and the Swedish Embassy on Monday and Tuesday. The planned rallies come after massive student protests in London caused violence and disruption during a busy holiday shopping week.
Assange, who is being held at the Wandsworth prison south of London, faces extradition to Sweden over allegations of sexual assault. He was denied bail during a court appearance Tuesday.
Assange's lawyer told CNN's John King that she has not received any official communicaton indicating that the United States is pursuing charges against her client.
Attorney Jennifer Robinson said Assange has not committed a crime and that any U.S. prosecution of him "would call into question protections of the First Amendment."
Robinson's client is being held under surveillance in a segregated wing of the British prison, Robinson said.
"He does not have access to the internet. Indeed, he doesn't have access to a laptop, even an internet-disabled laptop," she said. "He has had difficulty getting access to newspapers. He has very limited access to telephone calls, so he has very little access to the outside world."
Some pro-Assange activists believe his incarceration is politically motivated for his role in disseminating secret U.S. diplomatic cables and other classified documents relating to the wars in Iraq and Afghanistan on the WikiLeaks site.
Support for WikiLeaks has also been voiced by several world leaders, including Brazil's outgoing president Luiz Inacio Lula da Silva.
"I show my solidarity with WikiLeaks," Lula said during a press conference Friday. "The fault is not with the one who divulged the information but with the ones who wrote such stupidity," he said.
U.N. Human Rights commissioner Navi Pillay also showed her support for Assange and criticized what she called policies of "intimidation" against him.
"If WikiLeaks has committed any recognizable illegal act, then this should be handled through the legal system, and not through pressure and intimidation, including on third parties," Pillay said during a conference Thursday in Geneva, Switzerland.
In addition to demanding Assange's release, demonstrators are also calling for the resumption of the WikiLeaks domain name as well as the the restoration of WikiLeaks' Visa, MasterCard and Swiss accounts so supporters can continue to send financial support to the website.
WikiLeaks, which facilitates the anonymous leaking of secret information, began posting the first of more than 250,000 U.S. State Department documents late last month. Since then, the site has been hit with denial-of-service attacks, been kicked off servers in the United States and France, and lost major revenue sources.
The release has been blasted by U.S. and other Western leaders, who say the documents' publication threatens national security.
U.S. President Barack Obama on Saturday expressed hopes that the "deplorable" leaks would not harm U.S. relations with other countries in calls with Turkish Prime Minister Recip Tayyip Erdogan and Mexican President Felipe Calderon.
In a December 2004 cable leaked by WikiLeaks, the U.S. ambassador in Turkey said Erdogan had an "authoritarian style and deep distrust of others" and "Islamic tendencies." Erdogan's aides were described as "sycophantic (but contemptuous)."
Erdogan previously called the comments slanderous and even threatened to sue over a suggestion made in that cable that he stashed wealth in Swiss bank accounts.
Leaked cables referencing Mexico suggest that the United States has doubts about the way Calderon's government is carrying out the fight against drug cartels.
A January 2010 cable from the U.S. Embassy in Mexico says that "official corruption is widespread."
CNN's Mary Grace Lucas contributed to this report.