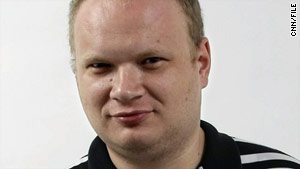 Oleg Kashin is a political correspondent for Kommersant, an independent business daily.
STORY HIGHLIGHTS
Kommersant journalist severely beaten
Groups says 52 journalists killed in Russia since 1992
Police investigating the case
(CNN) -- Russian investigators are searching for clues on yet another nearly fatal attack against a journalist Saturday, and authorities believe the assault is linked to his job.
A Russian Investigative Committee spokesman told CNN that police are looking into closed-circuit security footage that showed two men suspected of beating journalist Oleg Kashin outside his home on Saturday morning.
Kashin is a political correspondent for Kommersant, an independent business daily.
Kashin's wife Yevgeniya Milova told the independent Interfax news agency that Kashin's condition was "steadily critical" after he was admitted to a hospital with multiple fractures and a concussion.
Russia's state-run Itar-Tass news agency said the attackers holding flowers waited for the journalist near his house.
"Neither money, nor other valuable things have been reported stolen from the journalist," the agency reported.
Joel Simon, the executive director for the Committee to Protect Journalists, said in a statement Saturday that the Russian government has "considerable responsibility" in finding the perpetrators.
"By failing to prosecute those who have carried out crimes against journalists in the past -- including 19 murders committed in the Putin era -- the Russian government has created a climate of impunity," Simon said. "Government statements and expressions of sympathy are simply not sufficient. Arrests, prosecutions and convictions are what are urgently needed."
Kommersant has been the target of persecution for several years.
In 2005, members of the CPJ protested a multimillion-dollar government fine imposed on the daily for an article on the banking crisis that resulted in a mass rush of cash withdrawal.
The CPJ and other press advocates have also raised questions regarding the alleged 2007 suicide of Kommersant defense journalist Ivan Safronov, who fell four stories from his apartment building.
According to CPJ reports, 52 journalists have been murdered in Russia since 1992 in direct relation to their assignments, making it one of the world's most dangerous nations for reporters.
On Saturday, Kommersant employees posted reports on Kashin's condition.
Kommersant's employee Michael Kirster said he visited Kashin at the hospital and that the journalist's condition is "dire."
Doctors have placed Kashin in an artificial coma to avoid painful shock from the injuries, Kirster wrote on Kommersant's Web page.
"Doctors have connected the journalist to mechanical ventilation, conducting appropriate treatment to prevent infection and complications in other organs," he said.
According to Kirster, doctors are doing everything possible to save the journalist's life.
Kirster also alleged that the attack on the correspondent was planned.
"Maybe even the criminals wanted to kill Oleg, not only disfigure and maim him," he said.
CNN's Helena de Moura contributed to this report