Nurse charged with murder in Romanian hospital fire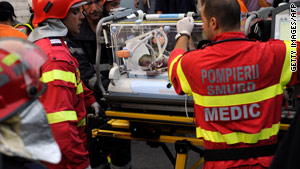 Emergency workers evacuate an infant injured in a hospital fire on August 16, 2010.
STORY HIGHLIGHTS
NEW: Prosecutors will ask judge Tuesday to hold Cirstea for 29 more days
5 babies died in a fire at newborn intensive care unit
Prosecutor: Nurse left the ICU for 12 minutes
(CNN) -- A nurse at a Romanian hospital has been charged with murder in the deaths of five newborns killed in a fire in an intensive care unit, prosecutors said Monday.
Florentina Daniela Cirstea will remain in police custody for 24 hours and appear before a judge Tuesday, said Marius Iacob, chief prosecutor in charge of the investigation. Prosecutors will ask the judge to place her under arrest so she can be held for the next 29 days.
Cirstea is accused of failing to fulfill duties of her job by not constantly supervising the newborns in the ICU unit of the Giulesti Maternity Hospital in Bucharest.
Five babies -- two boys and three girls -- died after suffering severe burns in the fire August 16. Six other newborns were injured, authorities have said. They remained in critical but stable condition Monday, according to staffers at Grigore Alexandru Children's Hospital, where they are being treated. Cirstea is also charged in connection with the injured infants.
She left the unit unattended for 12 minutes, Iacob said, and then was unable to evacuate and rescue the newborns after the fire broke out. Cirstea also left the intensive care unit several other times during that day, according to surveillance video, he said.
Iacob said last week that medical staff at the hospital were in another room, apparently having a celebration, when the blaze broke out.
The fire started in an electrical cable attached to the air-conditioning unit of the intensive care room, according to prosecutors' preliminary conclusions. It quickly swept through the room, burning incubators and melting medical equipment.
Another member of the medical staff, not Cirstea, was the one who called for help when the blaze was discovered, Iacob said.
Surveillance camera footage released by the government last week showed medical staff and parents frantically trying to enter the burning intensive care unit, using a chair to break down automatic doors. The doors could only be opened with an access card, which no one had at the time. Seconds later, the hallway filled with smoke.
Iacob said last week that only one person had an access card to open the door -- the nurse in charge, who was not present.
The temperature inside the ICU reached more than 200 degrees Celsius (400 degrees Fahrenheit), Iacob said last week.
It was too soon to evaluate the survival chances of the six injured babies, hospital staffers said on Monday. However, minor burns suffered by some of the infants have healed, officials said.
Journalist Cosmin Stan contributed to this report.