Belgian cardinal quizzed for 10 hours over abuse allegations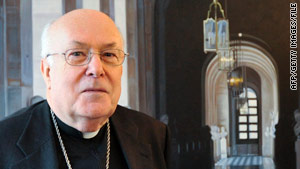 Cardinal Godfried Danneels resigned in January as archbishop for Belgium's Roman Catholics.
STORY HIGHLIGHTS
Police question Cardinal Godfried Danneels as witness
He is accused of failing to halt sexual abuse in the church but faces no charges
Belgian police raided church headquarters in June
Vatican angry about raids, but condemned abuse of minors by clergy
(CNN) -- Belgian police questioned the country's former Catholic archbishop for about 10 hours over accusations that he knew of sexual abuse in the church but failed to stop it, the Belgian prosecutor's office told CNN on Wednesday.
Cardinal Godfried Danneels is considered a witness but could become a suspect, prosecutor's spokesman Joseph Colain told CNN.
Danneels, who was questioned Tuesday, could be interrogated again as the investigation continues, Colain said.
Danneels was archbishop of Belgium for more than 30 years before he stepped down in January.
Belgian police raided the national headquarters of the Catholic Church last month over allegations of child abuse, prompting an angry response from Pope Benedict XVI and other church leaders.
Investigators seized archdiocese archives covering 25 years as well as personal computers and other personal possessions, said Fernand Keuleneer, a lawyer for the archdiocese.
Police raided Danneels' private residence and the headquarters of the Catholic Church in Belgium, where a meeting of bishops happened to be taking place.
They detained the bishops and other church employees -- even the cook -- for about nine hours, the Rev. Eric De Beukelaer said. Investigators also seized personal possessions and have not yet returned them, he said.
Members of a Belgian church commission that helps sexual abuse victims resigned en masse to protest the raid a week after it took place, said De Beukelaer, a spokesman for the Mechelen-Brussels Archdiocese.
The Belgian Prosecutor's Office said Monday it is investigating death threats against witnesses and magistrates involved in clergy child abuse cases.
The Vatican criticized the raids but reaffirmed its "strong condemnation of any sinful and criminal abuse of minors by members of the church." It cited "the need to repair and confront such acts in conformity with the law and teachings of the Gospels."
The Catholic Church is facing allegations that clergy members abused children in at least half a dozen countries, including the pope's native Germany, as well as Belgium, Ireland, Austria, the Netherlands and the United States.
CNN's Lianne Turner contributed to this report.
FOLLOW THIS TOPIC