German bishop resigns over allegations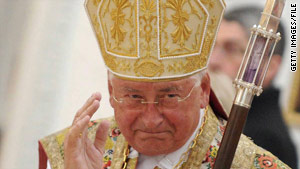 Bishop Walter Mixa of Augsburg, Germany, stepped down amid allegations of hitting children and misusing funds.
STORY HIGHLIGHTS
Pope accepts resignation of Augsburg Bishop Walter Mixa
Mixa accused of hitting children, misusing funds meant for orphanage
Bishop asks forgiveness from "all those I have saddened"
(CNN) -- The pope has accepted the resignation of a German bishop who had offered to step down last month after he was accused of hitting children in his care and misusing money donated to an orphanage.
A statement from the Vatican on Saturday confirmed the resignation of Bishop Walter Mixa of Augsburg.
In accepting the resignation, the Vatican cited a section of canon law that allows a member of the clergy to resign "because of illness or some other grave reason" or if he has "become unsuited for the fulfillment of his office."
In a brief April 22 statement, Mixa asked forgiveness from those "to whom I have done an injustice and all those I have saddened."
The Catholic Church across Europe has been reeling from accusations of physical and sexual abuse by clergy members, and Mixa is the latest in a string of bishops to resign.