800 evacuated as Iceland volcano erupts
STORY HIGHLIGHTS
Glacier is the sixth-biggest in Iceland, about 100 miles (160 km) east of Reykjavik
The first evacuations began at 2 a.m. (10 p.m. ET Tuesday)
Iceland Met Office map showed seismic activity of between 1 and 2 magnitude
(CNN) -- Icelandic authorities evacuated about 800 people early Wednesday when a volcano erupted beneath the Eyjafjallajokull glacier, an emergency spokesman said.
The first evacuations began at 2 a.m. (10 p.m. ET Tuesday), according to Rognvaldur Olafsson, chief inspector at Iceland's Department of Civil Protection and Emergency Management. He said everyone in the area was safe.
"We have located the fissure that is erupting under the glacier," Olafsson told CNN. He said scientists are currently doing aerial reconnaissance of the area and that officials would know more when they return.
So far, he said, the eruption has created a large hole in the glacier. Lava is not a big concern but flooding is, he said.
iReport: Are you there? Send your images, videos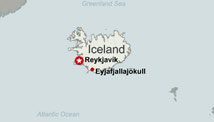 Map: Eyjafjallajokull glacier
"The volcano is under the glacier, and it's melting parts of the glacier," Olafsson said. "The rivers will rise and potentially make some damage."
iReporter captures footage of eruption
Rivers closest to the glacier have already started rising, he added.
The glacier is the sixth-biggest in Iceland, just to the west of the bigger glacier, Myrdalsjokull. It is about 100 miles (160 km) east of the capital, Reykjavik.
A map from the Icelandic Meteorological Office showed seismic activity of between 1 and 2 magnitude in the area around the glacier Wednesday morning.