Pope wades into UK gay clergy battle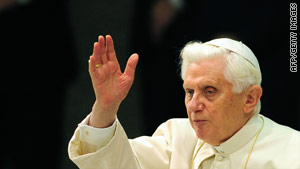 The pope has urged UK bishops to challenge attempts to restrict religious freedoms.
STORY HIGHLIGHTS
Pope was speaking to five-yearly meeting of UK Catholic Bishops
Equality Bill could open up clerical staff to prosecution over discrimination
UK media say the pope's remarks are "strongly worded intervention in British politics"
London, England (CNN) -- A furor has erupted in Britain over comments by the pope seen as critical of a new law the Roman Catholic church fears will force it to accept homosexuals into its ranks.
In remarks to 35 British and Welsh Catholic bishops during a visit to the Vatican, Pope Benedict XVI urged them to challenge what he said were attempts to restrict religious freedoms.
"Your country is well known for its firm commitment to equality of opportunity for all members of society," the pope said, according to the Vatican Information Service.
"Yet, the effect of some of the legislation designed to achieve this goal has been to impose unjust limitations on the freedom of religious communities to act in accordance with their beliefs."
The Catholic News Service said pope's comments were a direct assault on a new Equality Bill under debate in the British Parliament that the Catholic clergy say will expose them to prosecution if they reject priesthood candidates on the basis of sexual orientation.
The upper House of Lords has amended the legislation to exempt priests or ministers, but both the Roman Catholic Church and Church of England say it still affects other clerical staff and have called for a return to the status quo.
Pope Benedict, who is due to visit the UK this year, urged the bishops to uphold religious principles and press their case with "national debate through respectful dialogue with other elements in society," CNS reported.
"When so many of the population claim to be Christian, how could anyone dispute the Gospel's right to be heard?" he said.
"Fidelity to the Gospel in no way restricts the freedom of others -- on the contrary, it serves their freedom by offering them the truth," he said.
Britain's conservative Daily Telegraph newspaper described the comments, which come ahead of a general election that could unseat the ruling Labour Party, as a "strongly worded intervention in British politics."
Gavin D'Costa, a professor in Catholic Theology at the UK's University of Bristol said the pope was more likely to be airing the concerns of his bishops than wading in with direct criticism of British political policy.
"He is speaking about a theme, about how the state and religion relate and whether the state has a right to interfere with the running of religious groups," he told CNN.