STORY HIGHLIGHTS
Obama says his visit is intended to send a message after the 2008 attacks
Obama writes in a guestbook about eradicating the "scourge" of terrorism
Business and trade are also a focus of his stop in Mumbai
Obama travels later to New Delhi, India, then to three other Asian nations
Mumbai, India (CNN) -- U.S. President Barack Obama struck a defiant tone in the first speech of his trip to India, saying Saturday that his stay at the Mumbai hotel attacked by terrorists two years ago is "absolutely" intended to send a message.
"We visit here to send a very clear message that, in our determination to give our people a future of security and prosperity, the United States and India stand united," Obama said at Mumbai's famous Taj Mahal Palace hotel, which came under siege in November 2008.
A few hours later, as the president spoke with business leaders in Mumbai, the White House showcased a list of trade deals negotiated with India that will net both money and jobs for U.S. businesses.
The deals include a $4.1 billion agreement for the Indian air force to purchase 10 C-17 military transport planes from Boeing, which the White House said will support more than 22,000 jobs and is a further example of the expanding American partnership with India.
The attacks two years ago killed 164 people, including more than 30 staff members and guests at the Taj, and Obama's commemoration of them during his first event here underlined the importance that the United States is placing on boosting collaboration with India.
"We'll never forget how the world, including the American people, watched and grieved with all of India," Obama said. "But the resolve and the resilience of the Indian people during those attacks stood in stark contrast to the savagery of the terrorists. The murderers came to kill innocent civilians that day, but those of you here risked everything to save human life."

Obama goes to Mumbai

What's the true cost of Obama's trip?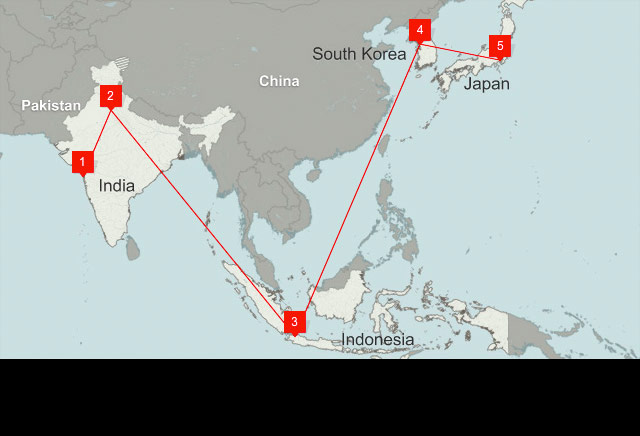 Where is Obama today?
Just before the speech, Obama and his wife, Michelle, signed a memorial guestbook for the victims. In his message, Obama wrote about eradicating the "scourge" of terrorism and affirming "our lasting friendship with the Indian people."
The 2008 attacks, blamed on Pakistani-based militants, derailed a fragile peace process between New Delhi and Islamabad.
Under U.S. pressure, the two nuclear-capable states held talks this year in an attempt to resume their fully fledged dialogue, but progress has been slow.
Mumbai is India's financial hub, and talks on business and trade were also a focus of Obama's three days here. Hundreds of American business leaders and chief executives traveled to Mumbai with the president.
U.S. Commerce Secretary Gary Locke, Agriculture Secretary Tom Vilsack, and Rajiv Shah, the head of USAID, the government's foreign aid agency, joined Obama for a meeting later with entrepreneurs.
It was the list of trade deals, however, that was likely to make the biggest impact back home in the United States, where there has been concern that much of the job creation for U.S. companies has happened overseas.
Boeing said the C-17 deal with India will support 650 suppliers in U.S. 44 states and support the company's own C-17 production facility in Long Beach, California, for an entire year.
Other deals announced Saturday include a contract for General Electric to profide the Indian Aeronautical Development Agency with 107 F414 engines for the Tejas light-combat aircraft, a deal worth $822 million and supporting 4,440 jobs, the White House said.
Harley-Davidson Motor Company announced it is opening a new plant in India for the assembly of its motorcycles from U.S.-built kits. Besides job creation in both countries, the deal will allow the company to reduce the tariff on its bikes for sale in India, thus driving sales growth for the Wisconsin-based firm.
Boeing also signed a deal to sell 30 of its B737-800 commercial aircraft to SpiceJet, a leading private airline in India. The deal is valued at $2.7 billion and supports nearly 13,000 jobs, the White House said.
Obama's three-day visit to India, Asia's third largest economy and one of the world's few growth markets, also includes meeting with Indian Prime Minister Manmohan Singh in New Delhi and addressing the nation's parliament.
"The simple truth is that India's rise, and its strength and progress on the global stage, is deeply in the strategic interest of the United States," said William Burns, under-secretary at the U.S. State Department, during a briefing on Obama's trip.
Obama's visit can also help balance regional geopolitics in the face of what is now seen as an increasingly assertive China, said Uday Bhaskar, director of the National Maritime Foundation in New Delhi.
The Chinese and Indian prime ministers met in October in a bid to ease growing tensions despite flourishing trade between the two neighbors.
China's support to Pakistan, India's accommodation of the exiled Tibetan leader, the Dalai Lama, and a decades-old border dispute between the two sides are points of friction as the economic powerhouses jockey for influence in the region.
After India, Obama travels to Indonesia, then on to the G-20 meeting in South Korea and APEC (Asia-Pacific Economic Cooperation) in Japan.
CNN's Harmeet Shah Singh, Mallika Kapur, and Dan Lothian, contributed to this report.
FOLLOW THIS TOPIC