Lawyers skeptical about Myanmar releasing Suu Kyi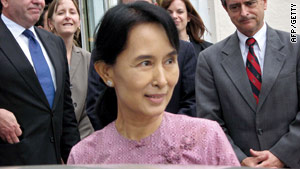 Nobel Peace Prize laureate Aung San Suu Kyi
STORY HIGHLIGHTS
The country's military junta says it will release her in November
The regime has reneged before, her attorneys say
The political activist has spent 14 of the past 20 years under house arrest
(CNN) -- Myanmar's military junta says it will release Nobel laureate Aung San Suu Kyi in November, but her lawyers are skeptical.
The military regime has announced that it will free the political activist -- who has spent most of the last 20 years under house arrest -- on November 13, just days after the country's first election in two decades.
"The regime has repeatedly claimed it intended to release her on various dates over the years and has then failed to follow through on its commitment to release her. So, ultimately, I don't tend to follow what they say, but rather what they do," said attorney Jared Genser, who is based in Washington.
"Our joint analysis is that under Burmese law, she should be released on November 13," Genser said. He works on Suu Kyi's behalf with her attorney in Myanmar, which also is known as Burma.

Video: A look into Myanmar
Myanmar has been under military rule since 1962. Critics say the coming elections aim to create a facade of democracy.
Suu Kyi's National League for Democracy party won a landslide election victory in Myanmar in 1990, but the military junta rejected the results. The regime recently passed a law that made her ineligible to stand in the November 7 election because of her court conviction.
The country needs to show the world that its November elections are credible by releasing Suu Kyi and all other political prisoners, U.N. Secretary-General Ban Ki-moon said this week.
Suu Kyi won the Nobel Peace Prize in 1991.
FOLLOW THIS TOPIC