165 dead in India flooding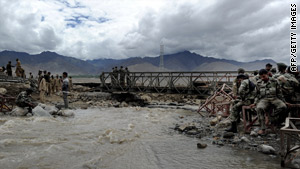 The Indian army has been helping flood victims. Here, army personnel rest after setting up a temporary bridge in Leh.
STORY HIGHLIGHTS
Search goes on for 400 people missing, according to official Indian media
Local government officials visit area and focus on restoring services
The landslides snapped power lines and flattened villages
Landslides were triggered by a massive rainfall Friday night
(CNN) -- The death toll from last week's flooding and subsequent landslides has risen to 165 in the Himalayan town of Leh, India, according to a senior police officer.
In confirming the increased death toll, Farooq Ahmad also told CNN that at least 400 people were injured and "have been treated or are undergoing treatment in various hospitals in the town of Leh."
Rescue workers continued to search for more than 400 people missing, state-run media reported Monday.
"The weather has cleared in Leh and the rescue and relief operations are now in full swing," the local government said in a statement Monday.
State chief minister Omar Abdullah and other senior government officials visited Leh Monday to assess the situation, the statement said. One focus, according to government officials, is restoring crucial services to residents. It was Omar's second visit to the city in last four days to oversee the relief and rescue measures and rehabilitation operation.
"The natural calamity has created devastation and huge loss of precious human lives has occurred," Omar said, according to the statement. "While we are deeply (pained at) the loss of human lives and anxious for missing persons, we have to devote attention for restoration of all essential services besides providing necessary help to the affected people for their rehabilitation."

Video: Floods hit Punjab
The government statement said those affected by the disaster are living in tents provided by the state government and Indian army.
The official Press Trust of India reported Monday that 81 foreigners and six tour guides were rescued by the air force from Zanskar Valley. The IAF carried out a record 62 sorties by Chetak helicopters in five-and-a-half hours to bring back the campers and tour guides, according to the report. They had been stuck there since the flooding hit the night of August 5.
Even as the military conducts rescues, some of its own are among the missing. The state-run media said 26 army personnel are still unaccounted for and could be buried under 20-to-25 feet of mud.
At least 150 of those killed in the flooding aftermath have been identified, according to the official Press Trust of India.
The landslides were triggered late last week after a massive rainfall took sleeping residents by surprise -- snapping power lines, flattening villages and upending vehicles.
Leh is about 310 miles (500 km) from Srinagar.
About 6,000 soldiers were deployed in the relief efforts, Indian army Lt. Col. J.S. Brar said. Helicopters have also been called in as damaged roads made it difficult to reach the affected areas.
CNN's Mukhtar Ahmad contributed to this report
FOLLOW THIS TOPIC