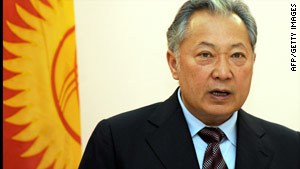 Kurmanbek Bakiev said he "will not allow the bandits to determine the destiny of the people."
STORY HIGHLIGHTS
Kurmanbek Bakiev and his family in Belarus capital of Minsk
Bakiev called Kyrgyzstan's interim government an "illegitimate gang"
Belarus President Alexander Lukashenko says Bakiev can remain in country
Bakiev overthrown earlier this month after bloody clashes between police and protesters
(CNN) -- The ousted Kyrgyz President Kurmanbek Bakiev said Wednesday he still considers himself the country's president, even though he was forced to resign, according to news reports from Minsk, Belarus.
"As president of Kyrgyzstan, and the guarantor of its Constitution, I am not evading responsibility for the catastrophe that my people are going through, and am prepared to bear responsibility," Bakiev told reporters in the Belarus capital where he and his family members were granted asylum.
His comments were carried by the Belarus state-run agency, Belta.
But Edil Baisalov, chief of staff of the Kyrgyz interim government, said Bakiev is no longer president of Kyrgyzstan no matter what he says.
"He was evacuated from Kyrgyzstan due to the combined efforts of the United States, Russia, Kazakhstan and OSCE (the Organization for Security and Co-operation in Europe) and he passed his resignation letter to their representatives," Baisalov told CNN.
Meanwhile, Bakiev called upon the international community not to recognize the authority of "the illegitimate gang" that came to power in Kyrgyzstan, which he said, "imposes lawlessness, kills civilians and destroys their homes".
Bakiev said he "will not allow the bandits to determine the destiny of the people" and pledged he'll do all he can to "return the country into its constitutional field".
"There is no force that could stop me, only death can stop me," he said.

Video: Back to normal in Kyrgyzstan
On Tuesday, the chief of staff of Kyrgyzstan's interim government said the country's new authorities will demand the extradition of Bakiev from Belarus once the investigation into the bloody massacre of April 7 is completed.
"As soon as our own investigation, along with the investigation of an international commission, is over, we expect that Bakiev will hand himself over," Baisalov told CNN Tuesday in a phone interview.
"We expect that he will stick to his promise that he is prepared to accept the results of such probes and face punishment."
Belarus President Alexander Lukashenko has said he will not allow anyone to "offend" the Kyrgyz president.
"If he wants to get involved in politics -- that's fine. If he doesn't, but simply wants to live here -- let him do so. We have plenty of room and work to do. And there are quite a few Kyrgyz people living here already," he said Tuesday.
Bakiev was overthrown earlier this month after a day of bloody clashes between police and protesters in the Kyrgyz capital Bishkek left scores of people dead.
An interim government made up of opposition politicians took power, and days later, Bakiev went to neighboring Kazakhstan.
Baisalov said former Soviet Union states such as Kyrgyzstan and Belarus signed an agreement allowing the extradition of criminal suspects from one country to another.
He said he hopes Belarus will abide by that international agreement.
FOLLOW THIS TOPIC