STORY HIGHLIGHTS
President Obama was to be briefed by national security adviser on Saturday
Afghan president urges "absolute caution," but two civilians were injured
One Briton and one American killed in Operation Moshtarak
15,000 multinational troops take part in effort to attack Taliban in area
Marjah, Afghanistan (CNN) -- The major coalition assault against the Taliban in southern Afghanistan claimed the lives of two coalition troops, but military officials regard the hours-old push in war-ravaged Helmand province as very promising.
"So far, so good," said British military spokesman Maj. Gen. Gordon Messenger, who told reporters in London that commanders are "very pleased" with the siege in the Marjah region, a Taliban-dominated agricultural area dotted with villages.
He said key objectives such as securing key bridges and roads were being reached with "minimal interference" by Taliban militants unable to put up a "coherent response."
"The Taliban appear confused and disoriented," Messenger said, but tempered his optimism with the reminder that the operation is not yet done.
A U.S. military official confirmed one U.S. Marine was killed in small arms fire, and a British soldier was killed in an explosion.
President Obama was following the progress of the operation and was to speak to National Security Adviser Gen. Jim Jones about it later in the day, said White House spokesman Tommy Vietor.
Jones recently completed a five-day trip to Pakistan and Afghanistan, where he met with senior Afghan, U.S., and International Security Assistance Force-Afghanistan leadership and traveled to Kabul, Kandahar, Jalalabad, and Panjshir.

Video: Troops killed in offensive

Video: Marines launch offensive

Video: NATO offensive explained

Video: Afghanistan Offensive
In addition, Defense Secretary Robert Gates has asked that the top U.S. military commander in Afghanistan, Gen. Stanley McChrystal, update Obama on Sunday morning.
Dubbed Operation Moshtarak, the offensive was launched early Saturday by an international coalition of 15,000 troops including Afghans, Americans, Britons, Canadians, Danes and Estonians.
The massive helicopter movement alone is the largest by the British, who dropped 1,200 troops on the ground in two hours, said a British military official not authorized to speak on the record.
Long a bastion of pro-Taliban sentiment, the Marjah region is awash with the opium used to fund the insurgency. The Taliban have set up a shadow government in what is known as the "heroin breadbasket" of Afghanistan.
The fighting started quickly and has been sporadic, with isolated firefights and attacks on troops, military officials said.
One military company said as 200 U.S. Marines moved to increase its foothold in the region, insurgents fired guns and rocket-propelled grenades at them. And in another part of the Marjah area, soldiers also were in a fierce gunbattle with insurgents, military officials said.
Five Taliban fighters were killed and eight were captured in the early hours of the operation, said a spokesman for the governor of Helmandprovince, Dawoud Ahmadi.
In an effort to establish a foothold, troops launched air assaults followed by a ground offensive in rough terrain, a region crisscrossed by canals.

Video: Operation Moshtarak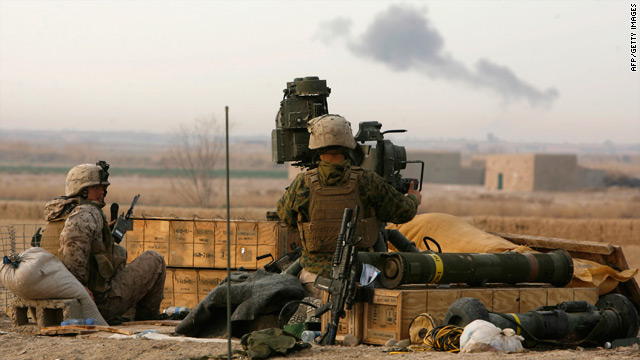 Gallery: Coalition forces carry out Operation Moshtarak
The terrain is so tough that four lightly wounded troops whose injuries normally wouldn't need medical evacuation had to be airlifted for treatment.
One NATO official, Flight Commander Wendy Wheadon, said forces have discovered large amounts of explosives, such as 155-mm artillery shells, 10 improvised explosive devices and bullets from a Soviet-made antiaircraft weapon. They also discovered 2 kilograms of heroin.
Peter Bergen: Kandahar, not Marjah, is game-changer
Maj. Gen. Messenger said a number of improvised explosive devices have been identified by the population.
In an effort to avoid civilian casualties, NATO forces announced the offensive before it started to alert citizens to take cover. In the past few days, forces from Afghanistan, Britain and other nations conducted air and ground operations to prepare for the assault. They also dropped leaflets in and around Marjah warning residents not to allow the Taliban to enter their homes. And meetings with local leaders, or shuras, have been held as NATO forces tried to get Afghans on their side, the British military official told CNN.
Afghan President Hamid Karzai on Saturday urged Afghan and international troops to exercise "absolute caution" and ensure there were no civilian casualties. However, there were at least two civilian injuries -- two teens whose house was taken over by the Taliban and used to attack U.S. troops, the Marines said. Four coalition troops were injured.
More on Operation Moshtarak from Afghanistan Crossroads blog
The coalition said its troops expected to confront up to 1,000 entrenched Taliban fighters. It expects foreign Taliban fighters to battle to the death, and is preparing for local Taliban members in Marjah to try to escape. Roads, bridges and marketplaces are being secured while compounds are being searched, the British military official said.
Key challenges to the offensive now is determining the strength of the insurgency left in the area and whether after the offensive Afghans will stick with their government.
Officials hope Afghan forces and the government will be able to maintain control and generate the allegiance of the citizenry and provide farmers an alternative to growing the poppy that pervades the region.
Wheadon said forces have already begun working with local leaders to begin the transition of authority as troops move into Marjah, a place thought to be the last Taliban stronghold in the southern Afghanistan province of Helmand.
Messenger said tribal councils have been set up welcoming the operations. He cited one of the shuras in one area where 150 tribal elders gathered.
"NATO sees this as a success," Messenger said. "The elders believe ISAF is here to stay."
Journalist Mati Matiullah and Correspondents Nic Robertson,Frederik Pleitgen and Barbara Starr contributed to this report