Sources: Drone strikes kill 29 in Pakistan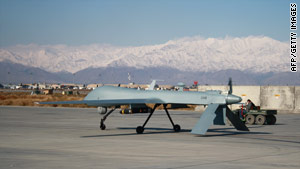 A U.S. Predator drone is shown at Bagram Air Base in Afghanistan in November.
STORY HIGHLIGHTS
NEW: Afghan Taliban leader targeted, sources say
Suspected U.S. drones hit targets in four villages, sources say
Death toll of 29 would be highest from strikes this year
U.S. is only power known to have drones in area
Islamabad, Pakistan (CNN) -- Several suspected U.S. drone strikes killed at least 29 people in Pakistan on Tuesday, Pakistani intelligence sources said.
One of the strikes targeted Sirajuddin Haqqani, the leader of the Afghan Taliban, a group based in Pakistan that targets U.S. forces and their allies in neighboring Afghanistan, said a Pakistan political source who asked not to be named because he is not authorized to speak to the news media.
A commander of the group who spoke on the condition of anonymity told CNN that Haqqani "is alive and was not in the area at the time of the attack."
The reported strikes were unusual for the relatively high number of missiles fired -- at least 17, intelligence sources said -- and for the high death toll.
U.S. drone strikes tend to kill fewer than 10 people, though one last year reportedly killed 60, said Katherine Tiedemann, a policy analyst at the New America Foundation, a public policy institute in Washington.
A death toll of 29 would represent the highest single-day death toll this year from a drone strike or strikes in Pakistan, she said.
The missiles hit targets Tuesday morning in at least four villages in North Waziristan, a region rife with Islamic extremists, the Pakistani intelligence sources said.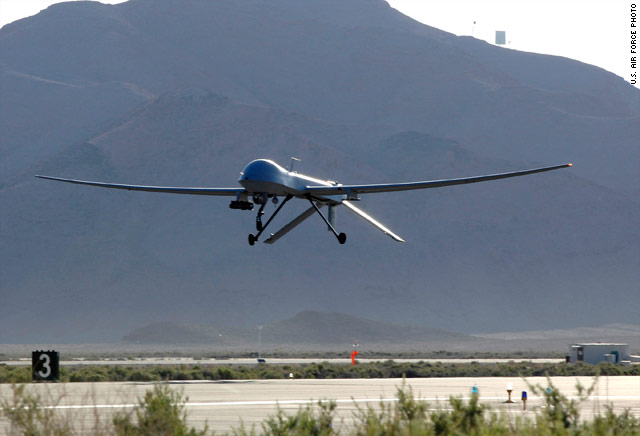 Explainer: Unmanned aerial vehicles
The strikes happened in the Datta Khel area, which has been the center of much drone activity in the past few months. Sources said drone-fired missiles hit the villages of Daigan, Muhammad Khel, Pai Khel and Toor Narai.
U.S. officials normally do not comment on suspected drone strikes, which have raised tensions between Pakistan and the United States in the past.
The United States is the only country in the region known to have the ability to launch missiles from drones, which are controlled remotely.
A suspected drone strike in mid-January wounded Hakimullah Mehsud, the leader of the Taliban in Pakistan, intelligence officials have said. On Sunday, the Pakistani military said it was looking into a report that Mehsud had died from his injuries -- a report that the Taliban denied.
Journalists Amin Khan and Nasir Dawar contributed to this report.

Part of complete coverage on

Afghanistan Crossroads is where CNN's reporting converges, bringing you a diversity of voices, stunning images and video and global perspectives

Stunning images from on the ground in Afghanistan, from military maneuvers to every day life of Afghans

Explore the different historic events that have made Afghanistan a crossroads of history


Most popular stories right now