Floods leave families in peril in Mexico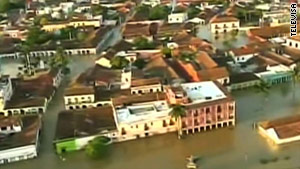 The Chiapas region of Mexico has been hit hard by massive flooding.
STORY HIGHLIGHTS
The Red Cross estimates that 100,000 families have been affected by flooding
Some areas are covered with more than 6 feet of water
The rain may let up in some areas this weekend
(CNN) -- Mexico declared 15 more municipalities disaster areas as the country deals with major flooding caused by tropical cyclones that recently battered the area, according to state media.
The new announcement Friday makes a total of 35 areas that have been given the disaster designation, state-run Notimex news agency said.
Video footage shows entire neighborhoods engulfed by water as high as the roofs of homes.
The Red Cross estimated that 100,000 families have been affected by the flooding.
"As the rain and flooding continues, the damage may worsen in some already inundated areas, like Veracruz which has approximately six-and-a-half feet of water.
In the southern state of Oaxaca, many people are living in makeshift tents on hillsides after landslides ravaged the area," the Red Cross said in a statement Friday.
Much of the flooding was caused by Tropical Depression Matthew and other weather systems that dumped heavy rain over eastern and southern Mexico, and Central America in late September.
CNN Meteorologist Ivan Cabrera said some of the hard-hit areas in Mexico may get a break from significant rain over the weekend as much of the rain has moved to Central America.
FOLLOW THIS TOPIC