Tropical Storm Matthew drenches Honduras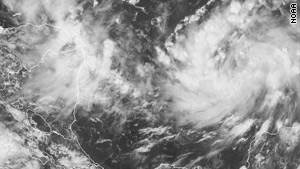 Tropical Storm Matthew could linger for days over Central America with torrential rains.
STORY HIGHLIGHTS
NEW: Belize issues tropical storm warning for part of the coast
Matthew moves inland over Honduras
Matthew could bring heavy rain and treacherous mudslides
Miami, Florida (CNN) -- Tropical Storm Matthew battered Honduras with heavy rains and winds Friday night, bringing with it a threat of flash floods and mudslides, forecasters said.
As of 11 p.m. ET, the weather system was centered about 125 miles (205 km) west of La Ceiba, Honduras, and was heading west-northwest at 15 mph (24 kph). Its maximum sustained winds had quickened slightly to 50 mph (85 kph), according to the Miami, Florida-based National Hurricane Center.
The government of Belize has issued a tropical storm warning for the coast of Belize from Belize City southward, the center said. Nicaragua dropped a tropical storm warning it had issued earlier for part of the country. A tropical storm warning remains in effect for the coast of Honduras, including offshore islands.
The weather system could dump between 6 and 10 inches of rain over portions of Nicaragua, Honduras, Belize and Guatemala, with up to 15 inches falling in isolated areas, forecasters said. Both those countries are mountainous and have in the past suffered from treacherous rain-triggered mudslides.
Track-prediction maps indicate that Matthew, the 13th named storm of the Atlantic hurricane season, will continue to move across northern Honduras Friday night and Saturday, and approach the coast of Belize late Saturday.
Forecasters say the storm could weaken and become a broad area of low pressure by Sunday.
It could regain strength once it moves back over warm Gulf of Mexico waters and head north toward the United States.
Meanwhile, as of 11 p.m. ET, the center of Hurricane Lisa was about 415 miles (665 kilometers) northwest of the Cape Verde Islands and was heading north in the Atlantic Ocean. The Category 1 hurricane's maximum sustained winds had quickened to 80 mph (130 kph).
There were no watches or warnings in effect associated with Lisa. The cyclone is likely to steadily weaken by late Saturday, and is expected to become a tropical storm Sunday, the center said.
FOLLOW THIS TOPIC