Tropical Depression Georgette nears Mexico, U.S.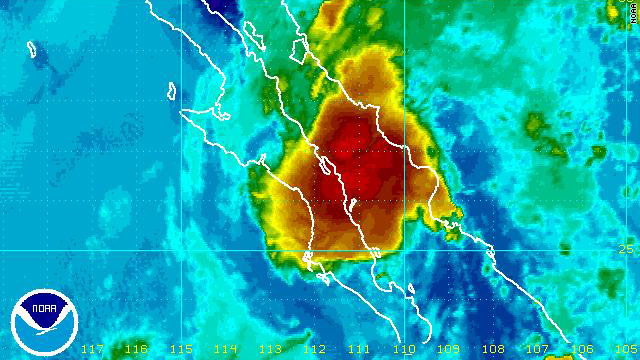 STORY HIGHLIGHTS
Tropical Depression Georgette could leave 4 to 6 inches of rain in Mexico
Georgette is expected to weaken but could affect the southwestern United States
Igor continues moving away from Newfoundland
Is severe weather headed your way? Share photos and videos with CNN iReport, but please stay safe.
(CNN) -- Parts of Mexico could get drenched with rain in the coming days as Tropical Depression Georgette is projected to make landfall Wednesday.
As of 11 a.m. ET, Georgette was centered about 85 miles (135 kilometers) south of Guaymas, Mexico and carried maximum sustained winds of about 35 mph (55 kph), according to the National Hurricane Center.
Georgette was headed north-northwest about 14 mph (22 kph). The Mexican government issued a tropical storm watch for the coast of mainland Mexico from Huatabampito north to Bahia Kino.
"On the forecast track, the depression will make landfall over mainland Mexico within the tropical storm watch area later tonight," forecasters said.

Video: Bermuda braces for direct hit from Igor

Video: Hurricane Igor blows through Bermuda
The Hurricane Center said Georgette could drop 4 to 6 inches of rain in parts of Mexico, and the system is expected to affect parts of the southwestern United States in the next few days. A projection map shows Georgette could reach central Arizona by midday Thursday, but the weather agency said it is expected to weaken.
Meanwhile, the storm known as Igor was drifting farther away from Newfoundland on the east coast of Canada.
Shortly before 7 a.m. Wednesday, Igor was nearly 300 miles (470 kilometers) east-northeast of St. Anthony, Newfoundland, according to the Canadian Hurricane Centre. It had maximum sustained winds of about 75 mph (120 kph) and was moving away at 32 mph (52 kph), it said.
Igor sped past Newfoundland on Tuesday, leaving behind downed trees, washed out roads and a desperate search for a missing elderly man.
Sgt. Boyd Merrill of the Royal Canadian Mounted Police said authorities responded to reports that an 80-year-old man was swept out to sea Tuesday morning when his driveway collapsed. The incident took place on Random Island near Britannia, Merrill said, and the harsh weather conditions have made the search difficult.
Earlier this week, the center of Igor passed about 40 miles (65 kilometers) west of Bermuda and left widespread power outages on the island.
Meanwhile, Tropical Storm Lisa continued moving sluggishly in the eastern Atlantic Ocean, but posed no immediate threat to land. As of 11 a.m. ET, Lisa was about 435 miles (700 kilometers) west of the Cape Verde Islands, according to the Hurricane Center. Lisa carried maximum sustained winds of about 45 mph (72 kph). It was moving southeast at about 3 mph (5 kph).
FOLLOW THIS TOPIC