Lead investigator in Mexico massacre is missing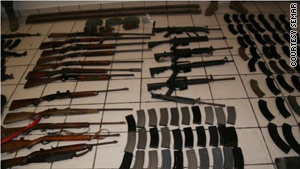 These guns were found at the ranch in Tamaulipas state where 72 bodies were discovered.
STORY HIGHLIGHTS
The investigator and a municipal police officer went missing Wednesday
Media reports said one body was found Friday but officials did not confirm that
Officials have identified 31 of the people whose bodies were found on a ranch this week
Mexico City, Mexico (CNN) -- A lead investigator and another official looking into the massacre of 72 migrants whose bodies were found this week in northern Mexico are missing, President Felipe Calderon said Friday.
Calderon, who was giving a speech on drug violence, initially said the body of one of the men had been found. But he was handed a note few minutes later and corrected himself, saying the investigator was missing but there was no information about his death.
Mexican media reported Friday morning that two bodies had been found and that one of them belonged to the investigator.
The attorney general's office in Tamaulipas state, where the bodies of the 72 migrants were found Tuesday, identified the investigator as Roberto Jaime Suarez Vazquez. The news release did not name the other man other than to say he is a municipal police officer in San Fernando.
Both men disappeared Wednesday afternoon, the attorney general's office said.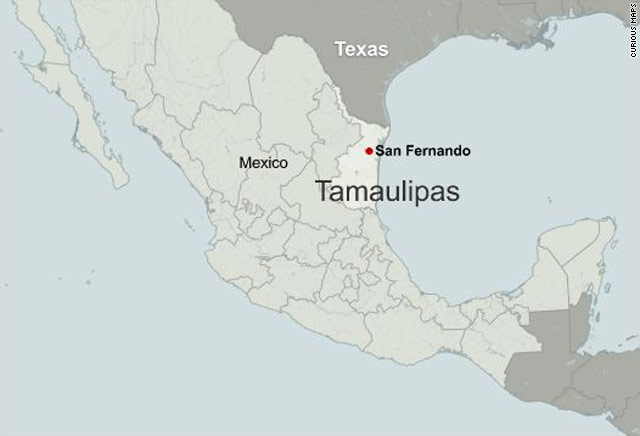 Bodies found in Mexico

Video: 72 bodies found in Mexican ranch
Authorities have identified 31 of the 72 migrants whose bodies were found on a ranch near San Fernando, the attorney general's statement said. Of those identified, 14 came from Honduras, 12 were from El Salvador, four were from Guatemala and one from Brazil, the official said.
A young man from Ecuador who led navy personnel to the scene of the massacre said he escaped after pretending he was dead. He suffered a neck wound and remained hospitalized Friday.
Officials are investigating whether the Zetas drug cartel carried out the killings, as the young man reportedly told police.
Images of the scene show the bodies lying along the inside walls of a grain barn. The migrants are blindfolded and their hands are bound. All are fully clothed.
Central American migrants traveling through Mexico on their way to the United States are often the victims of violence and other crimes.
"Every year, thousands of migrants are kidnapped, threatened or assaulted by members of criminal gangs," Amnesty International said in a report this year. "Extortion and sexual violence are widespread and many migrants go missing or are killed. Few of these abuses are reported and in most cases those responsible are never held to account."
FOLLOW THIS TOPIC