19 patients killed at Mexican drug rehab facility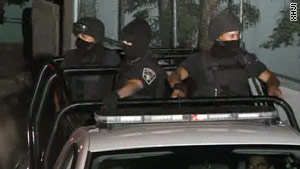 Masked police mount a vehicle at the scene of Thursday's massacre of 19 drug rehab patients in Chihuahua, Mexico.
STORY HIGHLIGHTS
NEW: President Calderon expresses condolences
Street gangs allied with cartels blamed for violence
Shootings at rehab centers becoming more common
Killings took place in border state of Chihuahua
Mexico City, Mexico (CNN) -- At least 30 armed men invaded a drug-treatment center in northern Mexico late Thursday night, killed 19 patients and wounded four others, the state-run Notimex news agency reported Friday.
The killings occurred around 11 p.m. at the Faith and Life rehab facility in the city of Chihuahua, located in the border state with the same name.
Witnesses told authorities the armed men marched 23 people outside, lined them up and shot them, Notimex said, citing Director of Police Intelligence Saul Hernandez. The wounded were taken to hospitals under heavy guard, the news agency said.
Shootings at drug-treatment centers have become more common as Mexico's drug cartels and street gangs ramp up their violence against each other.
An attack at the El Aviane rehab facility in Ciudad Juarez in September left 17 dead and two wounded. Juarez Mayor Jose Reyes Ferriz said at the time that authorities believed a rival drug gang shot the men.
Another 10 people were killed that same month in an attack on the Anexo de Vida center in Ciudad Juarez.
A similar assault at another Juarez drug facility in March 2009 killed 20 patients.
The Mexicles and Los Aztecas street gangs are two of the most active in Ciudad Juarez and are blamed for much of the violence. The Mexicles are allied with the Sinaloa drug cartel while Los Aztecas work with the Juarez drug cartel.
More than 22,000 people have died in drug-related violence since Mexican President Felipe Calderon declared war on the cartels shortly after taking office in December 2006. Much of that violence has taken place in northern border states, particularly Chihuahua, where Ciudad Juarez is located.
Juarez is the most violent city in Mexico and one of the top in the world, officials have said.
Calderon expressed his condolences Friday to the families of the latest victims.
FOLLOW THIS TOPIC