Mayor killed in troubled Mexican state, reports say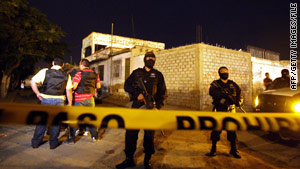 Mexico's Chihuahua state, which includes Juarez and Guadalupe y Calvo, has been plagued by crime recently.
STORY HIGHLIGHTS
Mayor of Guadalupe y Calvo and one bodyguard killed in ambush, news agency says
Mayor's truck hits another vehicle during the attack, injuring four people in it
No motive given for the attack, no arrests reported
Mayor was under investigation for alleged misuse of public funds, which he denied
Mexico City, Mexico (CNN) -- Gunmen ambushed the mayor of a Mexican municipality on Wednesday night, killing him and one of his bodyguards and wounding another escort, a government news agency reported.
Four other people were injured in the attack that killed Ramon Mendivil Sotelo, the mayor of Guadalupe y Calvo in southern Chihuahua state, the official Notimex news agency said.
The mayor was returning to Guadalupe y Calvo when gunmen in at least two vehicles started firing on his pickup truck, which lost control and struck a car. The four injured people -- two adults and two minors -- were traveling in the car that was hit by the mayor's truck, Notimex said.
The 6:30 p.m. attack occurred at about the same time that Mexican President Felipe Calderon was holding a meeting in Ciudad Juarez, also in Chihuahua state. Calderon's visit, the second to Juarez in a week, was held to highlight the violence in the troubled city across the border from El Paso, Texas.
The mayor and the slain police official were shot more than 20 times each during the 10-minute gun battle, the Heraldo de Chihuahua newspaper said.
No motive was immediately given for the crime, nor were any arrests reported.
Chihuahua election officials were investigating Mendivil Sotelo over allegations that he used public funds to publish a letter congratulating a candidate for governor, the State Electoral Institute notes on its Web site.
Local media reported that Mendivil Sotelo testified before the electoral panel last month that neither he nor his office had anything to do with the letter, published in El Diario de Chihuahua.