Eight missionaries freed from Haitian jail arrive in Florida
STORY HIGHLIGHTS
Eight missionaries accused of kidnapping Haitian children arrive in U.S.

Two missionaries remain behind bars

Missionaries have said they were trying to help children after massive earthquake

(CNN) -- Eight of the 10 Americans once detained in Haiti landed late Wednesday at Miami International Airport, according to CNN affiliate WFOR.
Two of the Americans, Laura Silsby and Charisa Coulter, will remain in Haiti because the judge wants to determine why they traveled to Haiti on an earlier trip before the January 12 earthquake, attorney Avion Fleurent said.
All 10 Americans face charges of kidnapping and criminal association for trying to take 33 children out of Haiti after the nation's earthquake. The Americans have said they were trying to help the children get to a safe place after the magnitude-7.0 earthquake.
The eight Americans were freed on bail by a judge earlier on Wednesday.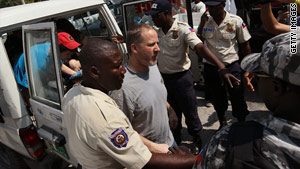 Video: 8 missionaries back in U.S.
The decision about whether to grant bail to the Americans was apparently delayed earlier this week by quake-induced electricity problems at the courthouse.
Caleb Stegall, who represents four of the men who are detained, told CNN in a written statement that he was pleased they were being released.
"Their families are relieved and anxious to have them safely home, and we are turning all of our energies towards bringing them back as safely and quickly as possible," he said.
Stay tuned to CNN.com for more details to this developing story.

Part of complete coverage on

They filled the grounds in front of the collapsed cathedral in Haiti's capital Wednesday. To remember. To cope. To pray.

Can-Do founder Eric Klein spent most of 2010 in Haiti helping people recover from the devastating earthquake.

A much-awaited review of Haiti's disputed presidential election has been completed but not yet been handed over to the president.

Haiti's economy is getting a boost thanks to a venture with one of Korea's largest companies that promises to bring in 20,000 jobs.

Nadine Devilme has thanked God countless times for saving her baby and has wanted to thank the doctor who treated the child after the earthquake.

Amy Wilentz says a year after the earthquake, much of the funding to rebuild is stalled as aid organizations wait for the election crisis to be resolved.


Most popular stories right now