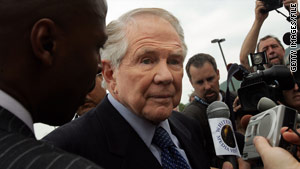 Pat Robertson has previously linked natural disasters and terrorist attacks to legalized abortion in the United States.
STORY HIGHLIGHTS
Televangelist invoked tale saying natives made deal with devil for freedom from France
Scholar: Tale is "longstanding trope of anti-Haitian venom" meant to discredit revolt, Vodou
Legend stems from belief that slaves could not have pulled off revolt alone, Kate Ramsey says
Spokesman denies Robertson said quake was God's wrath, says he is praying for Haiti
(CNN) -- Televangelist Pat Robertson wasn't blaming Haiti's catastrophic earthquake on "God's wrath," but was talking about a "widely discussed" legend that a Satanic pact aided its founding slave revolt, a spokesman said.
But the suggestion that Haiti's historic woes stem from a deal with the devil comes from a 19th-century "fabrication" meant to discredit its slave rebellion and Vodou religion, a Caribbean scholar said Thursday.
"This is a longstanding trope of anti-Haitian venom," Kate Ramsey, a researcher at the University of Miami, told CNN.
Robertson invoked the tale on his syndicated program, "The 700 Club," on Wednesday to suggest the poverty-stricken country's long history of natural disasters and political turmoil stemmed from a deal with the devil made by the leaders of its 1791 revolution against French rule.
"They said, 'We will serve you if you will get us free from the French.' True story," Robertson said. "And so, the devil said, 'OK, it's a deal.' "
The revolt succeeded, "but ever since, they have been cursed by one thing after the other," the 79-year-old Christian Coalition founder and onetime Republican presidential candidate said.
The legend of a Haitian deal with the devil dates back to the decades following its independence in 1804, Ramsey said. It began with a Roman Catholic campaign against Vodou, the Afro-Haitian religion widely practiced in Haiti, and spread as anti-slavery movements gained ground in the Caribbean, Europe and America, she said.

Video: Robertson: Haiti is cursed
"They did become mobilized to discredit what was called the first black republic by outsiders, especially in the context of debates over abolition in the Caribbean and elsewhere," Ramsey told CNN.
European colonists in the Caribbean and the Americas believed that the Haitian slaves "could not have possibly pulled this off themselves" and must have had outside help, Ramsey said. Evangelical Christians have evoked the Haiti legend more recently and elaborated on it, "but it's drawing on a much longer history," she said.
"It's utterly a fabrication, and it's an extremely offensive one," she added.
Haiti, the Western Hemisphere's poorest country, has faced a string of natural disasters in the past two decades and been wracked by political chaos for much of its history.
In a statement posted on the broadcaster's Web site, Christian Broadcasting Network spokesman Chris Roslan said the "widely-discussed" legend, "combined with the horrible state of the country, has led countless scholars and religious figures over the centuries to believe the country is cursed."
But, he added, "Dr. Robertson never stated that the earthquake was God's wrath."
"If you watch the entire video segment, Dr. Robertson's compassion for the people of Haiti is clear. He called for prayer for them. His humanitarian arm has been working to help thousands of people in Haiti over the last year, and they are currently launching a major relief and recovery effort to help the victims of this disaster."
Robertson has previously linked natural disasters and terrorist attacks -- including Hurricane Katrina, which killed more than 1,800 people on the Gulf Coast in 2005 -- to legalized abortion in the United States.