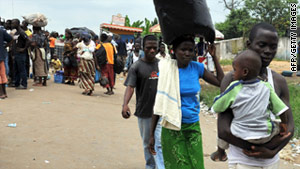 People wait in Abobo, a suburb of Abidjan, on Thursday for transport to visit their families during a general strike.
STORY HIGHLIGHTS
Everyone is scared of another civil war, said one Abidjan resident
The political crisis is rooted in deep divisions among the people
It is likely to have an economic impact and does not bode well for democracy
More bloodshed could lead to regional instability
(CNN) -- Edwige Tonete rarely steps out of her house in Abidjan these days. Something bad is looming in her beloved Ivory Coast.
In some neighborhoods, menacing militias roam the streets and it's hard to sleep at night. People clang their pots and pans to make noise. It's their way of trying to thwart the armed men.
Everyone is scared, Tonete said by phone, that the West African nation will once again plunge into a bloody civil war.
"We don't know what will happen," she said of the current crisis sparked by disputed presidential elections. "I don't want to live like we did."
At 38, Tonete is old enough to remember a history of her nation's unraveling from a bastion of prosperity following its 1960 independence to a strife-ridden land that is, unfortunately, more typical in Africa.

Tensions rise in Ivory Coast

Why U.S. presence in Ivory Coast?

African reaction to Ivory Coast standoff
Now as a new year begins, Ivory Coast teeters on a perilous precipice -- divided between two men who represent the ethnic and tribal discords for which the seeds were sown as firmly as the cocoa plants that hold up the economy.
What happens next in Ivory Coast, said one longtime observer, will have critical implications for the immediate region and all of Africa.
"A civil war is certainly possible," said John Campbell, a former U.S. ambassador to Nigeria, who is now with the Council on Foreign Relations. "The economy will be damaged. Clearly, this is a setback for democracy."
Deep divisions
Despite Ivory Coast's economic muscle, developed largely by vast French investments and cash crops including coffee, palm oil, rubber and 40 percent of the world's cocoa, democracy has never blossomed there.
Ivorians voted in a November 28 runoff to choose between two presidential candidates: incumbent Laurent Gbagbo and challenger Alassane Ouattara.
Gbagbo's support lies among Christians in the south, who once commanded the nation's wealth and power. Ouattara hails from northern lands dominated by Muslim immigrants who came to work in Ivory Coast and eventually grew into influential businessmen and traders.
By some estimates, as many as 25% of Ivory Coast's population were migrant workers -- 70% of them are Muslims.
The political rivals might have met earlier on a ballot in 2000, when Ouattara quit his post at the International Monetary Fund to run for president. But he was marked as an outsider from Burkina Faso and barred from participating.
Ivory Coast, divided over issues of land reform, identity and rights of citizenship, exploded in a civil war in 2002.
A political deal was signed in 2007 but the core issues were never resolved and the nation was split in two. This year's elections, scheduled after repeated postponements, came with high expectations that Ivory Coast would embark on a new chapter, one that took it closer to becoming a stable democracy.
Ivory Coast's Independent Electoral Commission declared Ouattara the winner. But that result was overturned by the Constitutional Council -- whose members were all appointed by Gbagbo -- which ruled that the incumbent leader had won.
Since then, self-declared President Gbagbo has held on to power despite pressure from outraged regional powers, the United Nations, the European Union and the African Union, who all recognized Ouattara as the legitimate new leader of Ivory Coast.
But Gbagbo refuses to step down. And while Ouattara may be treading higher moral ground, foreign opinions matter little to Gbagbo, who still controls the army and the media, said Campbell.
"From Gbagbo's perspective, that's irrelevant," Campbell said. "He continues to enjoy significant support within Ivory Coast. It's a great mistake to focus on what the international community or even what African nations think."
Human rights groups have condemned a harsh crackdown in the aftermath of the elections.
A resident of Abidjan's restive Abobo district said only one television station remains on the air and it's tightly controlled.
"They show movies morning, noon and night. There is not much news," said the woman, who did not want to be identified for fear of reprisal.
Human Rights Watch said Gbagbo's security forces "are abducting and disappearing his rival's supporters."
The deteriorating situation prompted regional nations to consider military force. The Economic Community of West African States (ECOWAS) issued an ultimatum to Gbagbo last week: Step down or face foreign intervention.
Some Ivorians interviewed by CNN favored a forced removal of Gbagbo, and said they thought it could only be brought about by military might.
"We are waiting for the day when Gbagbo leaves," said the Abobo resident. "Gbagbo is a killer!"
But Brahima Kaba, a former Liberian ambassador to Egypt who teaches at the University of Maryland and is an expert on Ivory Coast, said military force is sure to spell doom. The conflict in Liberia, he said, continued for 15 years after ECOWAS intervention, leaving the nation "a complete wreck."
Kaba urged Gbagbo and Ouattara to reach some sort of agreement, perhaps one that ends in a power-sharing government.
"My own belief is that this crisis has to be resolved at the negotiating table," Kaba said. "I don't think a military option will work."
Others who have studied Ivory Coast said talks are likely to yield nothing. African interest in establishing a power-sharing government is low after failures in attempts at similar deals in Kenya and Zimbabwe.
Post-election chaos killed more than 1,000 people in Kenya after a disputed 2007 vote declared incumbent President Mwai Kibaki the winner, despite widespread accusations of fraud.
International mediation led to the formation of a government with Kibaki as president and opposition leader Raila Odinga as prime minister, but the coalition was criticized for failing to deliver reforms.
In Zimbabwe, President Robert Mugabe agreed to form a unity government with challenger MorganTsvangirai and Deputy Prime Minister Arthur Mutambara, after African regional leaders refused to recognize the legitimacy of a runoff.
That coalition government, however, has been marred by serious disagreements between Mugabe and Tsvangirai, and Mugabe has said he wants new elections to end the coalition.
In Ivory Coast, said Campbell, the standoff could continue for weeks, even months.
Hard times
Christophe Kouamé's pharmacy in Abidjan's Abobo neighborhood, where there are many Ouattara supporters, was open this week only because it was on the rotation for 24-hour emergency establishments.
Every other business, Kouamé said, was shuttered. No cars on the streets. No buses.
When the militias come, everyone comes out of their homes and bangs pots and pans.
"We call it 'Operation Saucepan.' The militia men, they leave. They see all the people and they don't have thousands of bullets to kill everyone," Kouamé said.
Kouamé has lived in Abobo for 14 years and knows most of the military men in the neighborhood, so he feels safe. He drives his car from his home elsewhere in Abidjan and picks up his employees, most of whom live in the crowded suburb.
Many people are not going to work due to the violence or the threat of it, so they can't earn money to pay for medicine.
"Usually, when we're open all night, we make about $700 (U.S.)," Kouamé said. "Last night, we made a total of $118."
He's also noticed huge price jumps for food and other necessities. Local markets are closed, and the vendors who venture into the center of Abidjan for supplies are reselling them at much higher prices.
"Prices have tripled, quadrupled," he said, citing higher prices for the charcoal used for cooking, among other items.
He doesn't think the situation will change anytime soon.
Already, the United Nations refugee agency has reported that 15,000 people have fled into neighboring Liberia.
Another 3 million people from West African nations are employed in Ivory Coast and a tanking economy will greatly impact their lives, said Kaba, the Liberian official and professor.
There is also the danger that ex-combatants who fought in brutal conflicts in Liberia and other bordering nations could be enticed into picking up a gun or a machete again.
"Once you flip the switch and make them active fighters again, it could take years to reel them back again," said Yale University Professor Mike McGovern, whose book "Making War in Cote d'Ivoire" will be published next month. Cote d'Ivoire is the French name for Ivory Coast, a former French colony.
Ivory Coast's political woes don't bode well for 26 other African nations -- including Nigeria and Liberia in West Africa -- that have scheduled elections in 2011.
Ultimately, said McGovern, Gbagbo is borrowing from scripts written long ago by Africa's strongmen. And the lives of Ivorians, like Edwige Tonete, are unlikely to change until he steps aside.
"I'm not for Gbagbo. I'm not for Ouattara," said Tonete, frustrated. "Listen to all the people. Do the vote over. Respect the constitution."
She called Ivory Coast a beautiful country. She wants it to stay that way.
Journalist Eric Agnero in Abidjan, Ivory Coast, contributed to this report.