Ballots delivered for Sudan independence vote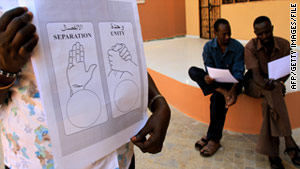 More than 4 million ballots like this have been delivered to Sudan, the United Nations said Tuesday.
STORY HIGHLIGHTS
Each ballot carries two pictures
The U.N. said 4 million ballots were delivered
The referendum on independence is next month
(CNN) -- Each ballot carries two pictures: One hand signifies independence; two hands, a unified Sudan.
More than 4 million such ballots have been delivered, the United Nations said Tuesday, for a key referendum next month that could change the map of Africa.
Bad weather in Europe had threatened to delay the ballots, printed in Britain, but in the end they arrived on schedule last week in Juba, the capital of Southern Sudan.
The referendum is a key provision of a 2005 peace treaty that ended a bloody north-south civil war in Sudan that killed 2 million people and displaced several million others, mainly from Southern Sudan, from 1983 to 2005.
It pitted a northern government of Arab Muslims against blacks in Southern Sudan who practice Christianity and animist religions.
George Conway, the deputy head for the United Nations Development Program in Southern Sudan, touted the on-time delivery given the short time frame and logistical challenges.
Ballots were also delivered in Khartoum, Sudan's capital, for southerners living in the north.
However, Sudan is behind schedule in conducting voter education, the establishment by the national police of a security plan and on the disbursement of funds, according to the U.S. State Department.
International donors have given $58 million to a U.N. fund to finance the referendum, slated for January 9-15.