STORY HIGHLIGHTS
Cases of Guinea worm have been reduced from 3.5 million in 1986 to 3,190 last year
Nigeria was declared Guinea worm free this summer
The disease is fought with low-tech methods of water filters and education
(CNN) -- It's a disease that has plagued Africans for decades, now medical researchers believe they are on their way to eradicating it.
Guinea worm has been called a "forgotten disease for a forgotten people" because of its debilitating effect on people in remote rural communities.
In 1986, 3.5 million people in 20 countries across Africa and Asia suffered from the painful parasite transmitted through drinking stagnant water, according to the Carter Center, the NGO set up by former U.S. President Jimmy Carter.
Now, more than 99.9 percent of those cases have been prevented, says the Carter Center, which is leading the fight against Guinea worm. They say the disease has been eradicated in all but four countries.
This has been achieved not with vaccines or medicines, but through education and the distribution of simple drinking water filters, according to Carter researchers.
Nigeria is the latest country to be declared free of Guinea worm -- it was once the world's worst affected.
Eradicating 'the fiery serpent'
The director of the Carter Center's Guinea Worm Eradication Program, Ernesto Ruiz-Tiben, predicts that within a year every country, except Sudan, will be free from the parasite.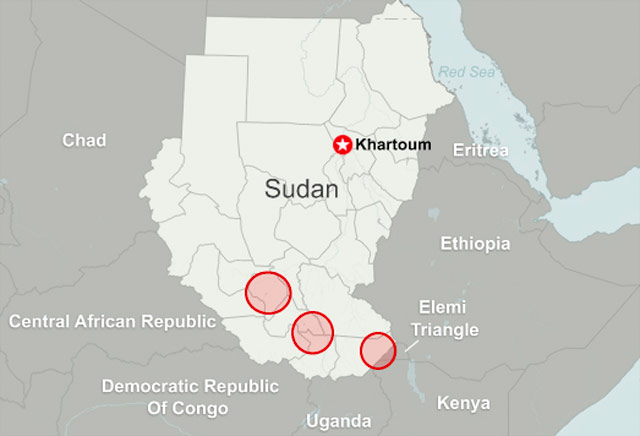 Map: Guinea worm trouble spots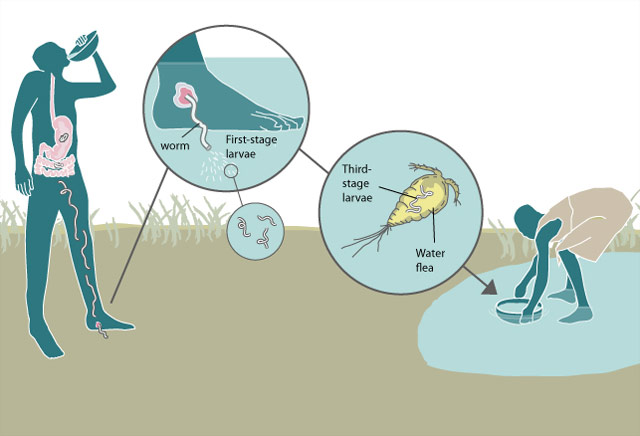 Graphic: Life cycle of the guinea worm

Video: Eradicating guinea worm in Southern Sudan
Ruiz-Tiben told CNN: "This has been achieved by educating people about where the disease comes from, and by providing simple filters to every household.
"In some cases it also involves providing a safe and secure drinking water supply, or putting a chemical in the water to kill the bugs.
"Once people get the message, they can get rid of Guinea worm themselves, but behavior change is slow and takes patience and tenacity.
"Our attitude has always been that failure is not an option and we are going to succeed in getting the point across to the people who are affected.
"It's been a slow process without drugs or vaccines, but it's being done and we are close."
Guinea worm is a non-fatal disease transmitted by water fleas living in stagnant water. When people drink the water, the worm begins to grow inside them and can reach one meter in length.
About a year later, the worm breaks out through the skin, causing painful lesions. As soon as the worm makes contact with water, it releases its larvae into the water, and the cycle begins again.
Ruiz-Tiben said: "The disease is very incapacitating. The worms have to be pulled out manually.
"The lesions on the skin also develop secondary bacterial infections which exacerbate the pain. It incapacitates people usually for eight weeks, but if you have several worms at once you can be bedridden for months, and it can come back again year after year.
"Sometimes communities have more than 50 percent of people incapacitated at the same time and they can't plant, work or harvest the fields, so their subsistence is impaired.
"It usually affects remote rural communities, and that's the reason Guinea worm has traditionally been called 'a forgotten disease for a forgotten people.'"
The Carter Center is working with UNICEF and the World Health Organization to support local eradication programs in each of the countries affected.
The World Health Organization, whose figures show the same dramatic reduction in Guinea worm, estimated that a further $15 million will be needed before 2013 to fight the disease.
It's been a slow process without drugs or vaccines, but it's being done and we are close
--Ernesto Ruiz-Tizen, Carter Center
Dr. Gautam Biswas, the medical officer overseeing WHO's Guinea worm Eradication Program, said in a media release: "Guinea worm disease occurs in very remote rural areas that are often unreachable. Securing elimination, often under challenging circumstances, is a major achievement that brings us closer to the ultimate goal of globally eradicating the disease."
Health workers fight the disease by distributing simple fine mesh filters to households and also individual pipe filters for people who drink water directly from stagnant ponds.
They also educate people not to go into the water when they have Guinea worm to prevent its spread.
Given the low-tech solution, the results have been incredible. This summer the American Journal of Tropical Medicine and Hygiene confirmed that Nigeria, which had 653,000 cases in 1988, had completely eradicated the disease
Across the four countries still affected, 3,190 cases were reported last year, a 31 percent reduction on the previous year.
The majority of the cases -- 2,733 -- were in Sudan, followed by 242 in Ghana, 186 in Mali and 24 in Ethiopia, according to the Carter Center.
Ruiz-Tiben said: "I believe the disease transmission will be interrupted in Ghana, Ethiopia and possibly Mali this year. There is a bit of a challenge in the eastern part of Mali, where we are dealing with nomadic tribes not living in settled villages.
"But I believe by this year or next those three countries will have reported their last cases. Because of the 12 month incubation period, you have to wait a year to know if you have been successful.
"Sudan is the last bastion of this disease, though even here there are not many cases left. We are closing the noose tighter and tighter in Sudan.
"The greatest challenge in Sudan and Mali is insecurity, civil conflict of any kind impairs the work.
"Because of the year incubation, if we miss a single case this year, the person has the opportunity to contaminate others the following year, and it can take two or three years to deal with the lapse."
FOLLOW THIS TOPIC