Uganda releases photos of Kampala bombers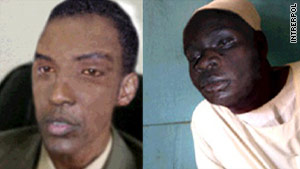 Remains of two people police say were the bombers helped teams construct images showing their possible appearance.
STORY HIGHLIGHTS
Uganda says suicide attackers carried out last week's blasts
More than 20 people are in custody after bombings, police chief says
Uganda wants authority to pursue al-Shabaab
The Somali rebel group has claimed responsibility for the attacks
Kampala, Uganda (CNN) -- Ugandan police Sunday released photo reconstructions of two men they say were the suicide bombers behind last week's attacks on World Cup fans that left 76 dead.
"Our intelligence so far confirms that last Sunday's bomb attacks were suicide attacks," Maj. Gen. Kale Kayihura, Uganda's national police chief, told reporters. The international police organization Interpol was distributing the photo reconstructions in an attempt to identify the attackers, Kayihura said.
Interpol and the FBI have helped confirm the attacks were suicide bombings, he said. Investigators suspect that two severed heads found parts attached are those of the bombers, he added.
The Kampala bombings struck an Ethiopian restaurant and a rugby center where crowds of people were watching the World Cup final match. Officials also have found an explosive-laden belt in a nightclub trash can in a Kampala suburb, suggesting a third attack was planned but not carried out.
The Somali Islamist insurgent movement Al-Shabaab has claimed responsibility for the attacks, calling them retaliation for Ugandan participation in an African Union peacekeeping mission in Somalia. Uganda is hosting an African Union summit this week, and Kayihura said the Ugandan government has urged the organization for the authority to hunt down Al-Shabaab members "in their bases which are known to us."
The AU peacekeeping mission AMISOM has about 5,200 troops -- 3,200 from Uganda, the rest from Burundi. The troops are there to support the U.N.-backed transitional government in Somalia, which has been without an effective central government since 1991.
Ugandan and Kenyan authorities have made more than 20 arrests since the bombings, Kayihura said. He said two Ugandans arrested in Kenya were members of the Allied Democratic Forces, a rebel group that battled government troops in the country's west during the 1990s, and had ties to Al-Shabaab.
One of those arrested in Kenya has been handed over to Ugandan authorities, while the other was still held in Kenya, he said. He would not disclose details, telling reporters that police are still gathering evidence against them.
"This effort is part of the regional and continental help we are receiving since the attack," he said.
Kayihura said several non-Ugandans, including Pakistani nationals, were among those arrested. But he said none of those have been definitely linked to the Kampala attacks, and most were taken into custody for having "unclear" travel documents. Meanwhile, four Ethiopians picked up by police after the bombing have been found "free of any criminality" and released.
Journalist Samson Natale contributed to this report for CNN.
FOLLOW THIS TOPIC