STORY HIGHLIGHTS
In KwaZulu-Natal more than one in seven people are HIV positive
Zulu king Goodwill Zwelithini is reviving the tradition of male circumcision
2005 study found male circumcision reduced HIV infection rates by 60 percent
Provincial health minister supports the initiative
Pietermaritzburg, South Africa (CNN) -- In the Zulu heartland of South Africa, where more than one in seven people are HIV positive, a Zulu king is reviving the tradition of male circumcision in an effort to fight the spread of HIV.
In the province of KwaZulu-Natal everyday around 350 people are infected with HIV, and more than 320 people die from AIDS-related diseases.
But 18-year-old Nhlonipho Mchunu says he's determined not to be another statistic. That's why he has decided to be circumcised.
"I know it's not painful," Mchunu told CNN. "There's no reason to be scared, because this thing, it's going to help you. Circumcision is going to help me."
In this Zulu stronghold circumcision was long ago a tradition among young men. Now, with his people suffering from the highest rates of infection anywhere in South Africa, Zulu king Goodwill Zwelithini wants to revive the practice.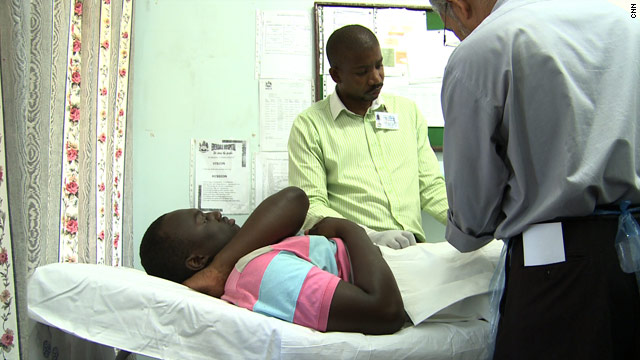 Gallery: Using circumcision in fight against HIV
"I don't want to lose any of my Zulu people," he told CNN. "As I've revived this circumcision, I'm showing my love to my people. Let's hold our hands together. But you young ones, accept -- listen to your king's call."
King Zwelithini is backed up by science. A 2005 study in South Africa found male circumcision reduced HIV infection rates among heterosexuals by 60 percent.
Inside Africa:The teenager who makes jewelry from bullets
Dr Adrian Puren, of the National Institute for Communicable Diseases, was one of authors of the 2005 study. He told CNN, "If you remove the foreskin, that prepuse or foreskin has a large number of cells that are susceptible to being infected by HIV, so by removing that completely, one limits the exposure for HIV to gain acquisition or entry into the body."
Mchunu says he has seen young people die of AIDS and he is all too aware that circumcision could save lives.
My brother is very small, but he's going to do circumcision ... I tell him, 'circumcision is very serious, it's very important.
--Nhlonipho Mchunu
"My brother is very small, but he's going to do circumcision. He's going to be booked for circumcision because I tell him, 'circumcision is very serious, it's very important,'" he said.
Along with hundreds of other young men, Mchunu has traveled to the nearest hospital, several kilometers away, for a simple procedure that could reduce his chances of contracting HIV.
When he arrived at the hospital, before noon, there was already a long wait for the procedure -- proof the king's edict has found favor with hundreds of other young men.
But some are concerned circumcision may be seen as a replacement for safe sex.
"Disinhibition is one of the bigger problems that one could face," Puren told CNN.
For that reason, local leaders say you have to be clear with your message. "This doesn't mean that once you're circumcised you can just go there, go there, go there, and think that you're safe," said King Zwelithini. "Use the condom when the time's come to prevent the problem."
Provincial health minister Dr Sibongiseni Dhlomo told CNN, "This is a part of a package of HIV prevention.
"So there are certain lectures, preparatory talks, that take place before they are circumcised. And on the day of circumcision we still talk to them."
Inside Africa: The African sculptures mistaken for remains of Atlantis
A recently released study looking at incidence rates from national HIV surveys showed a 35-percent decline in infections between 2002 and 2008. The study's authors credit a change in attitude and awareness among young South African women.
Dhlomo said the circumcision campaign is an opportunity to target at-risk males as well.
"This is a perfect example of government working within the bounds of tradition and that tradition working with modern medicine," said Dhlomo. "It's popular because the entire community can support it, and these young men's decision."
Doctors at Edendale Hospital say they can't keep up with the demand, so extra beds have been brought in.
For Mchunu, the wait for the procedure is eventually over and within minutes the operation is complete.
"It's nice and easy, no pain," he told CNN.
Mark Tutton contributed to this report
FOLLOW THIS TOPIC