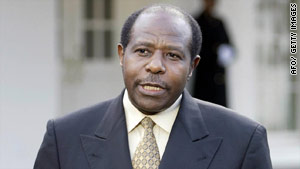 Paul Rusesabagina helped save the lives of more than a thousand Rwandans during the genocide.
STORY HIGHLIGHTS
Rusesabagina is the real-life inspiration for the 2004 film "Hotel Rwanda"
He believes the country remains in the grip of ethnic tensions that could "erupt"
An estimated 800,000 to one million Rwandans died in the 1994 genocide
Every week CNN's African Voices highlights Africa's most engaging personalities, exploring the lives and passions of people who rarely open themselves up to the camera. This week the show profiles Paul Rusesabagina, who saved the lives of 1,200 people during the Rwandan genocide, his story portrayed in the 2004 film Hotel Rwanda.
London, England (CNN) -- The hotel manager who saved the lives of more than 1,200 Rwandans during the 1994 genocide has warned that the country remains in the grip of ethnic tensions that could "erupt anytime."
Sixteen years after the killings in which an estimated 800,000 to one million Rwandan Tutsis and moderate Hutus died, Paul Rusesabagina says lessons have not been learned from past mistakes.
During the genocide, Rusesabagina, the real-life inspiration for the 2004 film "Hotel Rwanda," helped to shelter more than 1,200 people at the Milles Collines hotel, where he was assistant manager and used many of his business and political connections to help keep the building safe.
Rusesabagina is now a human rights campaigner and a critic of Rwanda's Tutsi-led regime.
He told CNN: "We've changed dancers but the music remains. History repeats itself and we don't learn."
He added: "What happened in 1992,1993 is now happening again. Since February 19, there have been many grenade attacks within the country. Rwanda is now a split country."

Video: Conflict of unimaginable savagery

Video: Life before the genocide

Video: Another Rwanda?
"Rwanda is a dormant volcano that might erupt anytime. The ruling government has created a tiny group of elites that has taken over everything," he says.
A spokesman from the country's foreign ministry declined to comment on Rusesabagina's claims, telling CNN: "We have nothing to say about this."
His comments come amid growing international concern over the arrests of Rwandan opposition leader Victoire Ingabire, an ethnic Hutu and her U.S. lawyer.
According to the Rwanda news agency (RNA), Ingabire was arrested for allegedly propagating genocide ideology after she called for action to be taken against those responsible for killing Hutus during the 1994 conflict.
She was freed on bail and had her passport seized. Last month her U.S. lawyer Peter Erlinder was arrested as he flew into the country to defend his client. He was held on a genocide denial charge.
Erlinder is lead defense counsel at the International Criminal Tribunal for Rwanda (ICTR). He remains in prison after being denied bail Tuesday, the agency reported. Rusesabagina has called for Erlinder's release.

In a statement on his website, he wrote: "Professor Peter Erlinder was doing his job as a lawyer. In a civil society that is not grounds for arrest. If President Kagame considers Rwanda a democracy, he must release Professor Erlinder immediately."
Human rights activists, including Amnesty International, believe the arrests are politically motivated as Ingabire plans to challenge incumbent president Paul Kagame in the upcoming August presidential elections.
Blog: Meeting the 'quiet hero' of Rwanda's genocide
According to New York-based group, Human Rights Watch, the Rwandan government has denied a work visa to one of its representatives ahead of the elections.
Rwanda is a dormant volcano that might erupt anytime.
--Paul Rusesabagina, human rights advocate
In a statement, the organization said: "The Rwandan government's decision to deny a work visa to Human Rights Watch's representative in Kigali demonstrates a pattern of increasing restrictions on free expression in Rwanda ahead of August's presidential elections."
Earlier this year, Kagame hit back at the activists in an interview with CNN. He said: "If you are talking about people in the human rights community from outside...I have an issue with this.
"You tend to make a judgment of a country, 11 million people, on what a couple of people have said and (they) don't take into account what Rwandans say."
Kagame added, "Nobody has asked the Rwandans... it's as if they don't matter in the eyes of the human rights people. It's our own decisions in the end."
Kagame has been hailed a hero for ending the genocide that happened in the country between April and June 1994.
Rusesabagina says he has not lived in Rwanda since 1996 when he survived an assassination attempt.
He now lives in Belgium and travels the world campaigning to raise awareness of a bloody civil war that has killed seven million people in the Democratic Republic of Congo.
Asked if he considers his actions during the genocide to be heroic, he says: "I'm not a hero. I'm an ordinary man. People were taking me as a super human being but I'm as ordinary as you and many others."
FOLLOW THIS TOPIC