U.S. 'vigilant' for holiday terror threats, adviser says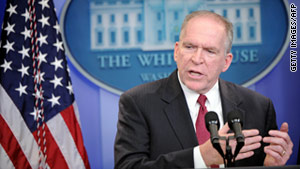 Appropriate resources are in place to deter attacks this Christmas, says conterterrorism adviser John Brennan.
STORY HIGHLIGHTS
Counterterrorism adviser says U.S. security "particularly vigilant" during the holidays
There is no specific information about planned terror attacks
Brennan says he believes the United States is ready for threat
Washington (CNN) -- U.S. security is "particularly vigilant" to terror threats over the holidays, the president's counterterrorism adviser said Friday, striking a confident note that the United States is ready.
"We always have to remain on guard," said John Brennan, the White House counterterrorism adviser said at an event for the Carnegie Endowment for International Peace. The holidays are a particularly sensitive time because of the increased pace of travel, Brennan noted.
"I'm feeling good that we have appropriate resources in place" to deter attacks this Christmas.
Last Christmas a young Nigerian man named Umar Farouk AbdulMutallab allegedly tried to detonate an explosive device sewn into his underwear as his flight headed toward Detroit, Michigan. More recently, al Qaeda operatives in Yemen tried to ship bombs disguised as printer parts to synagogues in the United States. The plot was discovered and stopped before the packages were flown into U.S. territory.
U.S. officials say they have no specific and credible information about planned terror attacks on the United States this holiday season, but they have issued an intelligence bulletin to state and local law enforcement warning terrorists could target large crowds at holiday gatherings.
Additionally, Iraqi officials shared information with the American government that came from captured insurgents who said al Qaeda in Iraq was planning suicide attacks in the United States and Europe over the holidays. A U.S. official said the report was being taken seriously, although there is no intelligence backing up the claims.