Dozens injured when bus crosses median, flips in Vermont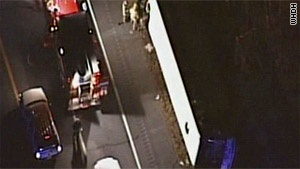 Emergency workers on the scene of a bus crash Friday on Interstate 91 near Brattleboro, Vermont.
STORY HIGHLIGHTS
NEW: At least 16 passengers and the driver were hurt after their bus flipped
NEW: The 7 other tour buses not involved in the crash headed to Canada
NEW: The bus company's owner says the injuries to students "seem very minor"
The bus was transporting UMass students on a ski trip in Quebec
Read more on this story from CNN affilates WHDH and WWLP
(CNN) -- A tour bus full of university students went out of control, crossed a Vermont highway median and rolled over Friday, injuring the driver and at least 16 passengers, officials said.
Vermont State Police Sgt. Michael Sorensen told CNN affiliate WLLP that 16 of the 44 people aboard the bus suffered injuries after crashing near Putney.
"The vehicle was traveling in the northbound lanes, somehow entered the median on its wheels, came across the southbound lanes, left the ... roadway, struck the embankment and rolled over on its right side," said Sorensen.
The bus was one of eight bringing students from the University of Massachusetts-Amherst to Quebec City in Canada for a ski trip, said Joseph Schoppy, the owner of the Tour World charter company.
"I just wish that everybody would pray for our driver, and everybody on the bus, that everything turns out minor," Schoppy said.
Schoppy said that he didn't know yet the condition of the bus driver. But he said that the injuries to the students "seem very minor."
Eight students with minor injuries were treated and released from Brattleboro Memorial Hospital, spokeswoman Barbara Gentry said. Another eight passengers were treated for minor injuries at Springfield Hospital, said Janet Sherer, chief of patient care services.
The bus was traveling on Interstate 91 near Brattleboro in southern Vermont when it crashed, closing the highway's southbound lanes, police said.
Emergency workers treated victims at the scene, transporting passengers to at least two hospitals, said Gentry.
The more able-bodied students were picked up by a school bus, where they could keep warm as police interviewed them, said Schoppy. They then were brought to White River Junction, Vermont, where they could pick up buses either north to Quebec or back to Massachusetts.
The seven buses not involved in the crash continued north for the ski trip, Schoppy noted.